Mercedes-Benz W124 Estate (1985 - 1995)
Last updated 17 September 2016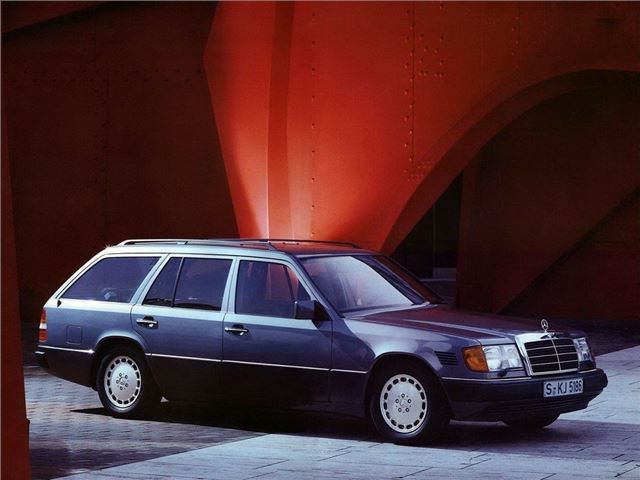 Buying Guide
Good
Strong, reliable, comfortable, well-built, safe. Bigger, more modern car than W123.
4,780mm long x 1,740mm wide x 1,519mm high.
Best compromise engine in older models is the 170bhp six-cylinder 12-valve 260E (not available in UK estates). Best in newer models is the 197bhp 24-valve 280E. 260E is rare in the UK because large numbers were exported second-hand to Malaysia, Thailand and Singapore in the mid-1990s.
 Awesome LHD only 326bhp 500E, briefly officially available in UK from 1991 to 1992, had ASR self-levelling suspension and protruding 8Jx16 wheels.
Production ended in Europe in 1995, but continued in India until year 2000.
Bad
Lots of quality problems when the model was launched.
Four-cylinder 200E and 230E had valve trouble running on unleaded and can still wear out their valve stems in the guides.
'Simplex' timing chains not replaced by 'Duplex' chains on 4-cylinder engines until 1988 (see 190).
American-style foot parking brake also on manual transmission models.
Manual gearchange slow and not very pleasant.
Much stolen for export to Africa.
Watch
Take great care to prevent theft. Best to buy a disklok steering wheel cover from Disklok.
Built to cover high mileages and many did, but may not show it. Listen for noises from top of engine, look for oil smoke in exhaust.
Simplex timing chains on older 200E and 230E last only 60,000 miles and require 3,000-mile engine oil changes. No such problems with later Duplex chains or with 260E, 300E, 300E 24v, 320E 24v.
Six-cylinder 300 12 valve and 300 24 valve engines sometimes prone to cracking of the cylinder head.
Look for oil in the coolant, low coolant and emulsified oil under the oil filler cap of six cylinder models (could signify cracked head). Head gaskets on the 104 Series six cylinder engines had poor manufacturing tolerances and tend to go when the mileage approaches 100k, if not before (has been seen on a 70k car). Signs are oil at front and rear of cylinder head joint. This is a £1500 job.
The HT lead wiring loom of 280s and 320s breaks down through heat and exposes the wires. Symptoms are varied. This is £550 for the loom plus fitting.
Check for uneven tyre wear (kerbed suspension, worn steering or merely adjustment needed). Brake hard and check for judder (front discs may be warped).
Look for oil leaks underneath.
Avoid 4-Matic unless you really need a large four-wheel-drive saloon car.
Make sure autobox works in both 'E' and 'S', feel for 'slip', check colour of ATF (should be dark red), listen for diff rumble. Sample full throttle change points for E320 Coupe 5-speed auto: E: 14, 30, 58, 119; S: 22, 49, 78, 119. Kickdown (E or S) 31, 53, 83, 119.
Make sure ABS light goes on and off when it should (brake fluid changes may have been missed).
Ask to see a proper service history, if not by a Mercedes dealer, then by a competent specialist.
Some cancelled export order W124s were sold as new in 2000 when 5 years old.
Dashboard fires can be caused as follows: fault is due to a un-fused connection to the boot courtesy light. The power cable runs in a curved tube alongside the boot hinge on the drivers side and after a period of time (opening and closing the boot lid) this cable shorts to earth, which results in the power lead heating up and the resulting fire is started at its un-fused connection to the fuse board in front of the driver and to the right of steering wheel.
Reports of cylinder head stretch bolts failing on later four-cylinder engines (200, 220) with replacement a 'head-off' job. Oil leaks from cylinder heads of four cylinder engines a sign of the stretch bolt problem.
Check behind front screen rubber for severe corrosion in the screen frame.
Self-levelling suspension on Estate models is expensive to repair, using an oleopneumatic system with pump, sphere and rams. Spheres are often overlooked.
Common W124 Estate problems by W124 expert Nicholas Froome
worn backrest edge on driver's seat (almost every car now)
rusty front wings just ahead of the wheel arch, just above the bumper (almost every car now)
front windows u/s because top three teeth of the regulator quadrant
are worn out
worn engine mounts (particularly on E300 Multivalve Diesels due, I suspect, to the weight of the engine)
worn front ARB bushes (I do these as standard on every car)
Just under the rear windows above the load area caused by water ingress (leaks & capillary action) from the windows. Symptom is misted-up rear windows after starting
chipped windscreens
poor alignment, pulling to the left, and/or worn tyres
failed front headlamp wiper motors due to water, crud buildup, bad positioning, etc
oil all over alternator due to front timing cover leak on multivalve six-cylinder petrol engines
leaky diffs (they all do that, mate)
worn leading rear subframe bushes (kit, £72, Mercedes) - cause clonks over bumps & drain covers
water pumps - almost every six-cylinder petrol car has had one by 170k
blackened rear sidelight bulbs - I replace these as standard. Early cars are 5 Watt, later 10 Watt, prime
cause of bulb failure warnings is wrong bulbs
air leaks into fuel system on E300 Multivalve Diesels, car won't start. If you disturb the fuel lines they will then leak - the O-rings flatten over time. O-rings 80p each at dealer
worn front balljoints (£13 / each, Mercedes) mainly on older cars but it's an age-related fault as well and EVERY car over 170k / 12 years should have them done IMHO
failed a/c - compressor won't engage due to lost gas, due to broken condensor or other leak. Possibly electrical as well

Not that common:
worn heater fan brushes leading to intermittent or no fan operation - mainly on older cars. Parts not available but electrical shops supply brushes than can be filed to fit
melted fuse holder on the heater fan fuse caused by heat generated as the fuse/holder contact goes high-resistance due to corrosion. Scotchbrite pads clean this up well
oil (just a little or lots) in radiator header tank due to CHG breakdown mainly on multivalve six-cylinder petrol cars. Slight leak is common and not terminal
flaring autos on E300 Multivalve Diesels
harsh / flaring / phantom shifts on cars with patchy history (walk away)
droning rear wheel bearings (at high mileages) and rear bearing an utter trouble to remove
worn front prop doughnuts #
worn diff mounts (at higher mileages)
disintegrating engine bay loom mainly on six-cylinder petrol cars after about 1993. A repair section is available from MB for the HT wiring
failed ECUs due to above
bad coil packs
failed speedo & new unit recorded in service log
failed rear number plate bulbs bring up bulb failure warning
broken wires in front door jambs lead to intermittent electric windows (mainly on very old cars)
broken wires in tailgate opening lead to intermittent rear wiper, number plate lights, etc (mainly on very old cars)
failing ignition switch barrel. Replacements are available in 3 days from Germany for about £65 keyed to the car. MB dealers carry a cheaper generic version with a different key
one door central locking fails or fails to lock other doors. Actuator is the cause
Multivalve diesels lose compression over time and feel very flat. Cylinders 5 and 6 most commonly have valve seat recession and/or bad valves. Rebuild works wonders!
broken front springs
worn steering idler
blocked / leaking radiators
failed viscous fan coupling
random intermittent wipers caused by failing indicator multifunction switch
Back: Introduction
Buy a Mercedes-Benz W124 from £3,000