Mercedes-Benz C-Class (1993 - 2000)
Last updated 29 October 2019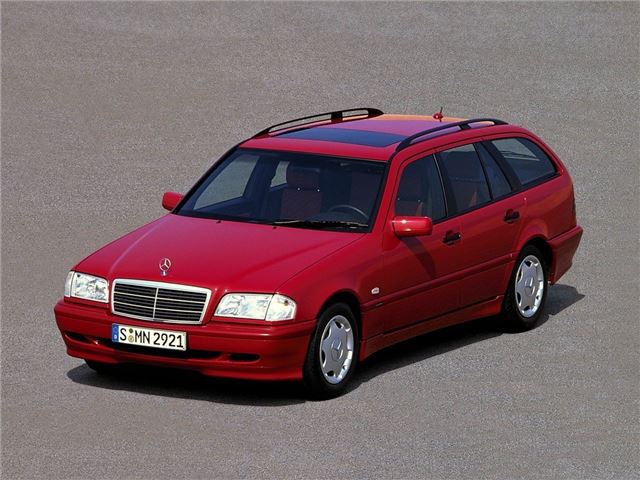 Buying Guide
Good
Galvanised body originally had 30-year conditional warranty, but owners have difficulty enforcing that beyond eight years.
14' 8" long by 5' 8" wide and from 1,350kg.
Extensive range of engines offer something for everyone. Start with 122bhp C180, 136bhp C200, 150bhp C220 four, 148bhp C230 four, 193bhp C230 Kompressor, 170bhp twin-spark C240 V6, 193bhp C280 straight six, 280bhp C36AMG; 94bhp C220D, 113bhp C250D and 150bhp C250TD.
C250TD is a very good diesel, replaced by new 125bhp/221lb ft C220 CDI common rail indirect injected diesel.
Estates are smart and offer more status than saloons.
Five-speed autos standard from 1997.
Top model, 4.3 litre 40 valve 310 bhp V8 C43 lists at £47,640 and originally sold for over list, as did 218 bhp 320 CLK coupe and convertible.
Progressive spec upgrades over the years.
S- and T-Reg cars came 11th in 2001 Top Gear / JD Power Customer Satisfaction Survey.
MB was rated by Motor Warranty Direct as Britain's second most claim-free used marque. Mercedes had fifth lowest average cost in warranty claims for cars up to 10 years old in 2002 Warranty Direct index. MB generally 9th lowest average warranty repair costs in 2003 Warranty Direct Reliability index (index 70.79 v/s lowest 31.93) Link:- www.reliabilityindex.co.uk 95-97 petrol models average for breakdowns, problems and faults; 98-2000 petrol fewest breakdowns, average for problems and faults; 98-2000 diesels fewest problems, average for breakdowns and faults in 2003 Which survey.
Very Low 2 out of 9 point death rate from accidents in this model.
Bad
Early build quality not up to scratch and headlamps poor (much improved later).
Not as good to drive as 190E or E-Class. Steering over light and lacking in feel.
C180 classic manuals without sunroofs or aircon don't hold their value in the way Mercedes owners expect.
Average performance in NCAP crash tests.
Modest 240V6 has huge engine oil capacity of eight litres.
Watch
Chip lots of price off if the car is scruffy (a good way to get a cheap, long-lasting car you would have damaged yourself over the years). Glut of cancelled Far East export orders hit used values hard in 1998. C180 classic manuals without sunroofs became very hard to sell.
C180, C200 and C220 seems to be unusually prone to premature failure of the catalytic converter, leading to an £800 repair bill. Cats can be £800 from Mercedes, but much cheaper from www.carparts-direct.co.uk.
Reports of cylinder head stretch bolts failing on four-cylinder engines, with replacement a 'head-off' job. Oil leaks from cylinder head a sign of stretch bolt problem.
Up to 1999, C180s had a low-rated battery and alternator that wasn't up to a life of short runs.
Glow plugs of diesels can fail after about 3 years and 50,000 miles. Cost £300 - £400 to replace due to amount of dismantling involved. If C250TD is a poor starter, may be due to glow plug problem above. VITAL TO CHECK GLOW PLUGS OF DIESELS. These have a habit of failing, then break when the garage tries to remove them and rectification can cost £4,500.
On at least two 1994 - 1997 C36 AMGs in the UL and in Germany the weld holding the front suspension turret to the chassis has broken. Seems to be a fault exclusive to the C36.
Vent tube to diff can get blocked leading to early failure through condensation damage.
Reports of severe rusting on late year 2000 estate cars.
Mechanism of single arm wiper needs frequent greasing and is not included in normal Mercedes service schedules. Make sure wiper mechanism works because it costs £800 to replace.
Batch of faulty manifolds fitted to 200K engines built around year 2000. Eventually crack and cost a fortune to replace.
Beware of buying cancelled export order 1995-1997 C-Class sold in UK as new when they were up to three years old.
Check paint very carefully for starring on later South African built cars.
Rust can be a big problem on these cars, especially in the area around the rear wheelarches. Mobilo 30 year warranty against perforated bodywork states "From the 5th year onwards the car should have been serviced by an authorised Mercedes Benz workshop within the last 2 years prior to the damage being repaired".
Lower front suspension control arms can rust through. They are made of layers of stamped sheetmetal rather than solid steel. They have a 3 inch large hole on top and the salt and water goes in the hole and soaks down to the lower ball joint area, and rusts from the inside out because they are hollow.
Kick down problems on automatics (which is most C Class) can be caused by a failing mass airflow sensor.
Reported high incidence of ECU failures on 12 year old C200s everywhere from the UK to Australia. Has led to a worldwide parts shortage. Cost £1,300 each (as much as the value of many of these cars). So a 12 + years old C Class with an ECU problem is effectively scrap.
Another common fault of C-class and other Mercedes diesels is failure of injector seals, allowing fuel/air mixture to be deposited as carbon on top of the engine. The problem can be identified by the smell of neat fuel (like paraffin) entering the passenger cabin, and a "chuffing" sound from the top of the affected cylinder as gas escapes on the compression stroke. Apparently it is so common it has been given the name "black death" within the Mercedes dealerships. Unless spotted early, and seals reground and replaced, the cost of fixing can be up to £500.
By 2010, MB dealers were recommending automatic transmission fluid changes at 4 years old or 40,000 miles at a cost of £300.
16-12-2011: If single arm wiper starts to slow down, lift the flap on the bottom of ther arm and lubricate with graphite oil.
Recall data
1996: Check for sticking bonnet catch and safety catch which may lead bonnet to fly open.
8/5/2001: Build dates 1/9/1995 to 31/12/1996: high humidity may cause corrosion of trigger mechanism leading to airbag inflating. Airbags to be replaced.
JULY 2005 TSB TO AMERICAN MERCEDES CENTRES. AFFECTS TOTAL OF 368,836 MODELS 163, 202, 208 210 WITH ENGINES 112, MODELS 129, 163, 202, 208 210 215, 220 WITH ENGINES 113, MODEL YEARS 1998 – 2000; MODEL 170 WITH ENGINE 112, MODEL YEAR 2001. Inspect and if necessary replace harmonic balancer pulley which can cause a vibration and eventually separate, damaging the timing chain cover and possibly the sump.
Back: Introduction
Next: Running
Compare classic car insurance quotes and buy online. A friendly service offering access to a range of policies and benefits.

Get a quote