Mercedes-Benz A-class W168 (1998 - 2005)
Last updated 23 December 2019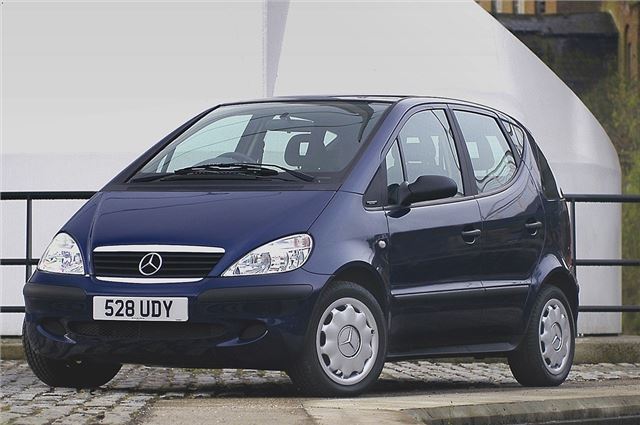 Buying Guide
Good
3 year mechanical warranty and 30 year Mobilo roadside assistance + anti corrosion warranty.
A210 Evo arrived February 2002 with 2,084cc 140bhp engine offering 0-60 in 7.9 seconds, 127mph top speed, 35.8mpg combined and 190g/km CO2. SWB prices from £18,990.
MB was rated by Motor Warranty Direct as Britain's 2nd most claim-free used marque. Mercedes had fifth lowest average cost in warranty claims for cars up to 10 years old in 2002 Warranty Direct index. MB generally 9th lowest average warranty repair costs in 2003 Warranty Direct Reliability index (index 70.79 v/s lowest 31.93)
2001-2003 models rated average for breakdowns, problems and faults in 2003 Which survey. 
Prior to Audi A2, the most status you could buy at its length.
Bad
Long step up or down from seats for elderly or infirm unless parked against a high kerb.
Not as well built as you expect from Mercedes.
Ride quality far from brilliant.
Suffers from top-heavy 'roll understeer' on tight, adversely cambered corners.
Essential to pay full attention on the motorway or can swap lanes.
Wipers are designed for LHD and cannot be altered, leaving an unwiped strip down the right hand side of the screen.
Expensive for what it is.
Lots of drivers had trouble with the keyfob immobiliser control.
Cannot be driven through floods because of low-set components such as power steering pump.
Mega expensive service costs, for example £446.96 for a two year 20,000 mile 'B' service of an A160 in Swindon. Seems to get very expensive to maintain and repair after warranty expires.
Convoluted right hand wheel to left hand rack steering column robs steering of feel. 

1998-2000 models rated average for breakdowns, poor for problems and faults in 2003 Which survey. 12th from bottom out of 137 models in 2003 Top Gear survey. Multi section sliding steel sunroof is highly prone to failure. If the motor on one side fails, the other motor skews the panels and the whole thing seizes up and costs a fortune to fix. 

Replacement in Europe autumn 2004 in UK early 2005.
Watch
Universal joints of convoluted steering column can start to wear and need replacing at cost of £600. 

Alarm system faults, water leaks, problems and faulty air flow sensors. 

Widespread problem of fractured fuel filler pipes leading the rear of the car to fill with petrol if the tank is over-filled. Further reports of fuel pipes weeping at the bulkhead areas of 6 year old petrol models. 

Reports of failures of rear trailing arm control arm bushes on early A Class, originally benefiting from a 50% goodwill payment on what is a £330 job using a standard repair kit, which tends to indicate some awareness of the problem by the manufacturer. This is an MOT failure point. 

Anti-roll bar links on early models prone to problems and may need replacing with the modified links of later models. 

Reports of manual gearbox failure. 

Reports of faulty ignition block (coil + plug lead assembly. Bosch design fault as the transformer plates of the coil corrode as the rivets are exposed and splits the plastic coating, causing small cracks, letting in moisture.) Ignition block costs £65, but labour can amount to £100 + VAT. 

Squeaking brakes quite common. PAS pump failures just out of warranty.
Tip for those with automated manuals. If gear selection does not result in take up of drive, the reason might be that under the gear lever shroud an orange coloured connector plug has come loose.
Reports of loss of power when setting off from standstill in automatics. Revised transmission governer cures this, but a long job and expensive if not still under warranty. However, before going to this expense, worth checking that it is not a sticking stop light switch. The stop light switch signals the ECU to shut the engine down to tickover so it does not accelerate against the brakes. Costs 30p in parts (but £60 in Mercedes labour charges) to rectify. Combined air intake temperature and ECU failure an £800 repair. 
Automatic transmission failures requiring new transmissions at £5,000 + now common on A Class more than 4 years old, so cost of repair exceeds value of car. Do not attempt to run an A Class more than 3 years old other than on a good extended warranty 

Doubts over clutch life of semi-automatic with 170CDI diesel engine. Two reports of slippage after 40,000 miles received within a week of each other; another soon after; yet another of failure after just 21,000 miles. 

Take great care to check the car's stability electronics before buying. 

Large numbers of A Class came off Easy Rent-a-Car fleet, flooded market and affected values. 

VITAL TO CHECK GLOW PLUGS OF DIESELS. These have a habit of failing, then break when the garage tries to remove them and rectification can cost £4,500. Expansion and contraction of the plastic front wings rubs the paint of the A pillars, leading to rusting. Injector failure common on diesels after 6 - 7 years. 

One reader's catalogue of problems with an A160 auto (received 14/10/2001). 1. Locked into 2nd gear. 2. Complete new steering assembly. (Known to Merc but left until reported). 3. Complete new windscreen wiper mechanism (the blades became tangled). 4. New alternator (seized). 5. New fuel pump (intermittently cut out at 1/4 tank - known to Merc, but left until failure). 6. Complete new ignition electronics - understood to be about £2 1/2k. 7. Seizure of rear brake - necessitating two new tyres. 8. Mirror silvering failed. 9. Since my recent service there has been introduced a squeak on the wipers. My dealer cannot cure. Has replaced three sets of blades and yet another new wiper motor. The new motor is clearly audible when the previous one was not. 10. Problem with rear wash/wipe.
10-4-2013: Another report of inside/outside rust perforation, this time both side doors (of a 3 door) and the hatchback lid of a 2005/55 reg. Quoted £3,500 by MB dealer to replace the doors and hatch, with 50% contribution ferom the owner who thought he had a 30 year no perforation warranty.
27-5-2013: Claims under 30 year Mobilo "no perforation" warranty rejected due to "external influences" which Mercedes suggests are:- "tree sap, storms,or other enviromental impacts,or from events such as salt water ingress, accidental damage, vandalism or war"
Recalls
27-4-2001: 4,106 cars built 1/9/2000 to 31/1/2001 recalled because brake master cylinder may malfunction in extreme cold and only apply half of split braking system. Master cylinder to be replaced.
September 2005: Recall of A Class and Vaneos built April 2002 - April 2003 because cracks in the recess for the plastic covers of the wiper arms can cause the wiper arms to become detached. Replacement of wiper arms where necessary is free of charge.
Back: Model Timeline
Compare classic car insurance quotes and buy online. A friendly service offering access to a range of policies and benefits.

Get a quote