Mercedes-Benz 190 (1983 - 1993)
Last updated 31 October 2016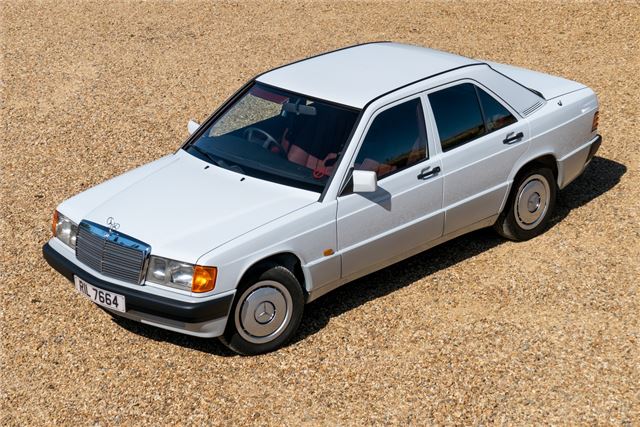 Even by today's standards, the Mercedes 190 is quite a car. Sure, it might not have bluetooth, air-conditioning and an expensive stereo. But it is quiet, comfortable and competent. It's modern enough to feel familiar with five-speed gearboxes fitted to later cars, along with an 'E' badge.
The 'E' stands for Einspritzung - or fuel injection. Another feature that gives this upcoming classic its modern feel. And just because it's getting on a bit, don't think it's slow. Fuel-injected versions of the compact car from Stuttgart can hit 60mph in 10.5 seconds, so they're more than capable of keeping up with modern traffic.
Early carburetted models will celebrate their 35th birthday in 2017, but despite their age they still feel solid and well bolted together. In fact, this model is legendarily over-engineered with plenty of tales of models covering 500,000 miles before needing major work.
Indeed, Mercedes has a 190E with more than 200,000 on the clock which still looks and feels as fresh as the day it left the dealer - although it has benefited from excellent TLC, no doubt. But the point remains - look after these cars well, and they'll look after you.
That's especially true, should the worst happen. Anti-lock brakes were optional, but the 190 also came with airbags and seat-belt pre-tensions. And, well, just look at it - it's hardly the kind of car that's going to crumple (unless rust has set in).
What's it like to drive? It's exactly as you'd expect - a solid-cruiser. More than capable of covering considerable motorway miles in comfort. The steering is easy to work with (or light and vague), which doesn't inspire you to press on over B-roads, but it's perfectly likeable all the same.
If you want something to really rival the BMW 3-series (E30) in terms of dynamics, you'll have to look towards the top of the range. A six-cylinder 2.6-litre was available while 2.3-16 and Cosworth models are still quick - but very expensive.
But if you're looking for a modern classic that doesn't cost the earth, is reliable and easy to work on, and a car that you can use every day while happily taking the family out at weekends, we reckon you can't go wrong with a 190E.
Back: Introduction
Next: Buying Guide
Buy a Mercedes-Benz 190 from £3,700
Compare classic car insurance quotes and buy online. A friendly service offering access to a range of policies and benefits.

Get a quote