Mercedes-Benz 190 (1983 - 1993)
Last updated 31 October 2016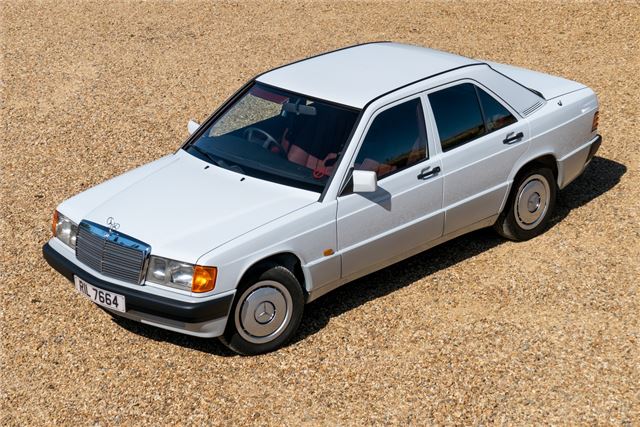 Buying Guide
Good
Build quality, solidity, door latching system.
14' 7" long by 5. 6" wide and from 1,080kg.
Takes age and mileage very well indeed if properly maintained.
1989 model-year facelift brought more legroom in back.
Hard, flat seats like those of W123 are longest-lasting seats I know.
Good autoboxes.
190 2.0 carb engine has 90 bhp, 1.8 injection 113 bhp, 2.0 injection 122 bhp. Was a 136 bhp 2.3 injection in Europe, LHD only.
Better built than C Class that followed.
Lots of 200k + mile examples around, still in very good shape. MB single indicator and lights stalk on right of steering column where it should be.
www.mtsv.co.uk is a highly recommended specialist both for buying ans selling at fair prices.
Bad
Hard, flat seats not comfortable for everyone.
'Simplex' timing chains on pre-1989 model-year cars prone to snap at around 60,000 miles.
Some facelift cars (with lower body side-moulding) used up old stocks of 'Simplex' engines.
Tinny boot lid.
Clumsy manual gearbox.
Mechanism of single arm wiper needs freqent greasing and is not included in normal Mercedes service schedules.
Watch
If buying an 'F' or 'G' four-cylinder 190 or 190E, open the oil filler cap and look at timing chain underneath. Single link = 'Simplex'; Double link = 'Duplex'.
If buying high mileage, make sure service records show 5,000-mile oil changes.
190s more than 10 years old may have started to rust.
Clonking autoboxes.
Noisy rear axles.
Power steering leaks.
Kerb damage to front suspension (look for uneven tyre wear).
Clocking of these cars is rife so a full service history with receipts and old MOTs tells you a lot more than that the car has been properly serviced.
16-12-2011:

 If single arm wiper starts to slow down, lift the flap on the bottom of ther arm and lubricate with graphite oil.

Clocking.
Uneven tyre wear a particularly bad sign on this one as could have been crashed.

190 2.3 Cosworth was single chain 175bhp, changed to duplex on 2.5 version.  Simplex chain needs changing every 70,000 miles.
Back: Driving
Next: Running
Buy a Mercedes-Benz 190 from £3,995
Compare classic car insurance quotes and buy online. A friendly service offering access to a range of policies and benefits.

Get a quote