Mercedes-Benz 190-300 (1959 - 1968)
Last updated 3 April 2013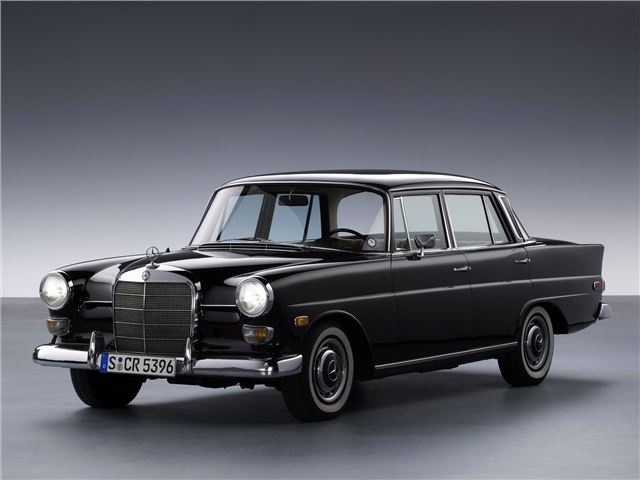 Solid build, elegant coupe and cabriolet, performance in 300 form.
A little bit dull to drive in 190 form
Introduction
The mid-range Fintail Mercedes-Benz saloon are arguably the first generation of cars that we haqve come to know as the E-Class. The four- and two-door cars were offered with a range of engines, and bodystyles, including a diesel for the impecunious German taxi driver. When launched in 1959, these cars helped define Mercedes-Benz in its core market.
The tailfins may have been shamelessly tacked on to attract American buyers, but there's no arguing their effectiveness: the Fintail Mercedes-Benzes sold well Stateside. Entry-level models had single round headlights, with the more desirable versions treated to the stacked headlamps and double-decked bumpers that would become Benz family trademarks for years to come.
The range-topping Mercedes-Benz 300SE was rather special - and again, the beginning of what the company became so well-known for - for cramming big engines into medium-sized cars. Extra chrome helped it stand out, but self-levelling air suspension, all-wheel disc brakes and power steering made this range-topper an absolute delight to drive. That 3.0-litre straight-six was a detuned version of the 300SL engine, and could be bought with four-speed manual or automatic transmission.
The coupes and cabriolets were particularly delightful - they were the first incarnations of Paul Bracq's two-door, which lasted for more than a decade. Interiors were beautifully-made, and are still seen as a landmark in Mercedes-Benz design. They were offered with 2.2- and 3.0-litre straight-sixes, with up to 170bhp for strong performance. 
Next: Specifications