Mercedes-Benz 180 and 220-Series (1953 - 1962)
Last updated 3 April 2013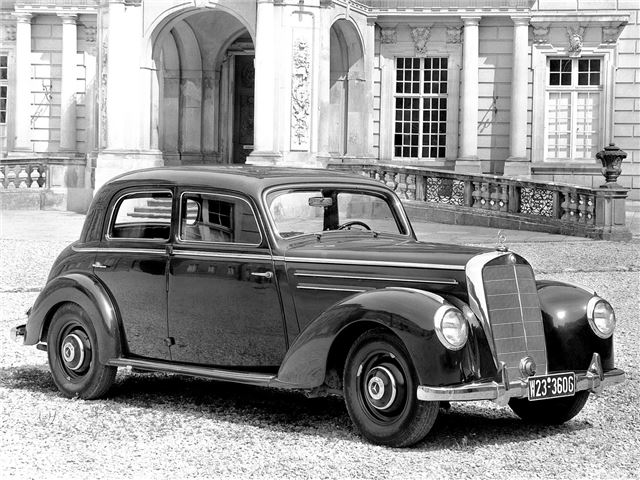 Well engineered, capable of running at speed all day long, surprisingly good to drive
Not exactly easy to find in the UK
Introduction
Just as the large 300-Series gained a nickname to become of the 'Adenauer', the entry-level Mercedes-Benz 180-220 became known as the Ponton. If that seems a little vague as a reference, it means pontoon in German, and refers to the bridge-like suspension subframe.
The 180 and 190 were four-cylinder powered, and once they'd received the new overhead-cam engine to replace the old pre-war side-valve unit in the launch models, the Ponton emerged as a very competent range of cars. None was particularly sparkling in terms of performance, especially the underpowered 180D diesel. The larger 220s have a longer wheelbase and were powered by six-cylinder engines - and consequently because they were so much better to drive, the are now worth more.
But just as the Adenauer was offered in different forms, so was the Ponton. The most desirable (today especialy) was the 220S and SE Cabriolet, which featured much prettier bodywork based on a shorter floorpan. The 220S was powered by a 100bhp six-cylinder engine with twin Solex carburettors, but was then was joined by the 220SE in 1958. As with all subsequent Mercedes-Benzes, the 'E' stood for Einspritz which is German for fuel injection. The 220SE was 20bhp more powerful and was sold new at a handsome premium - and such was its appeal, that it remained in production a year longer than the saloon.
The Coupé was the final new Ponton to be launched. It appeared on the market a year after the saloon and Cabriolet, and was effectively identical to the open two-door car aside from the fixed roof and upright rather than slanted frames for the rear of the side window. The Coupe was a full four-seater, with excellent head- and legroom all round.
Built from the best materials, but before the era of rust protection so many will have suffered from corrosion even if they've been garaged all their lives. All of them are pretty rare in RHD, the Cabriolet especially so.
Next: Specifications