Mazda MX-5 (1989 - 1997)
Last updated 31 August 2017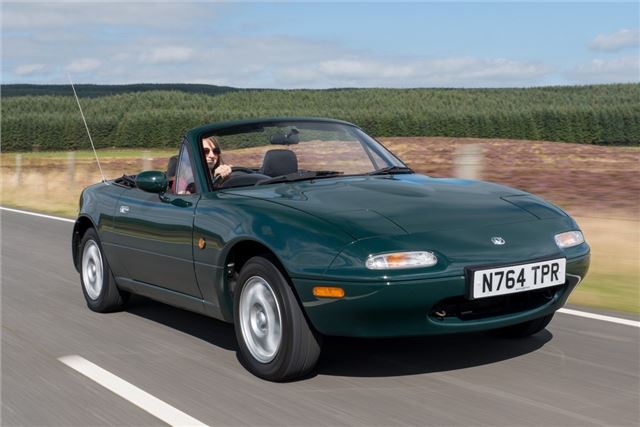 Buying Guide
Good
Sweet, neat, 'back to basics' sportscar. The best small, affordable sports car ever made.
Model designation NA (enthusiasts insist on this)
Twin-cam 16-valve 114bhp 1.6 and 130bhp 1.8 engines. 1.6's uncatted at first. Rare 150bhp 1.6 BBR Turbo available, 5-speed gearboxes. (Autos only on independently imported Eunos Roadsters and Miatas.)
Nice 'works' hard-top. Hood opens with one hand from driver's seat.
8th from top for reliability in Auto Express 2002 survey. 17th equal from Top in 144 car 2002 JD Power / What Car? Customer Satisfaction Survey of V and W reg cars. 100,000 mile H regers (11 years old) down to £2,500 at auction in 2002. Can't drop any more. Mazda generally 4th lowest average warranty repair costs in 2003 Warranty Direct Reliability index (index 47.61 v/s lowest 31.93) Link:- www.reliabilityindex.co.uk 1995-1997 rated fewest breakdowns, problems and faults in 2003 Which survey. 98% of cars up to 2 years old breakdown-free over previous 12 months in 2004 Which? survey.
Engines are "non interference", so if the timing belt snaps orr comes off the valves don't hit pistons.
Original wheel and tyre sizes were

 14-inch wheels with 185/60 or 14-inch wheels with 175/65 R14 tyres (though many will have been modified).
Bad
Cheaper to build than a 323 but sells for a lot more money.
Lots of dodgy second-hand Eunos Roadster imports about.
Catalysed 1.6i engine from April 1995 not powerful enough (just 88 bhp, as against 114 bhp for previous 1.6, 130 bhp for 1.8 and 150 bhp for 1.6 BBR Turbo).
PAS not always fitted.
All Mk 1s had plastic rear windows unless replaceds by an aftermarket glass one.
Watch
Due to certification numbers restrictions, for a short period from May 1998, uncertificated Eunos Roadsters imported by traders could not legally be registered, so some Eunos Roadster might be 'clones'.
MX-5s are sports cars, so could have been thrashed.
Fashion accessory MX-5s may not have been serviced properly.
SVA 'kits' available to get imports through SVA, but non-SVA Japanese parts may then be put back.
Check speed ratings on tyres (Japan has a 55 mph limit.)
Series 1 headlight motors go.
Uneven tyre wear probably signifies accident damage.
Sills and rear wheel arches are very rust-prone. Sill rust sometimes hidden by kick plates. 
Japanese market Eunos Roadsters were not rustproofed from new.
Rear springs of Mk 1s prone to breaking.
Wet carpets are usually the result of 

the drain holes in the sills becoming blocked with water and dirt running off the hood then filling up the sills and finding its way into the car. Sometimes it can be heard sloshing around. Almost certainly the car will be rusting around the base of the rear wheel arch and sills too. There is no simple cure for the rust, 

but as a preventative on all MX5s is to use something like a wooden kebab stick tp poke the drain holes clear on a regular basis from new.



Recalls
7/12/2000: 135 Jasper Conran Limited Edition MX-5s recalled because driver's floormat my interfere with throttle pedal causing throttle to stick open. Mat to be replaced with modified mat.
Back: Driving
Next: Running
Buy a Mazda MX-5 from £6,995
Compare classic car insurance quotes and buy online. A friendly service offering access to a range of policies and benefits.

Get a quote