Mazda MX-3 (1991 - 1991)
Last updated 6 March 2019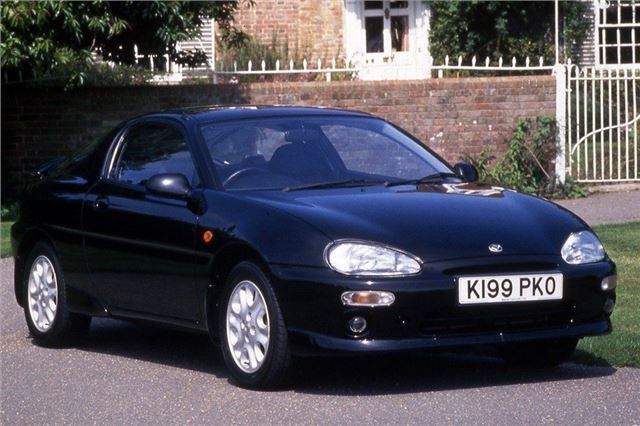 Buying Guide
Good
Mazda generally 4th lowest average warranty repair costs in 2003 Warranty Direct Reliability index (index 47.61 v/s lowest 31.93) Link:- www.reliabilityindex.co.uk
Oddball but inoffensive styling.
Need timing belts every 60k miles, but no history of prior breakage and V6 engines are non interferance anyway.
Bad
1,598cc 88 bhp automatic much less impressive.
Back seat strictly for small children.
Power of V6 dropped to 128 bhp in August 1994.
Complexity of quad cam 24v V6 makes it expensive to service once the miles and age pile on.
Watch
Don't buy the V6 at the 80,000-mile mark unless it has had a timing belt change.
Look for a proper Mazda history. Don't pay a 'coupe premium' price without it.
Check if it's a personal import with a Eunos badge and, if so, pay less.
If a V6 is smoking the reason could be any one of 24 valve stem seals.
Recalls
1994: MX3 1.6 & 1.8 (build March '92-Aug '94: VIN JMZ EC13** 00100001-00113020): front suspension coil may fail and puncture tyre.
25-4-2000: front springs of 108 cars built May/June 1995 may rust and fail. Springs to be replaced.
23-10-2015: US recall of 1.2 million older model Mazdas because grease could accumulate inside the ignition switch, causing overheating and possibly a fire. The problem does not occur when the vehicle is in motion. Covers 1992-93 MX-3, 1993-97 MX-6, 1993-95 929, 1993-98 626, 1989-1998 MPV and 1990-96 323/Protégé. Recall unlikley to be repeated worldwide because most of the cars will already have been scrapped.
Back: Model Timeline