Mazda 323 (1989 - 1994)
Last updated 21 September 2016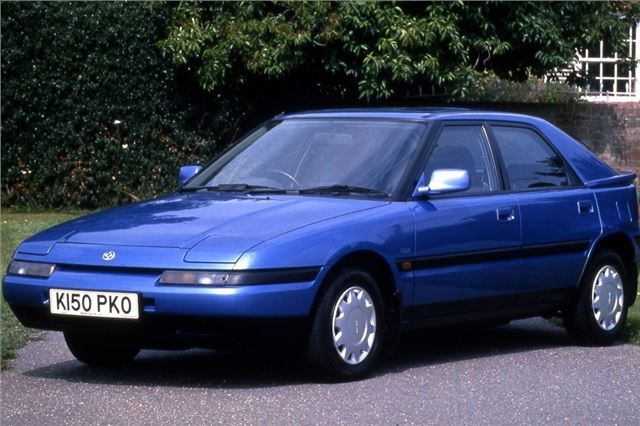 Buying Guide
Good
Tidy looks, sweet engines and brilliant reliability
Bad
Immensely complicated model range of 3-door hatchbacks, 5-door hatchbacks, 4-door saloons and 5-door estates. Handling and roadholding not quite to UK tastes. Very light power steering. Not immune to snapped timing belts. Excellent factory paint finish can be hard to match after accident damage. Average ventilation on saloon is poor on F-Type hatchback, which is prone to misting up. Not much room in the back seat of F-Types. Screen rubbers of F-Types let in water and screen surrounds rust.
All got catalytic converters. Power outputs now 74 bhp from 1.3, 89 bhp from 1.6, but just 129 bhp from 1.8. General bad points, as 1989 to 1991, but no carburettor worries. Screen rubbers of F-Types let in water and screen surrounds rust.
Watch
Make sure car has been regularly serviced, at least every 6,000 miles.

Damaged trim is expensive to replace.

Make sure all the electrics work.

F-Types may have suffered parking damage due to poor rearward visibility.
Common now to find rust in the door bottoms. Condensation inside F-Types indicates failure of screen seals and screen surrounds rust.
Recalls
23-10-2015: US recall of 1.2 million older model Mazdas because grease could accumulate inside the ignition switch, causing overheating and possibly a fire. The problem does not occur when the vehicle is in motion. Covers 1992-93 MX-3, 1993-97 MX-6, 1993-95 929, 1993-98 626, 1989-1998 MPV and 1990-96 323/Protégé. Recall unlikley to be repeated worldwide because most of the cars will already have been scrapped.
Back: Introduction