Lada Niva (1977 - )
Last updated 31 July 2013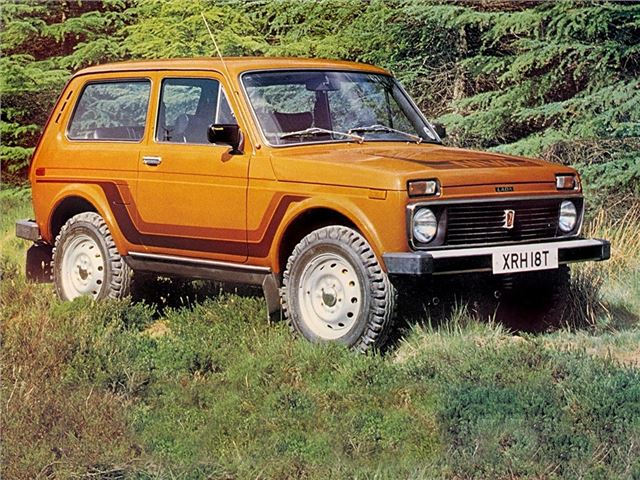 Buying Guide
Good
Lada's 4x4. Dates back to the 1970s, but quite good if your need is for a tough, basic 4x4.
12' 2" long by 5' 6" wide and 1,210kg to 1,550kg.
79bhp 1.6 engine. 5-speed gearbox with high and low range transfer box.
Usual Lada full tool kit supplied.
Low range gears, short wheelbase and diff lock made it very good off road.
Later cars had Suzuki-like front. Some have been fitted with aftermarket PSA XUD diesel engine. Should be next to nothing cheap. 
Revived in 2011 by Mark Key. Two models available: a van version, at  £8,695 plus VAT, and a car version at £10,974. LPG conversion £534, but takes up load space behind rear seats. Optional snowplough.
All left hand drive.
Engine 4 cylinder petrol, 1,690cc,  now fitted with Bosch fuel injection and E5. Power 80bhp at 5000rpm; Torque 95lb ft at 4000rpm; Gearbox Dual-ratio 5-spd manual.1.7-litre, four-cylinder petrol engine.
Dashboard replaced with a new VDO instrument pack.
Very basic, hose washable rubber floor mats.
Very noisy.
Top speed 91mph; 0-60mph 16.3sec; Economy 33mpg; C02 225g/km.
More at: markkkey.co.uk , including used Lada Nivas, everything you need to know.
Bad
Very noisy, slow, thirsty and dated. Quite a small cabin (looks like a Fiat 127 on stilts).
Trim not up to the job. Horrible to drive on the road (swaps ends in the wet).
Obstructive gearbox.
Imports ended in 1996, but were revived in 2011 by Mark Key.
Watch
Make all the usual working 4x4 checks as these aren't bought for status and are bound to have been hammered off road.
Look for leaking gaskets and seals in the axles, gearbox and transfer case.
Check the hub bearings and steering bushes carefully.
Look for rock damage to sump and axles. Expect the seat trim to have fallen apart.
Expect some rust. If there are holes on the surface panels, check the structure very carefully with an old screwdriver.
Be highly suspicious of fresh underseal
Back: Introduction