Jensen Interceptor (1966 - 1976)
Last updated 27 November 2014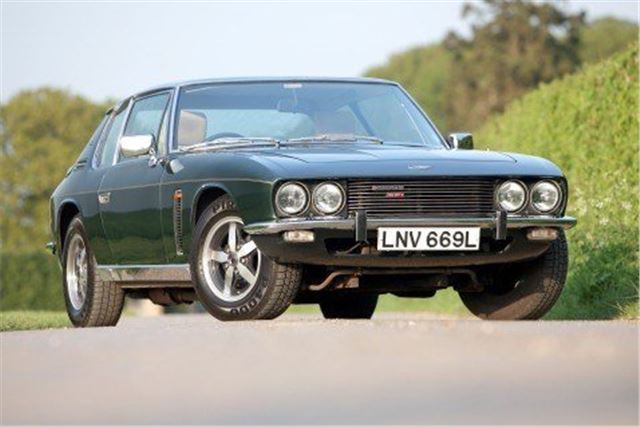 Buying Guide
Bodywork
All Interceptors were hand built and use extensive lead loading – so what looks like a simple repair can be expensive.
Check the sills for rust, make sure you look behind the stainless steel sill covers.
Inspect the drainage holes are clear of debris – if they're blocked the sills will be in trouble.
Passenger footwell boxes can rust, especially along the leading edge.
It's not uncommon for the front screen to leak – they didn't always fit very well.
That said, you should make sure there is no corrosion around the screen.
This can lead to rust in the footwells.
Other rot spots include: rear wheelarches, fuel filler flap, front wheelarches and door bottoms.
Bonnet and wings can suffer from heat crazing caused by under-bonnet heat.
Re-chroming is very expensive so make sure the front and rear bumpers are in good condition.
Engine & Gearbox
Mk1, Mk2 and early Mk3 cars got the 6.3-litre Chrysler engine.
The Mk4 used Chryslers 5.9-litre.
Both units are strong and reliable, although an early Mk3 with the 6.3 is the car to have.
Manifold gaskets at the cylinder heads can be a weak point. If they need replacing, you'll also need to get the heads skimmed.
Although these cars are designed for long runs at high operating temperatures, they often struggle to remain cool, especially in traffic.
Many owners fit aftermarket electric fans, but make sure this isn't hiding bigger problems.
Oil pressure should be 60PSI at speed or 25PSI at idle.
Check all hoses and pipes for signs of wear and leaks.
Torqueflite gearbox is strong and smooth – few cars have a manual change.
A small leak isn't uncommon, nor is it fatal… as long as you keep the fluids topped up.
A clunky (ie not smooth) change hints at a worn gearbox.
Rear axles are prone to leaks, but if fluid loss is excessive there is a bigger problem.
Differential seals are 'U' shaped and difficult to fit, so check for leaks here.
Interior & trim
If the car is fitted with a walnut dashboard, make sure it isn't delaminated as it can be pricey to fix.
Leather seats are hard-wearing but if they need retrimming it won't be cheap.
Speedo cables tend to wear, so listen out for a dull humming.
GKN alloys are cool, but tend can go out of shape if they become porous. Correct profile tyres can be expensive but alternatives are available.
Check the fit and condition of the exhaust as it isn't uncommon for small areas to leak.
Back: Introduction
Next: Specifications
Compare classic car insurance quotes and buy online. A friendly service offering access to a range of policies and benefits.

Get a quote