Jeep Wrangler (1993 - 1996)
Last updated 25 April 2018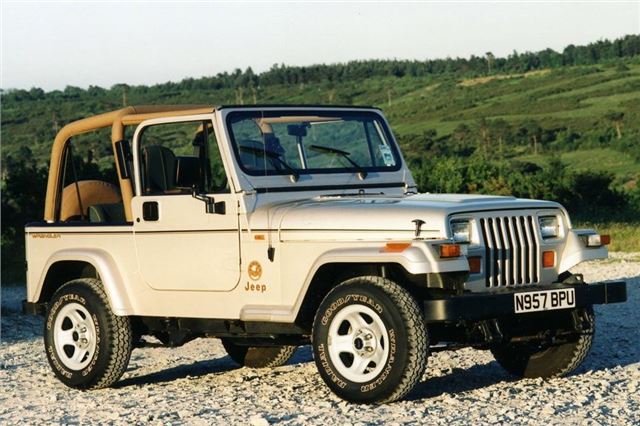 Buying Guide
Bad
2.5 litre four cylinder petrol engine noisy, but comes with a manual shifter. On road handling not great. Older, leaf sprung examples with PAS are pretty horrible to drive. 

Standard weather equipment is not up to much and a fibereglass hardtop with fibreglass doors is highly advised for winter driving. 

Mazak alloy mouldings of door miirrors and bonnet hinges highly prone to oxidation if the paint surface is broken. 

Chrysler Jeep least reliable of 31 makes of car in 2002 'Which?' reliability survey cars 2000 - 2002.
Chrysler Jeeps had highest warranty repair costs in 2003 Warranty Direct Reliability index (index 260.97 v/s lowest 31.93).
Jeep bottom of Reliability Index again for 2004 combining high average cost of repair of £509.31 with high 43.75 failures per 100 Warranty Direct policies www.reliabilityindex.co.uk
Watch
Damage from off-roading. Carefully check front axle swivel joints for pitting and oil leaks.
Recalls
February 2002: Recall in Germany (apparently worldwide) of 268,700 Wranglers due to a parking brake problem.
29-06-2001: DaimlerChrysler Technical Service Bulletin (number 21-006-01) applicable to ALL vehicles equipped with Chrysler automatic transmissions (except 1999 and earlier minivans) states "A new transmission fluid (ATF+4 Type 9602) has been developed and is being used as factory fill for all vehicles with Chrysler automatic transmissions. Until now, vehicles originally filled with ATF+2 or ATF+3 were to be serviced with ATF+3. Effective immediately, it is recommended that all vehicles with Chrysler automatic transmissions (except for 1999 and earlier minivans) be serviced with ATF+4."
29-11-02: Ignition switch may short circuit due to water ingress causing a vehicle fire. 265 Wranglers recalled for switched to be replaced. Also debris can accumulat on exhaust manifold. 1.651 cars recalled to remove debris and install a manifold debris shield.
Back: Model Timeline
Buy a Jeep Wrangler from £10,000
Compare classic car insurance quotes and buy online. A friendly service offering access to a range of policies and benefits.

Get a quote