Jaguar XJ220 (1992 - 1994)
Last updated 25 May 2017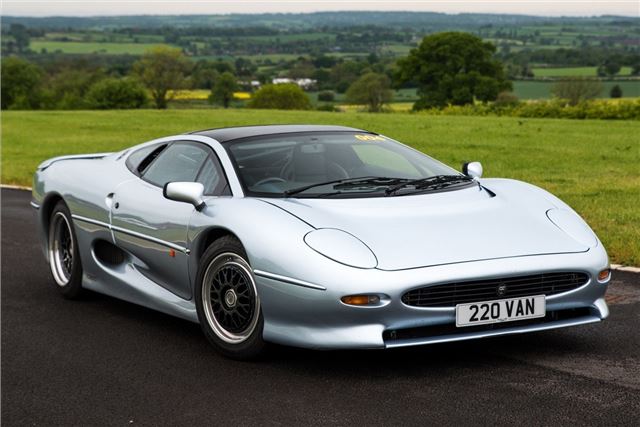 Timeless styling. Once held the title of world's fastest car.
Unfashionable and very expensive when new.
Introduction
Believing Jaguar needed something iconic to rebuild its tarnished image, engineer Jim Randle set out to create a Group B supercar to take on the combined might of Ferrari and Porsche. However, with limited resources at his disposal, he was forced to seek a team of a dozen unpaid volunteers willing to work after hours and at weekends.
Famously known as the 'Saturday Club', this small team created the sensational XJ220 concept car which was unveiled to rapturous applause at the NEC Motor Show in October 1988.
Jaguar was inundated with blank cheques as more than 1500 enthusiasts and speculators clamoured to get their hands on of one the V12-propelled show-stoppers. A response that forced Jaguar to grant approval for a limited production run of 350 road cars.
A dedicated JaguarSport joint venture was set up with the company's then competition partner, Tom Walkinshaw Racing. Jaguar even opened a brand new XJ220 factory in Bloxham near Banbury.
When customer sales started in June 1992 (hence this year's 25th birthday celebrations) the dramatically-styled, mid-engined, two-seater supercar – priced at £400,000 plus VAT – was not only Jaguar's fastest ever production car, but also the fastest production car on earth - officially clocked at 212.3mph.
But like the XJS, the XJ220 was launched into a world heading for an economic recession. More bad news was to come - many of those bowled over by the original prototype weren't quite so excited by the downgraded specification of the eventual production car.
Originally conceived to feature a V12 engine plus four-wheel-drive, the customer version came with a 3.5-litre twin-turbocharged V6 – albeit with 542bhp – delivered to just the rear transaxle.
Production ended in in 1994 with 281 cars built, Jaguar was left with 150 unwanted XJ220s many of which were eventually sold off for less than half of their list price. Now, though, the XJ220 is starting to be respected by motoring aficionados and serious collectors. 
Compare classic car insurance quotes and buy online. A friendly service offering access to a range of policies and benefits.

Get a quote