Jaguar XJ (2003 - 2009)
Last updated 12 April 2018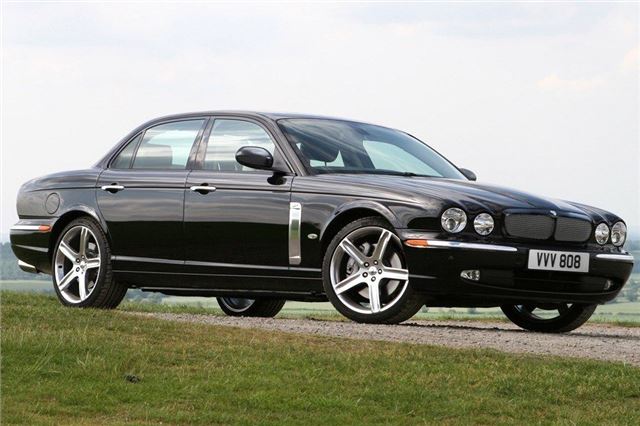 Sometimes you read performance described as an iron fist in a velvet glove. Not this time. Velvet glove, for sure. This is the smoothest, most refined diesel in the World. Yet, though it gathers pace commendably quickly, to 60 in 7.8 seconds, and is far from a limp wrist in a velvet glove it certainly doesnt perform with the feeling of being hurled forward by some brutal, unseen force. 

No problem. It simply lopes along in its natural speed range of 90 120mph, noiselessly, effortlessly and, pushing a comparatively light kerb weight of just 1,659kg, very economically. The official figure is 35mpg combined and we found no reason to disbelieve this. It actually feels like its only sipping fuel even at 100mph. 

Apart from a curious tinkling noise that sounds a bit like pinking when accelerating hard, this Jaguar is the least diesel-like diesel I have ever driven. You cant hear it at all. At idle, electronically controlled active engine mountings reduce vibration by 90%. Outside the car, if the surroundings are quiet, you can hear a subdued diesel rattle. But in town even that is drowned by surroundsound and you dont notice it. 

The electronically controlled air suspension automatically lowers the car at high speed. We hit 220kmh to 230kmh several times and the highest speed we saw on test was 238kmh, which is 5mph over the claimed maximum of 141mph and at which it felt completely stable and unruffled, even when braking to 100kmh or so for the next bend. The air suspension also provides superb ride comfort on the test roads at the Spanish/Portuguese border where surfaces varied from billiard smooth to as pot-holed as a British B road. 

The 6-speed automatic transmission is a good match for the engine. Whether you select Sport or simply leave it alone, it picks its own ratios well enough for you not to miss the lack of a buttonshift. The Jaguar J gate is okay for holding ratios on hills, but too cumbersome to use for high speed cornering. 

Handling is precise and steering faithful to the line you choose, only scrubbing off speed and running a tad wide if you misjudge the corner slightly and the box changes gear. Its a left foot brakers delight and definitely a car you can trust to do what you want with very good feedback for such a large car. 

Three can sit comfortably across the back and even an average sized adult sitting piggy in the middle has enough headroom not to have to bend his neck. The boot is big and nicely carpeted, with a full size matching alloy spare wheel under the boot floor. 

The Bluetooth system means that all you have to do is accept the connection with your compatible Bluetooth phone and you can then leave it in your pocket using the cars hands-free controls instead. 

We were testing in 35 40 degree ambient temperatures, and the twin turbochargers got very hot, especially after a long ascent, so owners need to be warned to idle the engine for a few minutes before switching off to avoid carbonising the oil in the turbo bearings. 

But thats the only minor negative. If you want a fast, refined, economical cruiser with excellent handling and driver appeal and entirely built in Britain, then this is the car for you. 

Not only that, its comparatively low 214g/km CO2 means the lowest BIK bill of any luxurious car. 40% taxpayers will pay £5,103 - £5,799 over a full tax year.
Back: Model Timeline
Next: Buying Guide