Jaguar S-type (1999 - 2007)
Last updated 27 November 2017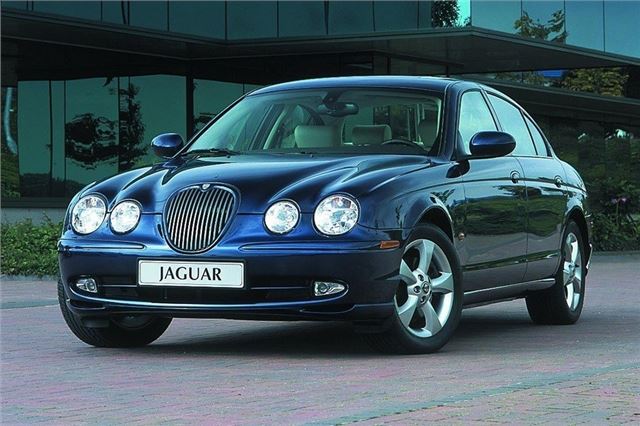 Buying Guide
Good
S and T reg cars came a good 17th in 2001 Top Gear / JD Power Customer Satisfaction Survey, ahead of the Toyota Corolla.
Average number of breakdowns, problems and faults and rated a 'Best Buy' in 2003 Which survey.
Which? used best buy £15,000 - £20,000 in 2004.
Bad
No limited slip diff, so apt to rely on traction control instead. Outclassed in handling, roadholding and safety by W211 E Class Mercedes. Automatic 'J' change of older 5-speed autobox can be sloppy and apt to drop a gear unasked when you're halfway round a corner.
Early V6 manuals criticised for baulky gearchange and too revvy engine management system.
Second-hand prices originally higher than same age XJ8s.
Whining of Type R's Eaton supercharger sounds great to start with but can become wearing on the driver. 

Jaguar had fifth highest warranty repair costs in 2003 Warranty Direct Reliability index (index 126.91 v/s lowest 31.93). Jaguar 2nd bottom of Reliability Index for 2004 combining high average cost of repair of £483.26 with high 42.16 failures per 100 Warranty Direct policies. Link:- www.reliabilityindex.co.uk

Have been problems of misaligned propshafts, premature disc wear, porous heads on V6s and PAS pump failures. 

Air-conditioning condensor matrix of 2.6 diesel is vulnerable to stone damage. Best to fit a home made grille to protect it.
Watch
Rare on S-Type problem of V8 blocks suffering Nickasil bore liner problems after 50,000 - 60,000 miles, losing compression and being replaced without question by Jaguar if under 100k miles, under 5 years old, with full Jaguar service history. Lumpy feeling V8 engine is a sign of the V8 engine problem. Definitely no problem from September 2000 build. 

Timing chain tensioner problems on V8s. Listen for noisy timing chain. 

Water leaks into boot compartment play havoc with electrics (because that's where the battery sits) as rear lamp seals and boot lid seal can fail. The seal needs to be cemented into place with waterproof silicone sealant. Boot lock solenoid also subject to failure due to moisture ingress.

Have been problems with Mondeo based electric window winding mechanisms. Typical failures on early cars include ignition coils, water leaks, seat motor, window motor, door lock and security alarm faults. Check all electrics as best you can before buying (particularly important with auction bought cars.) 

Original 5-speed autoboxes prone to failure at around 60,000 miles. 

Thread for insertion of rear towing eye is ANTI-CLOCKWISE. This isn't mentioned in the driver's handbook. 

Bonnet safety catch can corrode from road salt and seize open, so does not restrain the bonnet if main catch fails. Make sure the safety catch is well greased and working properly. Needs re-checking at least once a month in the winter. 

Threeseparate complaints of multiple problems with S-Type diesels received in 10 days, which is a lot compared with the total number of S-Type diesels out there. By late August 2007 Jaguar had 120 cars with this problem that it was unable to fix. Apparently working on a software solution. 

On 2.7 diesel in winter engine pre-heater is close to ventilation system and apt to fill the cabin with fumes. 

At least one 2.7 diesel has suffered big end failure at 4 years old and models miles, put down by the dealer as 'component failure', definitely not shortage of oil as the car had just been serviced.
2.7 diesel turbos run very hot and are prone to turbo oil seal failures. need to be idled after motorway runs in hot weather, after long ascents, or after towing. 2.7d engines used for short runs from cold starts will clog their particulate filters, leading the the excess fuel for regenerating them dribbling down the bores into the sump, contaminating sump oil and raising its level to a point where the engine may run on it.

Seems to have been a "bad" batch of turbos fitted to 2006 2.7 V6 turbodiesels. Though failure may simply be due to failure by owners to idle the turbos from red hot before switching off. They do get extremely hot, especially after a long ascent. 

6-speed autoboxes have required software upgrades. Torque converter failures of 6-speed automatics (known as "gearbox squark") have become quite common. Problem of lurching of ZF autobox covered at www.thelurch.com plus numerous other Jaguar TSBs. This can be temporarily alleviated by using different automatic transmission fluid and an additive. Jaguar has replaced transmissions on 3 - 5 year old cars for as little as £770, calling it a "25% contribution", though the true customer cost of a new transmission would be more than £3,080. 

'Electronic' parking brake (from 2002MY) has caused excessive rear disc and pad wear. 

Alarm problem may be due to a faulty 'boot open' switch. Misplaced sealing ring allows damp to corrode the switch contacts. Cleaning the contacts solves the problem. 

Like Mercedes and Renault, the automatic transmission fluid cooler is situated in the radiator where a fracture can put coolant into the transmission fluid and wreck the transmission. 

Seems to be a problem with the 'electronic' (electric) parking brakes failing to disengage properly, leading to excess wear on the rear discs and rear disc life as short as 15,000 miles. 

Batteries prone to discharging through fault boot light switch.
16-8-2011: On 2.5 and 3.0 V6 petrol, a rumble from the front may mean that  the bottom crank pulley damper assembly 4659709 is starting to separate around the rubber insert  in the middle of the flat dinner plate sized wheel. Costs £83.23 + vat. Pulley Assy £25.47 +vat and the V-Belt £17.86+vat Total Labour £82.00. Separation is usuallly more marked on the inside than the side one can observe. If it fails completely then engine is written off.
23-12-2011: Report of engine oil pump casing that the timing belt tensioner is bolted to shearing off and timing belt coming off and trashing the engine of 2007 2.7 TDV6 with 60,000 miles. (Ths was a Range Rover Sport, but same basic engine in S-Type 2.7 V6 diesel.)
29-5-2013: Intermittent running of radiator fans on 2008 2.7V6 diesel fixed as follows: "Checked fault memory and found fan circuit low. Checked wiring loom from ecu and found fault. Traced faulty wire back to o/s/f chassis area to find power lead chaffed, carried out wiring repairs and tested system found working all ok, refitted all trims."
5-4-2014: Climate control of 2005 Jaguar S-Type 2.5 V6 randomly switches to maximum heat. Possible faulty cabin thermostat?
10-6-2014: Low pressure fuel tank sender pump of low mileage 3.0 V6 S-Type apparently due to high resistance of relay.
10-9-2016: Tip from RP that if the aircon packs up, despite a re-gas and no obvious reason, it's probably due to intermittent failure of the relay solenoid switch that can be replaced inexpensively.
Recalls
4-10-2000: 2,109 S Types built 5/200 to 7/2000 recalled because part in front seatbelt buckles not to standard and may release the belt when subject to load. All buckle assemblies between production dates to be replaced. 23/11/2000: 18,062 S Types built 1/1999 to 9/2000 recalled because first thread of the ball stud in the front suspension lower ball joint could fracture leading to separation of the lower control arm from the knuckle leading to limited steering control. Ball joints to be checked and vertical links to be replaced if necessary. Defective timing chain tensioner apparently subject to a recall, but cannot give a date. April 2004: Recall because 6-speed automatic can slip into reverse at high speed due to computer software problem (per 'Auto Express' 21-4-2004). TSB (unknown date) Apparently Auto transmission fluid looses viscosity and the remedy is to replace the fluid and reset the adaptive sensors. That might overcome the torque converter problems outlined above.
TSB R-513 recall: On certain passenger vehicles equipped with automatic transmissions, with the forward gear selected and the vehicle stationary or in a forward motion, the gearbox could potentially select reverse gear, without indication.  Internal : With the vehicle stationary, and Drive (D) is selected, the transmission may select Reverse (R) if there is insufficient oil pressure in the transmission and/or a sticking valve within the transmission. If this condition is 
present, the vehicle will default to Mechanical Limp Home mode and the Malfunction Indicator Lamp (MIL) will illuminate.
TSB S307-17. Drifting of program for adaptive learning. Now involves both engine AND gearbox reprogramming to address customer concern of harsh transmission shifts, particularly 3 - 2, 2 -1 roll out and 1-2 up-shifts The adaptive shift strategy drifting over time causing higher than normal clutch pressures. To eliminate the issues outlined in the summary the transmission adaptions must be cleared and the Transmission Control Module (TCM) and the Engine Control Module (ECM) should be re-configured using the Worldwide Diagnostic System (WDS) with software release JTP 759/35 or later. Should a customer express concern, follow the Service Instruction outlined below.
TSB S307-15 This Technical Bulletin has been issued to address customer concerns of a squeal or squeak noise heard during gearshifts under acceleration.
TSB S307-14 This Technical Bulletin has been issued to address a customer concern of a surge in excess of 150rpm during engine warm up, at a temperature of 30°C to 50°C and at a vehicle speed in the region of 40mph (64.3kph) to 60mph (96.5kph).
One TSB since 2006 on the 2.7 V6 twin-turbo diesel to replace the turbos.
23-04-2007: Some owners not notified until June 2007 R/2007/045JAGUARS-Type 2.7 V6 Diesel and XJ 2.7 V6 diesel particulate filter excessive heatVINs SAJAC031167N32679to SAJAA011387N82818Build dates 01/09/2004 to 31/03/2007 to solve a problem with the diesel particulate filter that could cause a danger of fire after a slow journey.
Back: Driving