Jaguar Mk1 (1955 - 1959)
Last updated 25 August 2013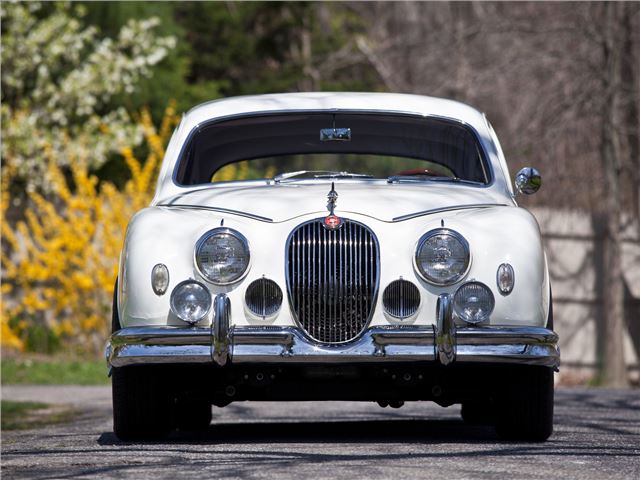 Model Timeline
May 1952
Jaguar begins work on a new small saloon
During 1952 Jaguar completed its move from Swallow Road to Browns Lane in Coventry, which is where project Utah, as the new Jaguar programme was known, began its life. Three things were clear from the outset, it would be a saloon, have unitary construction and have an engine of around 2.5-litres. As saloons comfortably outsold roadsters, the decision to opt for a tin top was not hard to make.
The Motor industry was in general opting for unitary construction over that of using a separate chassis and body. The theoretical advantages of unitary construction was that cars could be made both lighter and lower and at a greater rate. Pressed Steel made the panels for the separate chassis Jaguar's anyway, so it would be easier for Jaguar to hand over responsibility for body production for project Utah to them. The only daunting thing facing Jaguar was the cost of the unitary method. To make Utah economic, Pressed Steel would, according to writer Jeff Daniels, have to produce 10,000 bodies a year.
These were the early days of unitary construction and as Jaguar Chief Body Engineer Bill Thornton and his assistant Cyril Crouch worked with Pressed Steel, sometimes compromises had to be made. Styling, which was of course done by Jaguar boss William Lyons, had to blend in with the need to add strength, which in turn added weight, to the bodyshell. Another disadvantage with the unitary method compared with that of the separate chassis was that of noise, vibration and harshness (NVH). The unitary body tended to act as an echo chamber and amplify noises transmitted through the suspension. Dealing with NVH then was an unknown science, luckily Jaguar assigned engineer Bob Knight to the case, a man who was to become the worlds leading authority on the subject in his subsequent work for for the company.
Utah ended up with a wheelbase of 107.4in, a length of 181in, 67in wide and a height of 57.5in. In reality, the resulting car was not all that smaller than the MkVII saloon. However, with a kerb weight of 2800lb, the unitary construction body was lighter than the 3864lb Mk VII. Jaguar had a sporting image, this was after all the companies Le Mans glory years era, and it was important that Utah's 2.5-litre engine could propel it to 100mph. But what engine would it use?
Jaguar, under Technical Director William Heynes, had two choices. It could use a 2-litre, four-cylinder XK engine or modify the existing six-cylinder unit. Jaguar had worked on a four-cylinder XK engine right up until November 1953, a 1970cc unit with an 83mm bore and 91mm stroke, producing anything from 95bhp to 105bhp at 6000rpm. What did for the four-cylinder XK was a combination of marketing and technical issues. It was felt that using a four-cylinder engine would take Jaguar to far downmarket, and once it was realised what form Utah's bodyshell would take, it was realised that the 2-litre XK four lacked the grunt to give the car the required performance.
Therefore Jaguar turned towards the option of modifying the existing XK six-cylinder. In fact it was working on this option simultaneously with the four-cylinder variant.
On 25 August 1952 Jaguar tested a 3.4-litre block fitted with a shorter stroke 77mm crankshaft to produce a 2499.69cc engine. This test cycle lasted until 11 December 1953. However on 26 August 1953 Jaguar tested a new engine, retaining the standard XK bore of 83mm with a new stroke of 76.5mm to create an engine of 2483cc. This new variant clearly won through as testing on the alternative engines ceased at the end of 1953. The production 2483cc XK engine would use a shorter block than the 3.4-litre version and used Solex instead of SU carburettors to produce 112bhp at 5750rpm and torque of 140lb ft at 2000rpm. The transmission was a Moss manual four-speed gearbox with Laycock de Normanville overdrive available as an extra.
The front suspension was the work of William Heynes, used coil springs mounted to a separate subframe in an effort to reduce NVH. For the rear suspension Heynes opted for a layout using cantilevered semi elliptic leaf springs and plenty of rubber, again to reduce NVH. The steering was by Burman and Lockheed supplied the all round drum brakes. The external styling by William Lyons took its cues from the XK sports car range. The interior was the usual walnut and leather that buyers of this type of car expected with a huge if old fashioned looking steering wheel.
By September 1954 Jaguar had two prototype Utahs running and an off tools prototype was completed on 7 January 1955.
October 1955
Jaguar 2.4 and 3.4 launched at the Earls Court motor show
The Utah was finally unveiled to the public at the 1955 Earls Court Motor Show on 19 October, where it now went under the official name of the Jaguar 2.4-litre. The car retailed in two forms, Standard and Special Equipment. The cheaper £1269 Standard model lacked the heater, tachometer, folding centre armrest in the rear, screen washers, twin fog lamps, cigar lighter, courtesy switches for the interior rear lighting found on the £1298 Special Equipment model. However most buyers were prepared to spend the extra £29 for the Special Equipment version.
Despite the Earls Court unveiling, the reality was that only 32 Jaguar 2.4-litres were built in 1955 and most of those were probably retained by the factory for development and PR work. It would not be until the summer of 1956 before the press got their hands on the 2.4-litre to evaluate and one has to take their comments with a pinch of salt bearing in mind that the Browns Lane PR department was a dab hand at supplying specially prepared cars to the gentlemen of the press.
The Motor magazine test car, SWK 803 an overdrive Special Equipment car, certainly achieved the performance targets set for Utah, with a top speed of 101.5mph, 0-60mph time of 14.4 seconds and fuel economy of 24.4mpg. Autocar tested SWK 986, again an overdrive Special Equipment car, and attained a terminal velocity of 102.5mph, a 0-60mph time of 15.8 seconds and burned fuel at a rate of 23.1mpg.
Motor stated: 'Whatever the aesthetic appeal of the body shape, it also is extremely effective in reducing noise, so that passengers can and do converse normally at 100mph even with the window open.'
Autocar commented on the 2.4-litre engine: 'Mechanical smoothness is matched by the silence of the engine. When accelerating on test runs at full throttle from a standing start, whipping into each higher gear in turn as the rev counter needle touches the red band, high speeds are reached without the slightest mechanical fuss and, although the engine note can be heard, it has a sweet and subdued note… The immunity of the occupants from noise initiated by road surfaces is quite astonishingly good.'
The Jaguar 2.4 had relatively few teething troubles upon introduction and 8029 were manufactured during 1956. Also that year, for those who wanted more grunt, the company offered three tuning kits, increasing power to 119bhp, 131bhp and 150bhp respectively. The factory was in fact planning a major power boost to the Utah design by installing the taller 3442cc XK engine seen in the other Jaguar models. One of the reasons cited for this was that the 2.4-litre was seen as underpowered in the important American market. Installing the 3.4-litre engine into the Utah bodyshell was not that simple. The bigger engine needed an improved cooling system so a larger radiator had to be installed and to feed air into that required a larger grille which then resulted in the front wings being modified.
As the 3.4-litre engine was heavier than the 2.4, the front suspension had to be beefed up with stronger coil springs. The rear axle then had to be strengthened to cope with the increased torque provided by the larger engine. Unfortunately the brakes were still of the drum variety, but new fangled disc brakes were on there way. Also new was the option of automatic transmission, a popular choice in the US market. Jaguar chose the three-speed Borg Warner type DG, an American design now being made at their UK factory at Letchworth in Hertfordshire.
February 1957
Jaguar factory at Browns Lane suffers extensive fire damage
Jaguar was in the process of building up stocks of the new 3.4-litre Utah, with priority given to export markets, when on 12 February 1957 fire swept through the Browns Lane plant, destroying many cars, including some the new models. Superhuman efforts by the workforce and contractors enabled limited production to restart after nine days, but it was six weeks before production was back to normal.
So how did the up-gunned 3.4-litre Jaguar, with its 210bhp at 5500rpm, torque of 216lb ft at 3000rpm and twin SU carburettors, perform? Motor magazine was the first British magazine to test a car, TRW 316 in April 1957, a left hand drive car with automatic transmission. With initial production aimed at export markets, this was all Jaguar could offer the publication. However TRW 316 was no slouch with a 0-60mph time of 11.2 seconds and a top speed of 119.8mph, although fuel consumption was 19.2mpg. In fact the new saloon was as fast as the XK140 sports car. Motor hailed the car for its performance and refinement, but slammed it for its braking ability, resulting in heated discussions with the factory, but this did hasten the fitment of disc brakes, originally as an option, in the autumn when the car also went on sale in the UK.
The rival Autocar magazine did not get hold of a 3.4-litre Jaguar until June 1958 when it tested VRW 974, a manual car with overdrive. Top speed was 120mph, fuel consumption 16mpg while the 0-60mph dash was achieved in a mere 9.1 seconds and all this was achieved with no loss of refinement. This was seriously impressive performance for the time, the Jaguar 3.4 outpacing more expensive rivals with ease. Not only was Jaguar fast on the track, it had genuine pace on the public highway as well. In 1957 Jaguar produced 8520 Utah saloons followed in 1958 by a further 11,605.
Over the next two years there were numerous changes to Utah. In September 1957 the larger 3.4 grille and wings were standardized across the range. Then in November that year, automatic transmission became available on the 2.4-litre. Although the disc brake option was available and was in fact specified so often as to become virtually standard, drum braked Utahs were available until January 1959. In January 1958 Jaguar introduced a disc brake conversion kit that could be fitted retrospectively to Utah models. Disc brakes eventually became standard in January 1959.
June 1959
Jaguar 'Mk1' production ended
Back: Introduction
Next: Specifications
Compare classic car insurance quotes and buy online. A friendly service offering access to a range of policies and benefits.

Get a quote