Jaguar E-type (1961 - 1975)
Last updated 18 April 2013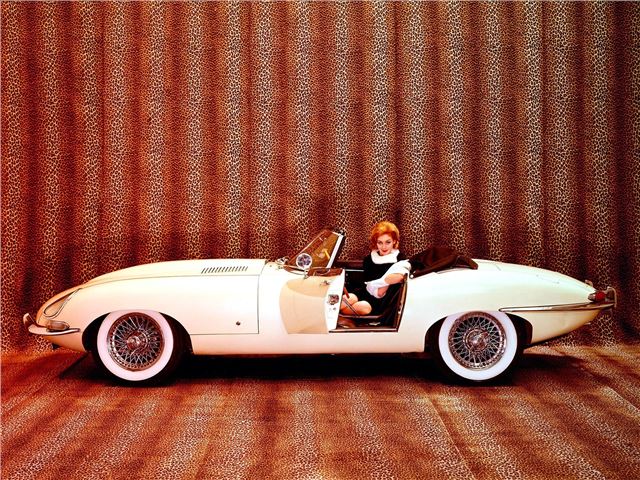 Buying Guide
Suspension
The Jaguar E-type's suspension is a work of genius, offering a cossetting ride and tenacious handling, At least when it's in full, working order. It's complex, and needs many checks when looking to buy. First job, check out the bushes and bearings of the rear suspension - Jack up each wheel and rock it diagonally, feeling for wear. There actually needs to be some play at the rear, and the bearings are too tight, they will overheat and fail. But also check the hub as well as the lower fulcrum - there needs to be an eighth of an inch play.
At the front, there shouldn't be nearly as much play as at the rear, but there will probably be a small amount. If it's bearing wear, that's easy to sort, but it might be worn lower wishbone ball-joints, in which case, this is more serious. These are part of the wishbone, and can be shimmed a little bit before replacements are needed at a little over £100 per side
Steering
The rack-and-pinion steering is reliable and has bags of feel for drivers. Wear in the column joints is normal though, but replacement is easy at just £65 for the pair.
Brakes
The brakes are powerful and well assisted, but any imbalance should be quickly investigated, as it's generally caused by oil contamination on the discs.
The self-adjusting handbrake can prove tricky - its mechanism often seizes through lack of regular lubrication.
Wheels
Although steel wheels were standard across the E-type range, chrome wires have been fitted by many owners.
The usual checks for damaged spokes and worn splines are essential, but this is especially important with a Series 3 V12 E-type, because of the increased torque, power and weight.
Engine
Six-cylinder cars: The XK engine is reliable as long as it's well-maintained. It's easily capable of 150,000-miles between rebuilds, and many lessons have been learned in motor sport. It's not especially stressed unless regularly thrashed – and few E-type owners drive their cars hard.
Warm it up and listen for any knocks or rattles. Check for oil leaks as well as exhaust smoke, and expect a a little smoke on start-up before settling down to smoke-free running. Oil pressures should be at least 40psi at 3000rpm.
If the temperature gauge needle keeps climbing, and the fan doesn't cut in, the engine may well have overheated in the past. Make the usual checks for head gasket failure - mayonnaise on the inside of the oil filler cap or contaminated coolant. Needless to say, if there are rattles or smoke, the engine will need a total rebuild.
This is a well-trodden path - parts are plentiful and relatively cheap. Budget on £2000 for DIY, and about £5000 by a trusted specialist.
V12 engined cars: Like the XK, the V12 is durable if properly maintained. It's capable of 200,000 miles, if it's not allowed to overheat. To look for the signs, idle the engine for a few minutes and watch the temperature and oil pressure gauge. It's a smooth power unit, so any harshness is a giveaway - overheating could have distorted the long block and heads. Oil pressures should be around 45-55psi at 2500rpm.
Coolant hoses need to be checked closely. There are 20 hoses, and replacing them is involved - so make sure they're in good order. They must also be to the correct reinforced spec; the coolant system runs at 15psi. Budget on around £150 for a good set from a specialist.
Transmission
Listen for clonks that signify worn universal joints or whining that betrays a failing differential. Fixing the former is straightforward, while the differential can be a costly affair, pushing £1000. Like the engines, gearboxes are also tough - the Moss unit is obstructive, but this is normal. But if it's a two-handed effort to get into reverse, it may well need a £1000-plus rebuild.
Most V12s have a three-speed Borg Warner BW12, yet the Jaguar four-speed manual is more sought after for some reason. They're both long-lived, but the latter can suffer from weak synchro on second and third - and check for tricky and obstructive gear selection when cold. The BW12 should be smooth - if not, it will need a service, fresh fluid, and perhaps a belt adjustment.
Conclusion
There are E-types for all budgets, and specialist and spares support is pretty much unmatched in the classic car scene. Despite this, some care should be taken to ensure you get a good car - and it's not as if there's not a big choice out there. If you don't need an open-topped E-type, the coupe is agreeably cheaper to buy.
Jaguar Heritage can provide details of the car's build specification. And this is handy for ensuring what you're looking at is just how it left the factory - if not, make sure any conversion work has been done properly.
Few cars at any price are as rewarding to own or drive as a good E-type. But remember that if you buy a cheap one, it will need work - and lots of it. But that's not the handicap it might be because you'll never run short of spare parts and specialist support.
Back: Model Timeline
Next: Running
Buy a Jaguar E-Type from £54,995
Compare classic car insurance quotes and buy online. A friendly service offering access to a range of policies and benefits.

Get a quote