Jaguar 1.5/2.5/3.5 Litre saloon and drophead coupe (1938 - 1951)
Last updated 7 April 2013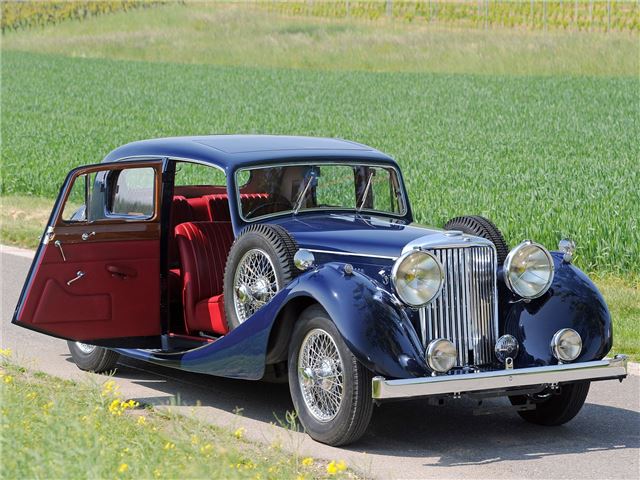 Svelte post-war styling, and elegant all-round demeanor. Values are agreeably low at the moment, meaning you can buy an important piece of Jaguar history without breaking the bank.
Good ones are scarce, and projects will cost a small fortune to replace. Not as easy to locate parts for as later Jaguars. You need to buy a 2.5 Litre for the best driving experience.
Introduction
This is where the Jaguar saloon car story begins. In the pre-war Swallow Sidecar and SS era, the company had cut its teeth building increasingly desirable sports cars and saloons. But with the 1.5 Litre, and its larger brothers, the newly renamed Jaguar Car Company really started to fly. The 1.5 Litre was quick enough to
justify its upmarket styling, despite its modest engine. The 1.5 Litre (or MkIV as it's also known) was a pre-war car that returned after hostilities had ceased - and was one of Britain's first new post-war cars. As with many of these early 1940s cars, it didn't look terrible advanced, but in the Jaguar's case, it was still a highly desirable saloon.
The 3.5 Litre was a higher powered derivative that was introduced alongside the lower powered car. Consider it a larger engined version - and one that transformed it into a swift sporting saloon and drophead that set the pattern for Jaguars to follow to this day. The performance really was more than adequate with 125bhp on tap.  A rare car in the UK thanks to the majority of them being exported (mainly to the USA) in the 'Export or die' drive that marked out post-war Britain. Like the 1.5 cars, it's values are overshadowed by the illiustrious XKs and Mk2 saloons that followed in later years. But the drophead coupe does have a growing following now.
The range expanded to include the 2.5 Litre (MkV) in 1946 - and it was this car that can really be counted as Jaguar's first all-new post-war product, even if historians consider it to be a stop-gap between the pre-war cars and the exciting new cars that would subsequently emerge into the 1950s. The 2.5's styling was all-new, but actually closely related to the 1.5/3.5 Litre, but the underpinnings were largely new, and would form the basis of the later cars. The 2.5 was the firstr Jaguar to have independent front suspension, bringing the MkV into line with its rivals, and making it a far nicer car to drive in the process. 
Individual production numbers:
1.5 Litre: 13,046
2.5 Litre: 14,215
2.5 Litre: 8905
Next: Specifications