Ford Sierra RS Cosworth (1985 - 1992)
Last updated 25 November 2014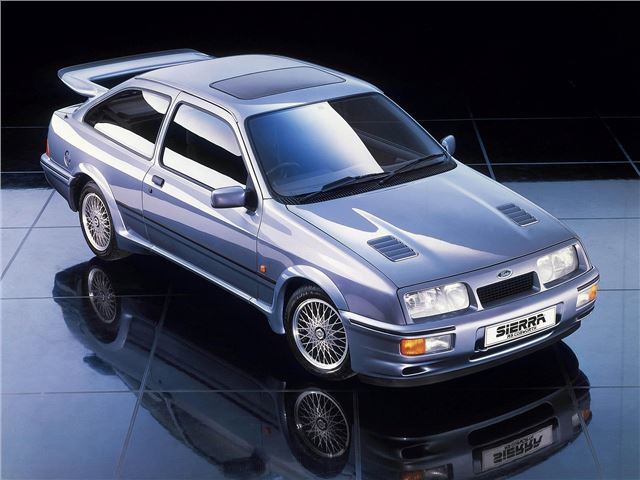 Amazing to drive, easy to tune, bulletproof engine
Cheap interior, avoid tuned cars, more than a few fakes out there
Introduction
If you thought the extrovertly bespoilered Sierra XR4i wasn't quite enough, your prayers were answered in 1985, when Ford unveiled its latest homologation special, the Sierra RS Cosworth. It was powered by a 1993cc double-overhead camshaft engine breathed on by Cosworth, with a Garrett turbocharger upping the power to an Integrale and quattro-rivalling 204bhp.
Just 5545 of these original two-wheel drive whale tail Cosworths were built, and insurance premiums were astronomical, as they weren't exactly difficult to steal, Chubb locks or not. It didn't help, of course, that a Cosworth Sierra was very obvious even from long distance, with possibly he least subtle bodykit this side of a Countach.
In 1987, Ford launched the RS500. Ford chose the name to indicate that only 500 of this 1987 evolution of the original RS Cosworth would be built. It was constructed for motor sport homologation purposes, and was put together by Aston Martin's subsidiary Tickford. Mechanical modifications and a bigger turbo increased power to 224bhp. As well as uprated brakes and a modified front end, the RS500 signified the zenith of Ford's spoiler obsession (on the Cosworth), with a second small one now hiding beneath the existing whale-tail contrivance at the rear.
When the Sapphire Cosworth was launched in 1988, it marked the beginning of a quieter era for Ford's homologation special. It was much more discreet and down-to-earth than previous Sierra Cosworths, although there were plenty of signs - such as special alloy wheels - to give the game away. As its name suggests, it was based on the Sapphire saloon version of the Sierra and used the existing 1993cc Cosworth twin-cam turbo. Even the two available colours were sensible too; white or grey.
All that still didn't manage to erase the car's image for being a joy-rider's dream - and they continued to be stolen in huge numbers. Which left insurers with little choice than to fully load premiums. The Sierra's image in the UK was ruined, although if you look closely at its replacement - the Escort RS Cosworth - you'll see it's pretty much identical under the skin.
In 1990, the RS Cosworth received four-wheel drive, creating the best version of the lot.
Next: Buying Guide
Buy a Ford Sierra from £2,900