Ford Probe (1992 - 1997)
Last updated 5 January 2018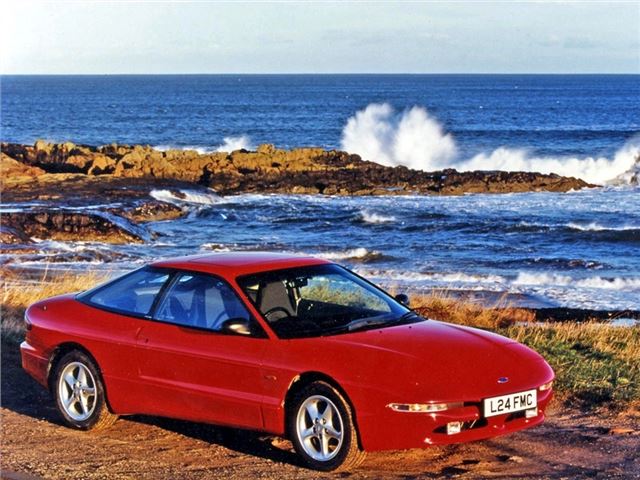 Buying Guide
Good
First fruit of Ford buying into Mazda. Launched in the USA in 1992.
15' 1" long by 5' 10" wide and weighing 1,215kg to 1,280kg.
Essentially a re-styled Mazda MX6 with the same smooth and revvy quad-cam 163 bhp V6, but also offered with a 2.0 litre 128 bhp four from the 626.
V6 is a non-interference engine, so valves do not hit pistons if the timing belt snaps. Timing belt change every 60k miles and no history of premature failures. Only started to sell once it dropped to a sensible price on the used market and actually bounced back for a year or so.
BMW, Toyota and Ford jointly suffered the fewest breakdowns attended by German ADAC during 2001. Probes are cheap now. Ford had 7th lowest average warranty repair costs in 2003 Warranty Direct Reliability index (index 65.51 v/s lowest 31.93) Ford 4th top top of Reliability Index for 2004 combining very low average cost of repair of £207.58 with average 32.16 failures per 100 Warranty Direct policies. Link:- www.reliabilityindex.co.uk
Bad
A model Ford would prefer to forget.
Huge and variable panel gaps.
Not enough rear legroom. Harsh ride.
Far too expensive new.
A Ford dealer even tried to pre-interest the trade with a UK 'K' registered 3,000-mile LHD 24v.
Between December 1992 and January 1993 it dropped from a top 'bid' of £14,800 to £12,700, clearly showing that an original list price of £19,350 was pie in the sky.
Watch
Accident damage. And the sort of deterioration that results from sitting around unsold in compounds (rusty discs, rusty exhaust, flat battery, aircon shot, etc.).
2.0 litre can suffer expensive ignition ignitor problems (£700) so best avoided.
V6 may need a new timing belt, but not critical because engine is non interferance.
Both engines suffer from ignition problems. In both cases there is now available a couple of repair kits from Ford dealers. The cost of the kits is £164 (inc VAT) for the V6 and less for the 4 cylinder. It is no longer necessary to buy a new/reconditioned distributor.
Back: Introduction
Next: Running
Compare classic car insurance quotes and buy online. A friendly service offering access to a range of policies and benefits.

Get a quote