Ford Fiesta (1995 - 1999)
Last updated 21 September 2017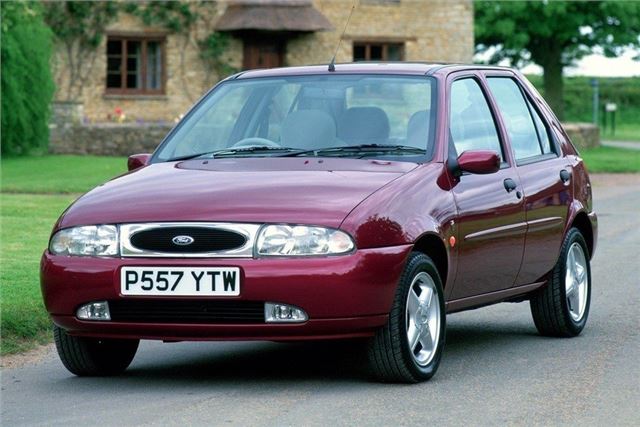 Buying Guide
Good
Club for owners of all Fords, old and new: www.fordownersclub.com
Bad
1.3 'Endura' pushrod engines starting to show their age. Cabin lower and not as roomy as Punto, Ibiza, Polo.
Watch
Water ingress via ventilation system can short out ECU.
Reports of piston ring failures on 1.4 Zetec 'S' engines. The oil burned as a result may also wreck the catalytic converter. 

On Endura 1.3 pushrod engines, spark plugs may either have corroded into the head or been over tightened (taper fit) which means head removal to drill them out.
Report with photographic evidence of cam follower wear on 1.3 pushrod engine. If 1300 pushrod engine is tappety it probably needs a new set of cam followers, which isn't a quick and easy job on a pushrod engine.
A faulty final drive speed sensor may result in over-revving when dipping the clutch. 

The pins that hold the foot pedals in place may fall out, leaving the driver unable to brake or declutch. 

Tend to get through front discs and pads very rapidly. Either replace front pads at 18,000 - 20,000 miles or expect to have to replace discs every 25,000 miles. May simply need calliper pins cleaning and lubricating. 

Reports of alloy wheels of Ghia model cracking at 6 years old in 2002. 

Can be problems with doorlocks. 

Zetec S 1.25, 1.4 and 1.6 engines may have been filled with wrong oil (MUST be 5W-30). Wrong oil leads to sticking valves, blocked arteries and oil starvation problems. Check for high oil consumption, smoky exhaust on 1.4/1.6 Zetec S from wrong oil having been used. 

Lack of use can lead to failure of coil springs. 

Change of alternator type between August and October 1999. New type twice as expensive: £230 v/s £115 and new type cannot be replaced by old type. 

Have been a number of recalls. Double recall over front brake pipes because original recall failed to remedy the problem. Make sure these have been carried out. 

A wet carpet may mean failure of the bulkhead sealant (fairly easily re-sealed). 

Check front discs if you can and budget for replacement. 

Since 95MY handling improvements, front suspension bushes have been prone to wear so if the front suspension clonks this is probably why.
Do several reverses/forwards on full lock both ways to check driveshafts/bushes.
Drive over rough roads to see suspension has no clonks.
Accelerate hard in 2 and 3 to 6,000 rpm (when engine warm) Engine should be very smooth and responsive. ANY misfire - walk away as could be plugs/ leads or valves etc.
Rust round rear wheel arch/petrol cap (bad!) and especially passenger side 'B' post in front of rear door. Look for serious rust behind rubber seals of front door aperture A pillars. Also check outside and down the windscreen seals. Rust in door seams. Peer underneath with a torch - many can be very rusty due to neglect/salt. Spare wheel tray can and does rust so examine carefully plus spare wheel.
Check for exhaust rust and recent MOT to see emissions ok (read report). A new cat is £200.
Leaking suspension struts and clonks on rough roads due to rubber bushes wearing.
Check antifreeze is clean and red - no oil. Check radiator for leaks or oozing antifreeze.
Engine must be cold when testing it. If it is warm, leave for at least 30 minutes for all oil to drain away and then start it up with bonnet open. Any rattles means wear- walk away. If oil is very black/thick and no service history - likely bearing/cam damage.. = new engine. If serviced by non-Ford garage person, try to find what type of oil used. Ford use 5/30 - a 20/50 is NOT suitable and will lead to cam wear at start/sticking valves or both. DO NOT buy if wrong oils have been used.
Some clutch noise (release bearing) at idle is common. Should go when in gear. Any noises when on move from gearbox? Run away.
Water leaks in passenger side due to faulty door seals or from incorrectly sealed bulkhead (bulkhead can be re-sealed).
Check rear wiper and heated rear window work as cables can snag. Watch for kerbed wheels or alloys.
Check for failed rear damper top mounts as they seem to fail regularly after 6 - 7 years. 

Apparent clutch failure may be due to nothing more than a spring washer on the shaft behind the clutch pedal coming loose. This pushes on. Ford dealers usually have the part in stock and it's a quick fix.
May 2012: 1997 Registered Ford Fiestas MoT tested during 2011 had the 9th worst overall pass rate at 36%. But there were 55,045 of them tested, all 13 years old so it is more impressive that 55,045 lasted that long.
26-7-2014: Report that timing belt on 1999 Ford Fiesta 1.25 Zetec S, replaced at 37,500 miles in 2004, failed at 83,000 miles in July 2014.
Recalls
1995 (VIN SE): Brake lights may not work.
1995 diesel (VIN SY, SS, ST): Brake vacuum pump may not create enough vacuum for servo.
1996 (Fiesta and Courier van, 1996 model year; 47,500 cars): Check for faulty piston seal in hydraulic clutch master cylinder. Check for contamination of brake fluid and incorrect front brake hose routing.
1997 (5-door models built Oct '95-May '96): may have faulty rear door latches. Also TSB 107 concerning complaints about noisy alternator drive-belt of diesel model causing battery discharge. Modified parts to be fitted (was not always done).
1998 (July 1995-June 1996 build-67,000 cars): Possibility of brake failure due to front brake pipe chafing on bracket. Modified pipe and bracket to be fitted to both front brakes.
(Repeat brake pipe recall announced on radio 12/2/98). Fiestas with ABS (Mar '98-Sep '98): Brake master cylinder may fail. Fiestas with passenger airbags built Aug '96-Feb '97: passenger airbag may go off while car is stationary.
12-8-2002: Airbag warning light may fail to indicate fault with impact triggers. Airbag ECU to be replaced. 11,360 Fiestas affected.
Back: Model Timeline
Buy a Ford Fiesta from £2,995