Ford Escort (1990 - 2000)
Last updated 18 January 2014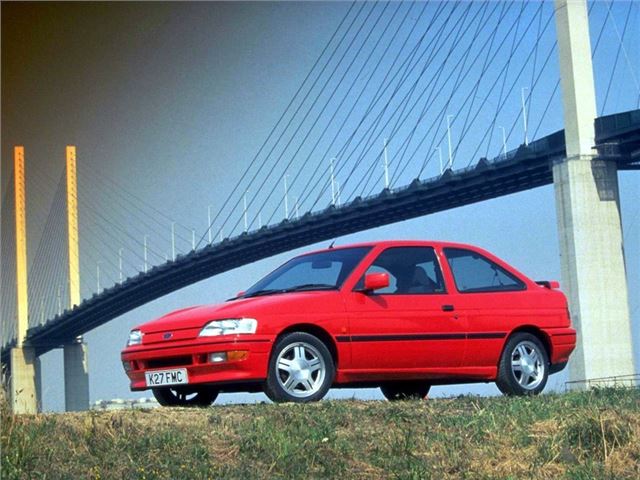 Buying Guide
Good
Popular.
Bland, but not bad looking. 13' 4" long by 5' 7" wide and weighting 980 to 1100kg. three-door hatch, five-door hatch and estate and two door cabrio from 1990.
72bhp 1.4 and 90bhp 1.6 CVHs (lifted to 107bhp for the cabrio) or 59bhp diesels.
Four wheel drive Escort RS Cosworth arrived in 1992 with two litre turbocharged engine putting out 223bhp in standard form.
1992 facelift was a quick re-think of initial disaster. Still 13' 4" long by 5' 7" wide. Handling and roadholding improved through the car's model life.
Oval grille from October 1992 for 1993 model year and 'wide mouth' cars from 1995 model year are much better than original cars. Almost all of these later models from LX up have power steering. Best model is probably a post-1995 1.6iLX, and most late cars had aircon.
103bhp twin-cam Zetec E 1.8 from 1992 (option of up to 130bhp for XR3i and XR3i/Si cabrio).
59bhp 1.8 diesels continued. 89bhp 1.6 Zetec engine arrived January 1994 along with 148bhp RS2000.
New front from January 1995.
Ford had seventh lowest average warranty repair costs in 2003 Warranty Direct Reliability index (index 65.51 v/s lowest 31.93) Ford 4th top top of Reliability Index for 2004 combining very low average cost of repair of £207.58 with average 32.16 failures per 100 Warranty Direct policies. Link:- www.reliabilityindex.co.uk
Some of these Escorts have lasted 200,000 miles with no major components renewed.
Bad
Nothing to redeem the 1990-1992 Escort. No sensible reason to buy one.
Had a terrible start. Early cars were a disgrace with awful handling, terrible steering and suspect bodyshells which rotted in the bulkhead and around the rear window. (They continue to rust in the rear chassis rails.)
Engine range not much cop either. Just a carry-over of old pushrod 1.3 and CVH 1.4 and 1.6. Slow 59bhp 1.8 diesel engine.
By 2009, rust had become a major problem.
Rear suspension trailing arms up to 1995 were too weak and twist when they're not supposed to.
Mid-life 'oval grille' facelift looks terrible and dated almost immediately.
Two-Star below-average performance in 1999 NCAP secondary safety tests.
Early diesels had overstrength valve springs which caused them to snap their cambelts.
Early Zetec engines from 1992 suffered sticky valves (see Mondeo).
Close to bottom in 'R' reg JD Power Customer Satisfaction Survey. 14th from Bottom of 100 models for reliability in Auto Express 2002 survey. 14th from Bottom in 144 car 2002 JD Power/What Car? Customer Satisfaction Survey of V and W reg cars. Rated average for breakdowns and problems, poor for faults in 2003 Which survey. 24th from bottom out of 137 models in 2003 Top Gear survey.
Watch
Bodged rust repairs on early cars. Clocked mega-mile ex-fleet cars. Inadequate 'home servicing'. Poor quality aftermarket parts - especially brake parts.
Really best avoided and most apart from Cosworths scrapped by 2007 anyway.
Bodged rust repairs on early cars. Clocked mega-mile ex-fleet cars. Inadequate 'home servicing'. Poor quality aftermarket parts - especially brake parts.
Check for uneven tyre wear due to suspension damage from kerbing.
Electrics may play up (check for damp and/or rusting inside fusebox).
Rear suspension arms flex too much and may weaken as a result (16-valves were strengthened with rear anti-roll bar).
Some 1992/93 Escorts came out of the factory with misaligned front suspension which caused the insides of the front tyres to wear excessively.
Diesels should have had nylon timing belt idler replaced with a steel idler. These should both have been sorted out 'in service', but if the car was maintained 'in house' by a fleet or by a private owner, it may not have been done. Some fleets reckon on just 60,000 miles for Zetec timing belts and idler pulleys.
On Zetec E petrol engines, several reports of timing belt tensioner pulley heating up and shattering after 5 - six years and 60 - 80,000 miles. Essential to replace the pulley at the same time as the belt.
CVT automatic is prone to problems and is best avoided.
Fuse boxes rust out. 
Back: Introduction
Next: Running
Buy a Ford Escort from £3,000
Compare classic car insurance quotes and buy online. A friendly service offering access to a range of policies and benefits.

Get a quote