Ford Cortina Mk3 (1970 - 1976)
Last updated 28 January 2016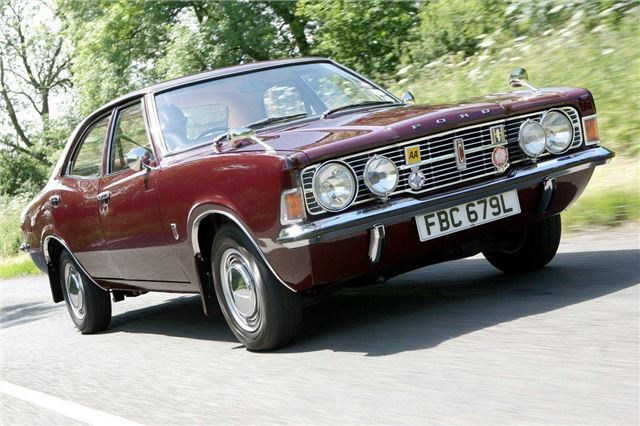 Buying Guide
Bodywork
All areas of the bodywork should be inspected for rust.
Original panels are hard to find, but reproduction ones are available.
Start with the sills, wheelarch lips and valances – then take a look under the bonnet at the inner wings.
The bulkhead can also corrode, as can the underside of the wheelarch.
Rust often starts at the front of the car, near the indicators and then spreads to the nearby metal.
You'll also need to check the windscreen surrounds and the guttering, which are hard to fix.
Move to the underneath of the car and pay special attention to the jacking points and seatbelt mountings.
The boot floor, as well as the front and rear footwells also go.

Engine and transmission
Engines are simple to look after and parts are plentiful to keep the going.
Noisy valve gear is a common complaint, which indicates a top-end rebuild is due (although the camshaft is housed in the block).
Worn timing chains can also cause problems – listen for a rattle from the front of the engine.
Of most concern will be worn rings and bores – so check for fumes from the oil filler cap and blue smoke from the exhaust.
Cars fitted with the Pinto suffer from a weak rubber timing belt – they should last 25k but need changing every three years.
Pinto engines can also suffer from poor lubrication, which can damage the camshaft.
The root cause of this is a blockage to the spraybar fitted under the rocker cover.
Check for worn bearings and synchromesh on the manual gearboxes.

Running gear
Clonking from the front suspension could be down to worn pins that support the upper wishbones.
Fixing this means making larger pins and boring out the holes in the subframe accordingly.
The 'void' bushes on the rear suspension can wear but can be replaced at home (if you can get hold of the special tool).
The master cylinders have a tendency to leak, but new seals are available.
Make sure the handbrake holds the care on a hill – it can stretch but it's an easy fix.

Electrics and trim
Fuel gauges can break and the sensors are hard to find.
Rear light lenses go opaque and indicator stalks snap, but replacement can be found.
None of the interior or exterior trim is being remanufactured, and new-old stock is rare.
Backing boards can rot and cause the panels to collapse.
Exterior trim is almost impossible to find – unless you get lucky at an autojumble.
Back: Introduction
Next: Specifications
Buy a Ford Cortina from £8,995
Compare classic car insurance quotes and buy online. A friendly service offering access to a range of policies and benefits.

Get a quote