Fiat Uno (1983 - 1993)
Last updated 6 April 2014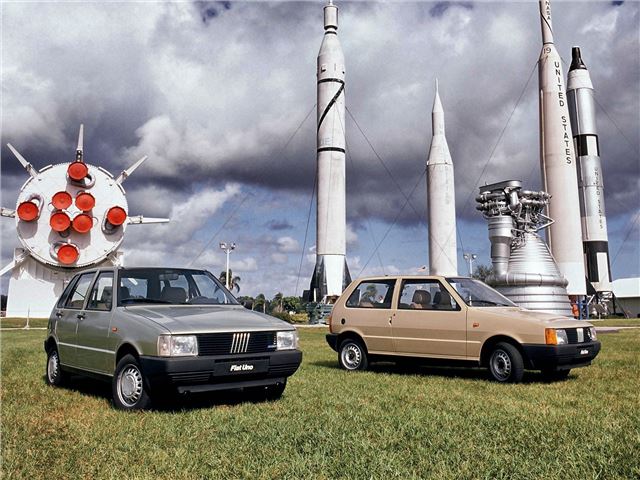 Buying Guide
Good
Boxy, sensible, practical design also stylish in its day. 12' 1" long by 5' 1" wide.
Some panels galvanised from 1990 when all acquired plastic hatchback.
Early engines were 903cc pushrod with 45bhp; 1,116cc '60' with 58bhp, 1,299cc '70' with 65bhp, 1,697cc 60DS diesel with 60bhp and rip-snorting 1,299cc Turbo ie with 105bhp. Later 999cc 45bhp 'Fire' engine good for 200,000 miles plus with proper maintenance (one reader has done 360,000 miles).
999cc 'FIRE' engine is 'non-interferance' so valves don't hit pistons if the timing belt snaps. 57bhp 1,108cc 60S also good. 1,372cc 72bhp '70' engine was same as Tipo.
Good range of bright metallic colours. Uno 1.0 'Start' models were well equipped and great bargains. Low insurance and bargain basement used prices means rust-free examples make good sense for youngsters.
FIAT had 2nd lowest average cost in warranty claims for cars up to 10 years old in 2002 Warranty Direct index www.performanceindex.co.uk
Bad
Avoid the 903cc 'Uno 45' engine (the timing chain and valve gear rattle and it's well past its sell-by date).
Unos look like old washing machines in white.
Many started their UK lives on rental fleets. Privately owned Unos that are used for shopping and the school run never warm up, contaminate their oil and suffer premature engine wear.
Watch
Rust by the bucketload in pre-1990 facelift models.
Gearbox problems common when the car was new, but if it has lasted it should be okay.
Be extremely careful buying a Turbo (if you can find one) as the engine was very easily hopped up to give much more power and 'boy raced' to death.
Duff catalytic converters. Kerbing damage.
Bonnet catch cable releases break, so you have to ask yourself how long it has been broken and how long since anyone looked underneath.
Selecta best avoided due to potentially expensive problems.
If the car suffers from crashing from rear suspension, replace rear upper shock absorber mounts. About £12 from FIAT.
Problems with rear drum brake adjustors. FIAT/Alfa joint worst for breakdowns attended by German ADAC during 2001. High 7 out of 9 point death rate from accidents in this model.
Back: Introduction
Compare classic car insurance quotes and buy online. A friendly service offering access to a range of policies and benefits.

Get a quote