Fiat Coupe (1993 - 2000)
Last updated 1 October 2015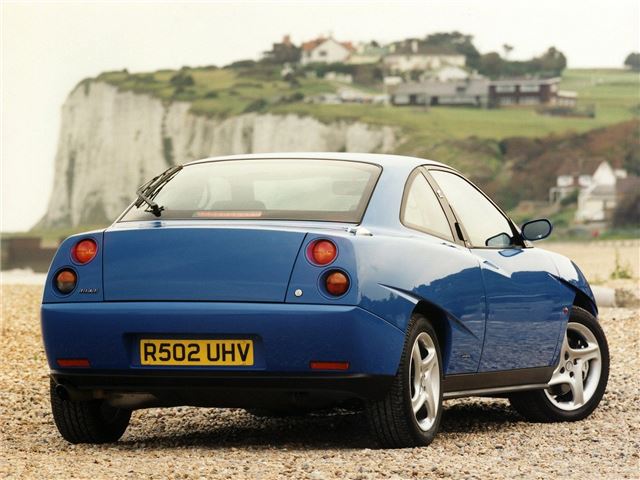 Buying Guide
Good
Great-looking coupe, 13' 11" long by 5' 9" wide and weighing 1,250kg to 1,320kg.
First with twin-cam 2.0 litre 4-cylinder 16v injected or turbo engines, then with stronger 2.0 litre 5-cylinder 20 valve injected or turbo engines from November 1996.
Six-speed gearbox from 2000.
Lots of nice design touches such as body colour painted dash and alloy fuel filler cap. 1,995cc four had 142 bhp or 200bhp with turbo; 1,998cc five had 147bhp or a solid 220bhp with turbo.
FIATs generally had below average warranty repair costs in 2003 Warranty Direct Reliability index (index 75.82 v/s lowest 31.93), narrowly beating VW. Link:- www.reliabilityindex.co.uk
Bad
Some quality/assembly problems.
Dropped from range in spring 2000.
S and T platers 15th from bottom in 2001 Top Gear / J.D. Power Customer Satisfaction Survey. FIAT/Alfa joint worst for breakdowns attended by German ADAC during 2001.
FIAT Coupe 1995-2001 8th least reliable car in 2005 Warranty Direct Reliability Survey with 49 repair claims per 100 cars.
Watch
Signs of being driven hard or badly .
Avoid any cars with kerbed wheels.
Make sure it has its 'Red Key'.
As with a Ferrari, timing belt changes of 5 cylinder cars are an engine-out job and can cost as much as £1,300, though some specialists can do it engine in situ for £500.
Timing belts, tensioners and pulleys need replacing every 36k - 40k miles. Also need new waterpumps because pumps are driven by timing belts and if they fail the belt gets flung off.
Has same plastic timing belt tensioner problem as other FIATs with same engine. Belt and tensioner need to be replaced every 3 years or 36,000 miles whichever comes first without fail.
Condensation from parking brake cable can disintegrate parking brake pads and the debris from this seizes up the rear calliper pins. Should be possible to clean it off, but some dealers specify expensive new calipers.
Exhaust manifolds of early 20vs prone to crack.
New manifold with same part number solves problem, but a/c compressor needs to be moved slightly to to fit.
It it has to be re-moved, then a/c will need to be re-gassed.
Back: Introduction
Next: Specifications
Compare classic car insurance quotes and buy online. A friendly service offering access to a range of policies and benefits.

Get a quote