Fiat Cinquecento (1992 - 1998)
Last updated 9 January 2014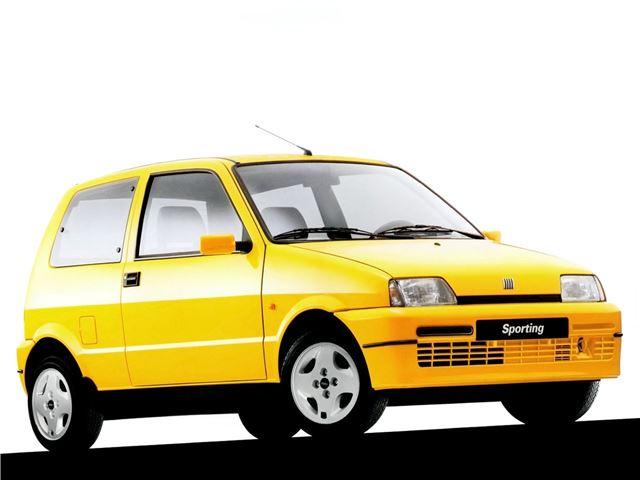 Buying Guide
Good
899cc pushrod engine with 41bhp and 1108cc ohc 'Fire' engine with 54bhp.
1108cc 'FIRE' engine is 'non-interference' so valves don't hit pistons if the timing belt snaps.
Cinquecento Sporting 1.1 engine is by far the best and the most likely to get some proper exercise.
FIAT had 2nd lowest average cost in warranty claims for cars up to 10 years old in 2002 Warranty Direct index. FIATs generally had below average warranty repair costs in 2003 Warranty Direct Reliability index (index 75.82 v/s lowest 31.93), narrowly beating Volkswagen.
Bad
No power steering.
Nasty gearchange on 900.
'Space saver' emergency wheel not liked by Brits.
1990s Polish build quality.
Not as practical as the Panda.
Cinquecento 900s have the old 899cc pushrod engine which can suffer premature rocker shaft wear due to emulsified oil and insufficiently frequent oil changes. Rear window can break if you shut the hatch from one side. Gearboxes also prone to failure.
FIAT/Alfa joint worst for breakdowns attended by German ADAC during 2001. High 7 out of 9 point death rate from accidents in this model.
Watch
Lack of maintenance and 'short-run syndrome' typical of city cars. Ticking tappets. Duff cats. Signs of careless driving by inexperienced youngsters.
Check trim for damage.
Check for cylinder head gasket failure on 1.1 Fire engines.
Make sure it has its 'Red Key'.
Make sure fuel tank not rusty (see recalls).
Report of metal fatigue in the clutch driven plate.
Check clutch take-up and gearchange quality carefully.
Back: Model Timeline
Compare classic car insurance quotes and buy online. A friendly service offering access to a range of policies and benefits.

Get a quote