Fiat 500 (1957 - 1975)
Last updated 6 September 2013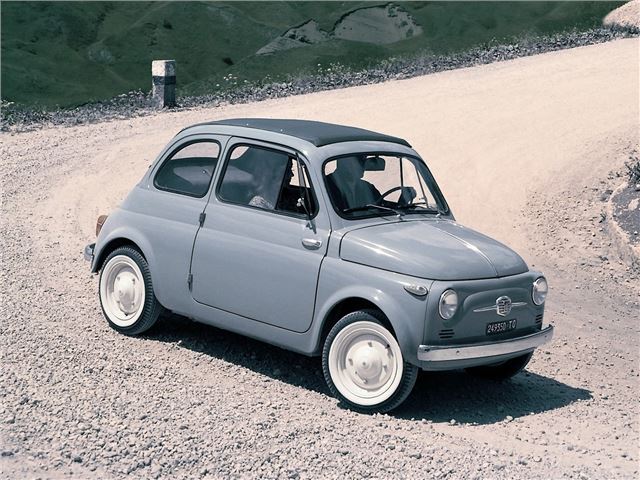 Iconic chic small car that gains you access to all classic car events no matter how exclusive
Cramped, noisy, unrefined, rusty - but who cares?
Updated 1 January 1975
Production ends
The final Nuova 500 tolls off the line after a run of 3,427,648 examples.
Introduction
The second-generation Fiat 500 is the most iconic car Fiat has ever produced. With wonderful styling, a fun carefree attitude, and rasping exhaust note, it has built up a huge international following over the years. It's cheap to run and, with excellent spares support, and the diminutive Fiat 500 makes the ideal classic for city dwellers.
Pre-1965 cars had suicide doors and never more than 18bhp, except in the rare 500 Sport. The later 500F and 500L are a better bet, especially if you want to drive any distance, and have conventional front-hinged doors. Last model, the 500R has a detuned 594cc Fiat 126 engine; a point not lost on many Fiat 500 owners, who commonly fit the full-strength 126 engine.
The 500 was also offered in the very useful Giardiniera (estate) car form. It proved Fiat's effectiveness at squeezing the most out of its platforms - the estate version of the 500 had its wheelbase was extended by 4-inches and the twin-cylinder engine mounted under the boot on its side. The loadbay was surprisingly large for a 10ft 5in car, and accessed by a wide-opening side-hinged tailgate. It was built and badged by Autobianchi from 1968, and is rare and desirable in the UK in any form. Of course a Mini Traveller is a better all-rounder, but the Fiat is a more charismatic left-field choice.
Next: Model Timeline
Buy a FIAT 500 from £8,386