Daihatsu Copen (2003 - 2009)
Last updated 14 February 2018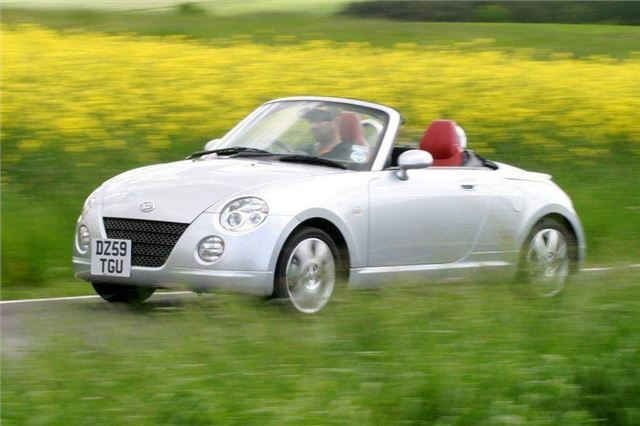 Electric folding hard-top as standard. Cheap to run and economical. Cute looks and great fun to drive.
Unsuited to long motorway journeys. Interior is tight for space. Battery can run flat if not used regularly. Expensive spares.
Updated 11 July 2004
Special edition called the Vivid launched July 2004, also at £12,995, with CD, alloys, a/c, Momo steering wheel, rear tonneau and unique red paintwork. 12-03-2007: Revised Copen launched Revised with...
Introduction
It's tiny, has a tin top, and its three-cylinder engine is fun and fizzy – yep, the Daihatsu Copen is one of those cars. It's looks cute, and there's plenty to like about it, but owning one takes a real commitment.
Top of the pre-requisite list is being short. If you're anything close to six-foot tall you'll struggle to get into it with the roof on. The driving position is cramped, but that does give it a sense of go-kart like fun... especially with the turbo-charged 660cc 67bhp three-pot thrumming away.
Launched at the 1999 Tokyo motor show as a concept car, the Kopen (as it was called) was a kei-class sports car. This class was created in post-war Japan to popularize motoring and restricted engine and vehicle size but came with tax and insurance incentives.
While its rivals were looking a bit long in the tooth, the Copen was new and exciting – and it had a few tricks up its sleeve, like an electric folding aluminium roof. Kopen was changed to Copen (a mash up of compact and open) when the car went into production in 2000.
Like the Figaro, the car proved a hit in export markets like the UK (where for some reason we buy a lot of convertibles). Later versions got the 1.3-litre engines while a special edition to celebrate Daihatsu's 100th birthday came fully-loaded with kit. There was even a Sigma Advanced Racing Development version that came with a huge rear spoiler. There was even a concept coupe and shooting brake – sort of a toybox BMW M Coupe.
No doubt about it, the Copen was great fun to drive – but living with one took some doing. They weren't practical, and they were noisy. They were also expensive to keep on the road – it wasn't uncommon to hear stories of cars being broken down for parts because they were worth more in bits.
Next: Model Timeline