Chrysler Neon (1996 - 1999)
Last updated 22 November 2019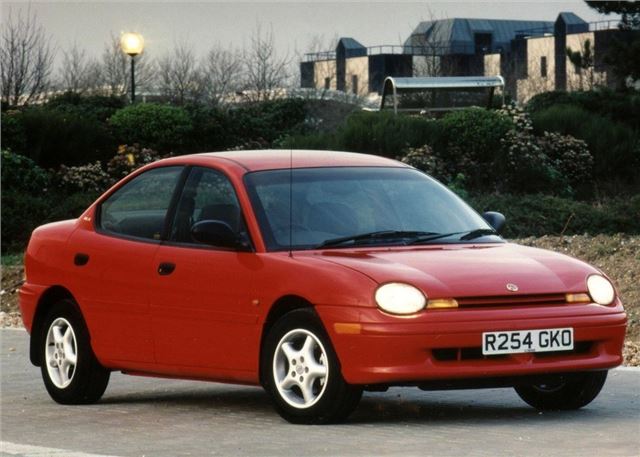 Buying Guide
Good
Chrysler cars had 6th lowest average warranty repair costs in 2003 Warranty Direct Reliability index (index 64.29 v/s lowest 31.93) www.reliabilityindex.co.uk
Bad
Coarse engine. Autobox has only three speeds but better suited to engine than manual. Not as fuel efficient as a Mondeo. 

Huge diameter rear coil 'bedsprings' intrude into boot space. Rear backrests flop down crudely onto squabs. 

Seating material and interior plastics a bit cheap and more suited to a £7,000 car, which the Neon is in the USA.
Watch
By late 2007 most of this disposable car had been disposed of and not many left on UK used market. 

Kerbing damage. 

Damage to the mirror mechanisms (£350+ to replace). 

Tears in seat trim, especially flimsy backs of front seats. 

Reports of cylinder head gasket failure at around three years old. Check coolant level and look under oil cap for emulsified oil indicating head gasket failure. 

Possible problem with the front wheel universal joints and gaiters if excessive lock has been used. Check front driveshaft gaiters for splits as UJs can wear out very rapidly if grease is lost. 

Spate of aircon evaporator failures at 2 to 4 years old. £1,000 job to put right, so make sure aircon blows freezing cold. 

Have also been some expensive autobox failures and cost of repair can now exceed value of the car.
Haynes manual is for US versions.
Recalls
29-06-2001: DaimlerChrysler Technical Service Bulletin (number 21-006-01) applicable to ALL vehicles equipped with Chrysler automatic transmissions (except 1999 and earlier minivans) states "A new transmission fluid (ATF+4 Type 9602) has been developed and is being used as factory fill for all vehicles with Chrysler automatic transmissions. Until now, vehicles originally filled with ATF+2 or ATF+3 were to be serviced with ATF+3. Effective immediately, it is recommended that all vehicles with Chrysler automatic transmissions (except for 1999 and earlier minivans) be serviced with ATF+4."
Back: Introduction