Bristol Brigand (1982 - 1993)
Last updated 20 August 2013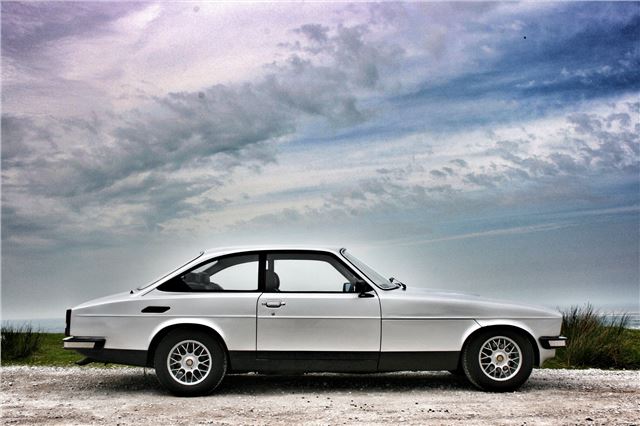 Few would disagree that classic car ownership requires a certain level of dedication. Compared with a modern, you're going to have to make certain allowances when it comes to performance, dynamics and reliability. That's a given. However, when it comes to classic Bristol ownership, the commitment needs to run a whole lot deeper - but then, if you need that explaining, you clearly don't get Bristols.
You see, Bristols are cars you love deeply, or hate with a passion. They're big; their styling is challenging; and they cost as much as the HMS Ark Royal to run. And we suspect that if you fall into the latter group of car enthusiasts, you're probably not going to read much further. And that's a great shame, because this 1984 Brigand owned by Ben Samuelson might well divide opinions more than any other, but there's no arguing that it's capable on the road, likeable to drive, supremely fast, and possesses a bass-heavy V8 soundtrack that's been gifted by the gods.
The Brigand and Britannia were launched at the end of 1982 and like the Beaufighter, received their names from aircraft built by the original parent company, Bristol. Of course, by the 1980s, the direct link between the two companies had long since been disbanded. But Bristol Cars continued to build its products using the techniques and practices that had underpinned the company since it was created out of the aircraft manufacturer during the 1940s.
The Brigand's styling does take some getting used to. Fashioned by hand from aluminium, its body is a high quality item, with few carry-overs from the 603 S2. That doesn't stop it looking like the older car, but as then-company owner, and huge personality, Tony Crook was always keen to point out, his cars were fashioned to meet the needs of his - predominantly London-based - clientele. So when they asked for a low-key design with great visibility, Bristol duly delivered - right down to the kicked-up front wings, designed to ease placing the Brigand in city traffic.
Under the skin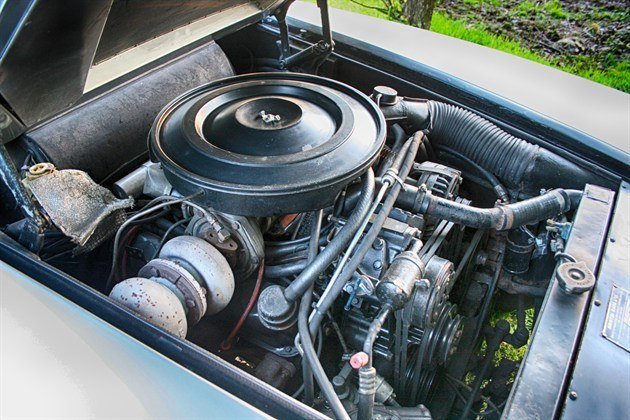 Bristol Brigand's turbocharged V8 is central to its appeal today. The turbo can plainly be seen on the left-hand side of the engine bay, close to the camera. It's not exactly small.
The Brigand is powered by the turbocharged version of the Chrysler V8 engine. In forced induction form, it debuted in the Beaufighter in 1980, and had already impressed road testers (the few who were granted drives, that is) with its huge performance potential, as well as effortless overall demeanor when there was no need to push. In the Beaufighter, 0-60mph was dispatched in 6.7 seconds, and the maximum speed was on the right side of 140mph - but that only told part of the story. Check out the 50-70mph time of 4.3 seconds - it's the mid-range where this car does its best work.
Just like Aston Martin and Rolls-Royce, Bristol refused to publish official power and torque figures for its cars - a move that looks baffling today. We could understand it from Rolls-Royce, where a de-smogged Silver Shadow from the late 1970s struggled to muster 190bhp from its 6.8-litre V8, but you could hardly accuse Bristol of being in the same position by the time of the launch of the Brigand. But given the Brigand's claimed 150mph maximum speed, huge acceleration and 1750kg kerbweight (massive then, quite lithe by today's standards), it's probably kicking out around 300bhp and 400lb ft.
The rest of the Brigand is pure Bristol - and a careful evolution of a line that started with the 400, and was augmented by the V8 powered 407 in 1961. So that means a separate chassis that supports a steel substructure, which is clothed in those hand-beaten aluminium panels. Like all Bristols, it's relatively narrow compared with its ample length (as customers wanted it that way), and the spare wheel is housed behind a modesty panel in the front wing - ludicrous to non-believers, but utterly practical.
The suspension system - again - is finely honed and rather traditional. There are unequal-length wishbones upfront, and Bristol's own live axle at the rear. It's located by a transverse Watt's linkage and top link, with springing by longitudinal torsion bars for a compliant and soft ride. Adjustable dampers all round, and a meaty anti-roll bar at the front rein it all in, and keep the Brigand under surprisingly tight control. Steering is power assisted by ZF, and wheel and tyres - when it came out of the factory - were by Wolfrace and Avon. Owner Ben's upgraded to something a little more modern...
On the road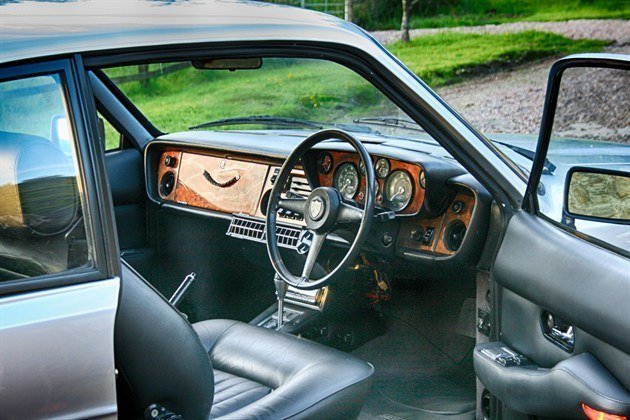 Interior is as you'd expect - beautifully made, lashed with leather and wood, and supremely comfortable.
The first thing that strikes you about the Bristol Brigand - once you've got past the imposing styling - is that you don't clamber down to enter, but you step elegantly in over a very low sill, and take command via a large slim-rimmed wheel. It's clear that Bristol did indeed intimately know its clientele, because you sit high, enjoy a commanding driving position, and have excellent all-round visibility thanks to a huge glass area and a lack of vision-blocking pillars.
Despite being fed by an enormous four-barrel carburettor, the Brigand starts first turn of the key and settles into a smooth and melodious idle. The exhaust note is deep and resonant, and more like a Riva powerboat than a car - we can't help but love it, and find it impossible to give it a couple of encouraging blips of the throttle, which rock the car gently.
In town, this combination of commanding view and responsive V8 upfront makes the Brigand and absolute doddle to drive. You can slip through gaps you'd never even dream of attacking in a modern, confident that you can place it within millimetres of where you need to be. The steering helps a great deal, too, as it's communicative, delightfully precise, and fingertip light. And in short, you ease through congested traffic, aided by the Brigand's narrowness, light throttle, responsive engine and transmission, and a driving position that puts you above mere saloons and hatchbacks. We've not yet exceeded 30mph, and we're already feeling rather special.
But heading for the hills seems like the best option when presented with a short drive of a Bristol Brigand. After all, there's all that thumping torque to see you up the inclines, and great visibility to help you deal with the trickier sections of narrow B-road. Once clear of the urban sprawl, the preciseness of the steering begins to impress - it might be light overall, but the ZF system still communicates road surfaces beautifully, giving the driver a great deal of confidence.
We can understand why Tony Crook described the Brigand as a businessman's express, because it really does come alive at speed, making light work of the challenging roads of the Trough of Bowland on the Lancashire-Yorkshire border. Ben's the first to acknowledge that his Brigand has been enhanced over the factory specification, but from the driver's seat, it all feels as it should, and works far better than a car of this antiquity should.
There's more body roll than in a modern equivalent, such as a Bentley Continental GT, and that encourages progressive cornering. You feed the Brigand into bends gently, let it load up, and enjoy the sheer ludicrousness of a car that looks like this flowing through curves with a real sense of style. It takes a little time to get used to this, but it's definitely worth the effort. A more immediate benefit of the Brigand's suspension set-up is the superb ride quality on those unfashionably tall sidewalls - and just like a true luxury car, potholes and expansion joints are barely noticeable, and surface irregularities in corners barely register.
Ben's clearly driven his car harder than we do, and we'll leave his own thoughts here for you to enjoy. 'When you press on, you get have to think a little about weight transfer but once she's settled into the bend, she grips in a way you'd scarcely think was believable,' he says. 'When the back steps out, it does it as politely as you'd imagine a Bristol should slide, with clear communication that it's about to happen and then with a lovely long wheelbase controllability.'
We're not going to explore that deeply, but it's good to know that the Brigand has such high limits. On the motorway, it's also quite at home. Acceleration on any slip road is powerful and linear, making the whole experience of joining a busy motorway stress-free as well as enjoyable to listen to. Being baulked by traffic isn't worrying either - the AP Racing brakes allow the Brigand to pull up strong and square (while feeling delightful at the pedal), while the huge reserves of torque leave getting back up to speed another effortless formality. There's very little wind noise, the cabin is well ventilated and superbly air conditioned, and the seating is comfortable for long distances to be covered in a relaxed manner.
Of course, there's a price to be be paid - and that's at the pumps. The 17.7 gallon fuel tank will empty alarmingly quickly, and when you press on, expect fuel consumption in the very low teens. Even when going gently, 20mpg will be an uttainable dream for most owners.
The HJClassics verdict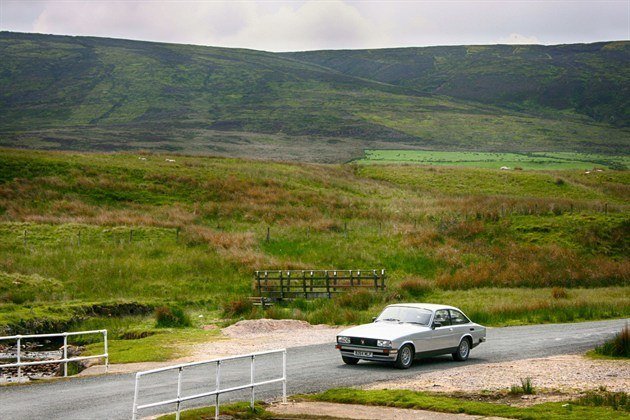 The Bristol Brigand is a wonderful, glorious, anachronism - and one that you can file under life's guilty pleasures. And as we said at the start, you either love or hate these handcrafted British grand tourers. It's thirsty and keeping it in tip-top condition can also be costly, so there really is a big commitment in owning one of these cars. Also, it doesn't have the styling elegance of earlier Bristols such as the 406-411 series, so you're less likely to buy it as a design statement you can enjoy statically.
But get over all that, and marvel in its joyous power delivery and soundtrack. Celebrate the fact that there are still cars like this available to buy on the classic car market, and consider just how few full-four seaters of this era are so capable of delivering huge performance, deep-seated engineering integrity, and luxury and refinement. A Bristol is clearly not for everyone - but for most dedicated fans, that is integral to its appeal.
Thanks to Ben Samuelson. This car is currently for sale, and if you're interested, please contact Ben via email.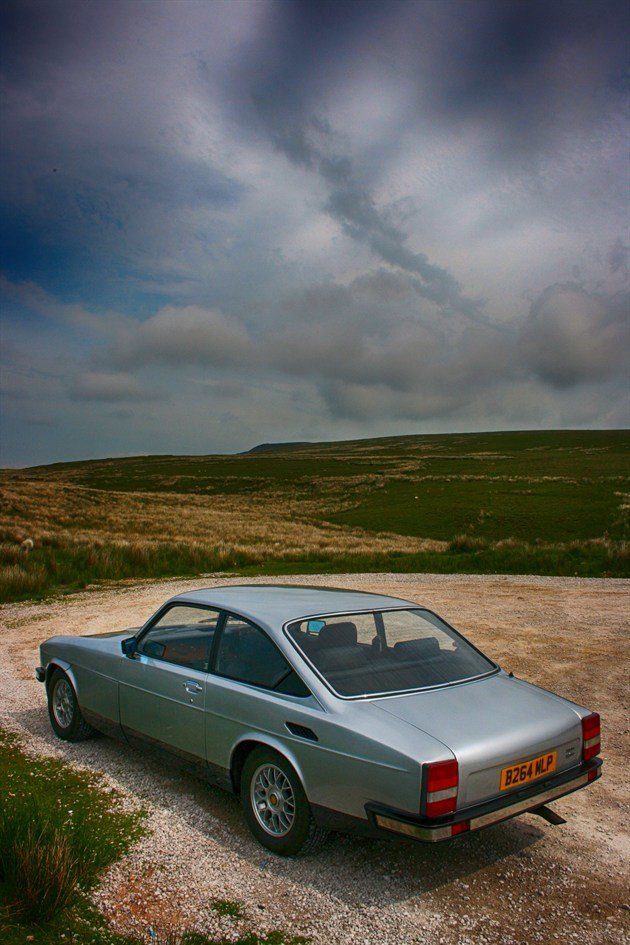 Back: Model Timeline
Compare classic car insurance quotes and buy online. A friendly service offering access to a range of policies and benefits.

Get a quote