BMW X5 (2000 - 2007)
Last updated 4 May 2018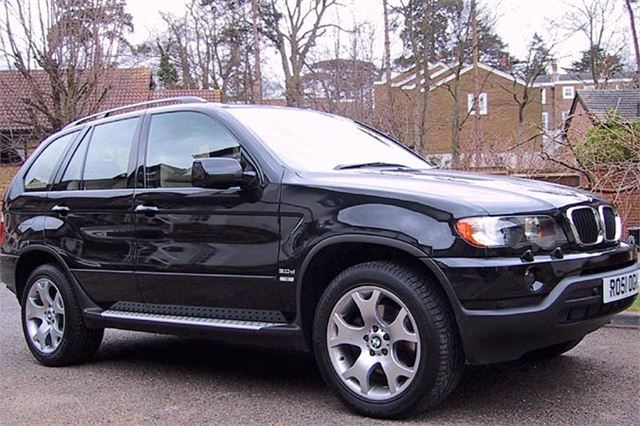 Buying Guide
Good
Became THE urban battlewagon to be seen in, with huge, intimidating road presence. Better than a Range Rover, Discovery or Mercedes ML.
Capable off road as well as on the road.
Four star NCAP crash safety rating January 2003. Improved model achieved five star NCAP crash safety rating June 2003.
BMW, Toyota and Ford jointly suffered the fewest breakdowns attended by German ADAC during 2001. BMWs generally had below average warranty repair costs in 2003 Warranty Direct Reliability index (index 81.41 v/s lowest 31.93). Link:- www.reliabilityindex.co.uk Rated average for breakdowns, problems and faults in 2003 Which survey. 16th top car out of 137 in 2003 Top Gear survey.
For servicing and repairs: Independent BMW Specialists Register
Bad
There's an X5 in the Weybridge area with the registration X5 5NOB. Sums it up. Black 3.0d Sport with white leather itnerior very much a WAG's car. 

Only a one star NCAP rating for pedestrian safety. 

4.4 priced from a high £46,300 and far from economical. 

High spec diesels were commanding premiums of up to £5,000 as late as September 2002. 

Pre November 2001 2nd and 3rd year dealer warranty required expensive top-up to be comprehensive. 

On road handling of original 3.0 petrol model not as good as arch rival Lexus RX300. Feels top-heavy. 3.0 can use any petrol from 87Ron to German 99Ron but only develops 231bhp on 98Ron +, so best to run it on Shell Optimax. 

Diesel did not get the massive twin tailpipes of petrol models and isn't as econmical as you would expect. Options could hugely inflate the price paid for a new one. 

Rated one of the most expensive 'Off Roaders' to run in 2003 Which survey. 

X5s generally heavy on tyres, brakes and steering bushes. 

Used prices way down by late 2007. 

On those huge, wide tyres can be dodgy to drive in heavy rain.
Watch
Build date shown on engine compartment label on top of front nearside wheelarch. Otherwise too soon to say. Reports of blown turbos on 530Ds may also apply to X5 3.0Ds. 

Some early V8s are suffering from porous engine blocks. 

Flat spots of and lack of power on diesels due to a known problem with the wire mesh air mass sensor. When replaced, must reprogramme ECU to match new meter. Lack of power also caused by cracked inlet manifolds. Misfires of diesels caused by failed injectors. Turbo trouble caused by ECU programme allowing higher boost than safe for turbo. Cured by replacing turbo, reprogramming ECU and thoroughly cleaning turbo inlet manifold and pipework because a blockage can cause the engine to run on its sump oil and self-destruct. 

If M54 engine management light comes on, could be faulty throttle housing plug on later cars (requiring new engine wiring loom) or split crankcase breather hose or split diaphragm in cyclone separator on earlier cars. 

Seems to be a problem with the servo valves on the automatic transmissions of X5 3.0Ds. The fault causes severe consequential damage to the box.
On 6 cylinder diesels, intake manifold swirl actuators can break off and be ingested by the engine, wrecking it to the tune of as much as £12,000. However, in some cases (one of a 2004 530d to which this happened in 2009), BMW fitted a new engine at a customer cost of £2,000. One school of though says that swirl flaps can be discarded entirely, though this will make the engine less efficient. The first sign of an impending problem with the swirl flaps is very poor idling. www.pmwltd.co.uk has a solution, which is a billet aluminium blanking plate that is substituted for the swirl flap. Well worth doing because it could save the cost of a new engine or having to scrap the car.

General Warning about Automatic Transmissions: Many BMWs have "sealed for life" automatic transmissions. Regardless of whether you have a full BMW service history, the dealer will never change the auto fluid. Many of these boxes are failing around the 120-150k mark - often well outside of warranty and to a cost of £3.5k plus VAT. A good independent or automatic transmission specialist can and will change the fluid for you (and any good BMW independents will recommend this anyway). This is commonplace in the US and means the 'box should last the life of the car rather than being the cause of it being written off. General advice is ensure the fluid is flushed out every 60k or more preferably at each Inspection II. 

Alarm system Body Control Module (BCM) can revert to "Shipping mode" and not respond to the remote. A good specialist can recode it. But some BMW dealers want £230 plus VAT plus fitting for a replacement module. 

American 2001 auto transmission recall not repeated in the UK and some owners have been advised that when this happens their X5 needs a new transmission. Reader reports: "As predicted, on 121,500 miles and with full service history every 10k miles, my gearbox started making a strange kicking feeling at between 50-60 mph and my local garage David Drew (who are really excellent and actually mend things) and I have used for many years as consulted his specialists called Oakdene in Nottingham. www.oakdeneautomatictransmissions.co.uk They are doing a full recon of the box for £1750 +vat. This is via David Drew.
11-6-2011: Electrical/wiring loom problems starting to afflict the model quite badly.
16-11-2015: If satnav fails and BWW dealer wants £1,600 to replace it, the failure may only be the laser disc reader and a specialist can fix this for £250.
28-1-2016: Diesel engines have a low air intake and are particularly susceptible to hydraulic lock if drivers try to drive them through floodwater. In January 2016, the BMW dealer in Blackpool had five E54 X5 diesels awaiting new engines for this reason. An optional higher air intake is available, but gives poorer performance in normal conditions.
Recalls
Recall Date: 14-6-2001 NHTSA Campaign ID Number: 01V196000 2001 BMW X5 POWER TRAIN:AUTOMATIC TRANSMISSION:PARK/NEUTRAL START SWITCH Summary: 4.4I SPORT UTILITY VEHICLES. OVER AN EXTENDED PERIOD, ABRASION PARTICLES COULD DEPOSIT ON THE ELECTRICAL CONTACTS WITHIN THE SWITCH, CAUSING A DISRUPTION OF THE ELECTRIC CURRENT THROUGH THE CONTACTS. IF THE DISRUPTION OCCURS WHEN THE VEHICLE IS STATIONARY WITH THE TRANSMISSION IN THE NEUTRAL OR PARK POSITIONS, THE TRANSMISSION WILL SWITCH AUTOMATICALLY INTO THE EMERGENCY PROGRAM, WHICH IS DISPLAYED IN THE INSTRUMENT CLUSTER VIA A WARNING LAMP AND A MESSAGE, "TRANS. FAIL-SAFE PROG." IN THIS CASE, THE VEHICLE CAN BE DRIVEN IN LOWER GEARS ONLY WITH LIMITED ENGINE OUTPUT. Consequence: IF THIS PROBLEM OCCURS, THE ABILITY TO MAINTAIN SPEED IN TRAFFIC AND/OR ACCELERATE COULD BE GREATLY DIMINISHED, POSSIBLY LEADING TO A CRASH. Remedy: DEALERS WILL REPLACE THE TRANSMISSION GEAR POSITION INDICATOR SWITCH. OWNER NOTIFICATION BEGAN AUGUST 14, 2001. OWNERS WHO TAKE THEIR VEHICLES TO AN AUTHORIZED DEALER ON AN AGREED UPON SERVICE DATE AND DO NOT RECEIVE THE FREE REMEDY WITHIN A REASONABLE TIME SHOULD CONTACT BMW AT 1-800-831-1117.Potential Units Affected: 14300. 31/1/2001: Build dates 21/9/2000 - 19/1/2001 Check for possibility that steering column joint was not assembled correctly.
16-11-2001: cars built 11/11/2000 - 30/9/2001 recalled because fault with radiator fan motor could lead electrics to overload, fan motor to fail and a small electrical fire to result.
August 2002: 56,000 X5s recalled worldwide because brake pedal shaft can work free. Affects UK imports built between 1999 and 2001.
31-7-2002: Bush on brake pedal mounting shaft may come off and brake pedal may also come off. 1,971 X5s to be checked and bush secured with new pin.
3-2-2003: Front brake hose could rub on tyre. Securing clip to be fitted.
24-2-2003: Seat belt tensioners may not be securely crimped. To be checked and replaced if necessary. 
American National Highway Traffic Safety Administration (NHTSA) of BMWs fitted with passenger occupancy detection mats. The NHTSA warned that in some of the recalled BMWs it is possible that "the front passenger airbags will not deploy even if a sufficiently severe accident would occur." NHTSA reported on its Web site that the passenger-side airbags can deactivate because of wear associated with a passenger getting in and out of the vehicle. "Depending on the manner and frequency of the front passenger's entry and exit, small cracks have developed in the (sensor) mat. If this occurs, the front passenger airbags, with the exception of the head protection system, will be deactivated," the agency warned. BMW dealers will repair the sensor system in the passenger seat when the recall begins in late September. BMW will extend the warranty for airbags on the recalled vehicles "to 10 years from the first registration without any mileage limit," according to NHTSA. The recalled BMWs include the 2004 to 2005 5-Series standard and sport seat models, the 2004 to 2006 X3 and the 2006 3-Series with sport seats. The warranty extension covers the 2006 6-Series, 3-Series with a standard seat, 2004 to 2005 Z4, 2004 to 2006 7-Series, 2006 X5 and 2004 to 2006 5-Series with a comfort seat. "Under the extended warranty program, the occupant detection mat in a vehicle that experiences this specific issue will be replaced at not charge to the customer," NHTSA advises on its Web site. NHTSA began investigating airbags failures in the BMW when the Office of Defect Investigation reported that "the passenger frontal airbag may malfunction and render the passenger airbag inoperative." The models included in the initial investigation were the 2004 to 2006 BMW 5 and 7 series sedans, Z4 convertibles and X3 SUVs, as well as 2006 BMW 3 and 6 series cars 
and X5 SUVs.
15-4-2014: Worldwide recall of 489,000 BMW cars with six-cylinder 3.0 litre petrol engines of which less than 3,000 are in the UK. These are: N51 (1991-1995) and N52 (from 2005). The screws for the housing of the adjustment unit of the variable camshaft timing (Vanos) for the intake and exhaust camshafts could potentially become loose or break. An engine warning lamp 'should ' appear in such circumstances, but if drivers experience any loss of power they should contact their BMW dealer immediately.
08-02-2005 R/2005/022 BMW E46, E53, E60, E61, E65, SERIES 3, 5, 7 AND X5 the bearings of the fuel injection pump may fail build dates 30-11-2004 to 31-01-2005
10-04-2017: R/2017/106: Driver's airbag may deploy inncorrectly: On some of the vehicles affected by this recall the driver's air bag inflator may rupture during deployment. Metal shards may pass through the air bag material and cause injury to occupants. Fix: On affected vehicles, the air bag inflator will be checked and if necessary replaced. VIN: WBAAL12000AK25430 to WBABN32040JW33505, WBADT32020BF59030 to WBADT42010GX95495, WBAFA72010LN30003 to WBAFB92060LN76046; Build dates: 02-06-2000 to 29-12-2001
Back: Driving
Next: Running