BMW 3-series E46 (1998 - 2005)
Last updated 4 February 2019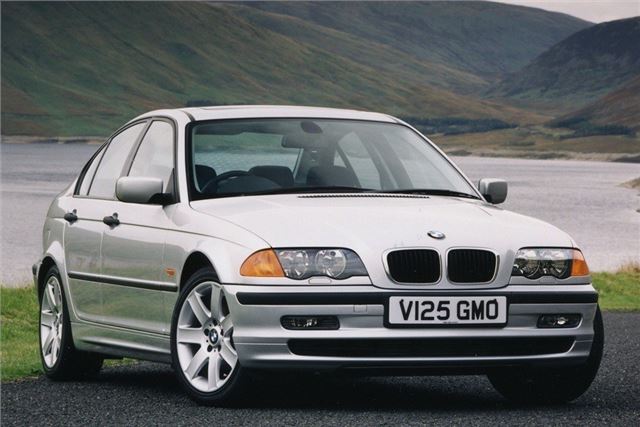 Buying Guide
Good
BMW 3-Series was fifth most reliable car in 2001 Fleet News Survey of 620,000 fleet cars mostly under 3 years old. 

Good three star score in 2001 NCAP crash tests, but criticised for lack of a third rear lap/diagonal seatbelt.
BMW, Toyota and Ford jointly suffered the fewest breakdowns attended by German ADAC during 2001. E46 voted 7th equal from Top in 144 car 2002 JD Power / What Car? Customer Satisfaction Survey of V and W reg cars. BMW had sixth lowest average cost in warranty claims for cars up to 10 years old in 2002 Warranty Direct index.
E46 3-Series was 9th overall in 2003 What Car? J.D. Power Customer Satisfaction Survey. Replacement model due 2005.
BMWs generally had below average warranty repair costs in 2003 Warranty Direct Reliability index (index 81.41 v/s lowest 31.93). Link:- www.reliabilityindex.co.uk 1998-2000 petrol lowest for breakdowns and faults, average for problems; 2000-2003 petrol and diesel average for breakdowns, problems and faults in 2003 Which survey.
E36 model generally rated a 'Best Buy' by Which. 330d voted one of Autocar's top ten cars of 2003. 
For servicing and repairs: Independent BMW Specialists Register
The M47 and M47TU ('Technical Update') 320d engine is chain cam with the timing chain at the front of the engine and does not generally suffer timing chain failures like the later N47 does. 
6-1-2019: Report of 311,000 reliable miles from year 2000 BMW 318i E46.
Bad
Lacks beauty of Alfa 156 or class of Audi A4 B6. Performance and driving pleasure slightly blunted compared to the best E36s. Cornering brake control on early E46s could take over, but does make car safer in unskilled hands when a corner tightens up unexpectedly. 

On saloons, split folding rar seatbacks were a £250 extra 

Heavier, so uses more fuel than E36. 

Much criticism of poor-quality conversion to RHD of early E46s. A few complaints about offset driving position even on 2002MY cars. 

Original 316 and 118bhp 318 not powerful enough. (318 cured with 143bhp from September 2001 facelift; 316i got new 115bhp engine from April 2002.) 

Reports of harmonic vibrations through steering and floor of 330i. 

Side repeater indicators pop out and damage the front wings on early cars. 

Pre-November 2001 3 year warranty required expensive top up to be comprehensive in 2nd and 3rd years. 

Build date now shown on engine compartment label on top of front nearside wheelarch. 

Steptronic auto increases fuel consumption of 330d by around 25%. 

Price rises of Euro IV compliant 320ds made them expensive: 320d 4-dr: £22,170; 320d SE 4-dr: £23,200; 320d Sport 4-dr: £25,600; 320d SE Touring: £24,120; 320d Sport Touring: £26,520. Only 90% of cars up to 2 years old breakdown-free over previous 12 months in 2004 Which? survey.
Watch
Very early cars released in September 1998 were fitted with a steering rack replaced by a different type by October 1998. Some mystery as to why.
Reports of a thermostat problem with 318i models; replacement parts were on back order as much as 7 weeks so cars were being run without thermostat cores which meant no climate control. Thermostat problems spread to 6 cylinder models, too. 
Keep the drains for the vent plenum chamber in the bulkhead clear. If you don't and are running an automatic, rainwater can overflow into the car, pouring over the transmission ECU and destroying it. 

Heater fan resistors can fail leaving fan only running at full speed but BMW aware of this and will meet cost even though not covered by 2nd and 3rd year standard dealer warranty. 

A/c computer fault can flatten battery if car left parked for 2 weeks after a/c settings have been changed several times on the preceding journey. BMW dealers have a cure. 

Diffs of 330d and M3 make grating noise if driver uses too much lock when parking, but special oil (part no 83 22 2 282 583) sorts this out. 

330d models go go through brake discs, best replaced by Rossinis from www.carparts-direct.co.uk 

320d M47 150bhp models gained a reputation for repeated turbo failure, possibly due to extended oil service intervals. After replacing turbo, ECU needs to be reprogrammed. Also instances of injector failure. BMW says that only EU3 320d engines built before October 2003 are affected by the turbo problem. EU4s not affected. NOTE that losing power on hills and burning oil (blue smoke) may not be a symptom of turbo bearing or turbo bearing oil seal failure. One reader was charged £575 to rectify this by replacement of air mass meter (£252), fuel filter (£76), oil separator (£64) and replacement of intake pipe (£47), remainder VAT and investigation. 

320D M47TU ('Technical Update') prone to manifold swirl valve breaking and being ingested by the engine. One BMW specialist reports new manifold part supply running at 63 units per month. BMW may be recognising this design fault and applying some goodwill. Apparently some manual gearbox cars do not have swirl flaps fitted whilst those with auto boxes do.  Those cars fitted with swirl flaps have a solenoid and vacuum pipes on the nearside of the engine so it is fairly easy to tell. BMW mechanic who was going to says he regularly sees failures on BMW 320D models at lower mileages but rarely on the six cylinder 330Ds at below 100,000 miles.  www.pmwltd.co.uk has a solution for this, which is a billet aluminium blanking plate that is substituted for the swirl flap. Well worth doing because it could save the cost of a new engine or having to scrap the car. More also at www.bmwswirlflaps.co.uk
By June 2007 major problems with post-facelift 320D M47TU 150PS emerging. They can split their inlet manifolds allowing the engine to ingest parts of the swirl flaps, and the turbos are failing in increasing numbers. Consequently, very few 2nd hand replacement engines available. Quite a lot of feedback on this, for example: (June 2007) "Five weeks ago my 2002 320d at 133k ingested its swirl flap on the inlet manifold - result £10k to fix. BMW offer 20% off parts - hopeless!! Add this to a vehicle that needed a new turbo at 33k, new injectors at 58k, new front wishbone bushes at 83k, new pre supply pump at 99k, new rear springs at 128k." 

Pre-August 2004 M3s seem to need new big end shell bearings alarmingly frequently. See note about August 2004 TSB under Recalls. Pre 2004 E46 M3 SMGs suffered a small spate of sudden complete engine failures. BMW replaced engines of UK sourced cars FOC without quibble. If buying an M3 crucial to check the oil pressure for the shell bearing problem. 

Cheap fix for common climate control ECU problem costs just 29 pence at www.macadamizer.com/bmwfix.html 

Many E46s suffer premature front suspension balljoint failure. Bushes in front suspension wishbones often need replacing after 3 - 4 years. Means new wishbones. Spate of snapping rear coil springs on 4 - 5 year olds increasingly common. 17" wheels easily damaged on inner rim. Clonks from the rear either mean a coil has snapped or the diff has torn away from its mounting. Can also mean that the rear suspension subframe has torn loose from the floorpan at its mounting points. 

Make sure the electric engine radiator fan works. Even it it does, a previous failure could have resulted in head gasket failure so check for the usual signs of this such as emulsified oil under the oil filler cap. . 

Flat spots of and lack of power or M47 and M57 diesels due to a known problem with the wire mesh air mass sensor. When replaced, must reprogramme ECU to match new meter. Lack of power also caused by cracked inlet manifolds. Misfires of M47/M57 caused by failed injectors. 

Turbo trouble with early 330ds caused by ECU programme allowing higher boost than safe for turbo. Cured by replacing turbo, and thoroughly cleaning turbo inlet manifold and pipework because a blockage can cause the engine to run on its sump oil and self-destruct. 

If M54 engine management light comes on could be faulty throttle housing plug on later cars (requiring new engine wiring loom) or split crankcase breather hose or split diaphragm in cyclone separator on earlier cars. 

The wiring loom for the airbag pressure sensor may be too short. As a result of this, when the seat is moved back it tugs on the wire switching on the warning light and in some cases actually disconnects the wiring. Weight sensitive seat sensors for the airbags may also fail. 

MOT failure due to brake pipe corrosion is not unknown. 

Starting problems with diesels may be due to failures of fuel pump relays rather than the pump itself or the injectors. 

Reason for rear light cluster failures is all the lamps in each cluster – stop, tail, indicator, reversing and boot: earth through one pin on the connecting plug on the lamp housing. The pin is too small for the load and burns out after some time, also burning the connector sleeve on the connector plug. With the earth completely gone, the whole cluster does not work. New lamp housings are quite cheap at £20.86 each inc VAT and new sleeves can be fitted to the connector plugs. It's a smart move to install two extra earth leads on each cluster to take the load and prevent a recurrence. 

General Warning about Automatic Transmissions: Many BMWs have "sealed for life" automatic transmissions. Regardless of whether you have a full BMW service history, the dealer will never change the auto fluid. Many of these boxes are failing around the 120-150k mark - often well outside of warranty and to a cost of £3.5k plus VAT. A good independent or automatic transmission specialist www.fedauto.co.ukcan and will change the fluid for you (and any good BMW independents will recommend this anyway). This is commonplace in the US and means the 'box should last the life of the car rather than being the cause of it being written off. General advice is ensure the fluid is flushed out every 60k or more preferably at each Inspection II. 

Note that production of 316i was stopped between Summer 2001 and Spring 2002. Any cars bought between those dates would have the OLD engine. Clonks from front suspension mean balljoint or wishbone bush problems
A sudden loss of power from petrol engines accompanied by the emissions warning light may be due to the failure of an ignition coil. 
What follows applies to Renault 1.5DCI engines, but may explain why the diesel turbochargers fail: The EGR valve should open to allow carbon dioxide (which acts as a cooling gas) into the combustion chambers when the engine is under load (>30% boost). This allows the combustion chamber temperature to drop and thus the temperature of the exhaust gases. If it sticks in the closed position the exhaust gas temperature will rise causing a) the turbo bearings to fail and b) engine oil into the induction system. This can cause the engine to run on its crankcase oil until it is either stalled or goes bang. Problems with EGR valves are often the cause of rough running when the valve is stuck in the open position as well. In several cases turbos have blown but the EGR valve has not been replaced. Inevitably the new turbo unit will not last long. 

On BMW E46 318 (N42 engine 2002), if engine suddenly starts to rev erratically on tickover at 1200 to 1500 RPM in about 1 sec pulses, (foot off gas), it might be nothing more than a badly seated oil filler cap. Cleaning and refitting should solve it. Also on this engine if a fault code indicates a camshaft sensor failure what may really have happened is that the plastic timing chain tensioner has failed, the chain has slipped a tooth and the the camshaft timing is out. Costs about £650 to put right by a specialist. 

One reader spent £9,200 maintaining his 03 reg BMW 330D over the past 2 years or 46,000 miles, which is £350/month. The bulk of this cost (£5,650) is due to failure of the Xenon controller - £860; Seized rear calliper - £620; Injector replacement - £470; Gearbox replacement - £3,700. In February 2009 the car was at a BMW dealership requiring a further £4,400 to be spent to replace a failed injector, glow plug relay and the gearbox, which failed at 82,000 miles. 

Original fit batteries can completely fail without warning. 

Fuel tank sender pumps can fail. 

2 litre 143PS four cylinder engine can be trouble from around 100k miles. Cam sensors fail. Crankshaft sensors can fail suddenly, out on the road with no prior warning. 

Drum-in-disc parking brakes can be very ineffective. 

If the car has BMW satnav with integrated Bluetooth that obviously predated smart phones like the iPhone, it is still possible to partially pair the car system and the phone. Normally trying to pair car and iPhone whilst the phone would get a connection, but it would disconnect after just a few seconds rendering it useless. If you change your iPhone settings to just transfer favourites and place those numbers I am likely to call into your favourites (20 or so) the iPhone will pair with the car.
Curious cases of complete power failure after an overnight stop. Seems that if any alteration was made to the temperature setting of the climate control, the electrical systems would not shut down. A TSB back in 2003 corrected this, so it is highly unlikely that there are any E46s still out there on which this was not fixed.
Do NOT replace original Beru glowplugs with Bosch on pre 2004 320ds. They don't last.
Rear coil spring failures increasingly common. By 2010 one reader with a 2003 Touring had needed three pairs of replacement rear springs.
Reader input 14-8-2010:
"A year ago I bought a 2001 BMW 320i Touring. Among other problems, 
The central locking went haywire. A search around the web found lots of info especially at www.bmwgm5.com. They refurbish the GM5 electronics module which controls the c/locking for about £70 and a competent technician can fit it in about an hour.
Other problems fixed in first year of ownership: 
AC condenser failure
Main cooling fan failure 
AC pipe corrosion (3 of the meaty elbows and connectors at the front of the engine bay)"
Battery drains can be caused by the heater thermostat fan resistor (called a +ACI-hedgehog+ACI-because that's what it looks like). Best advice is to turn the heater fan off completely overnight, just push the minus side until it reaches minimum and then one notch more it switches off completely and the panel illumination goes out. The resistor itself can be accessed by removing trim to get to the back of the heater controls. It is not necessary to dismantle the whole dash.
12-11-2011: Front wing liners not very effective, resulting in moisture being trapped and wings suffering corrosion perforation, symptoms bubbling paint.
19-1-2012: On 320d, damped 'dual mass' auxiliary belt crankshaft pulley can eventually fail.
24-4-2012: Cable from body of car into hatchback of Touring can eventually chafe and fail, potentially leading to a wiring fire.
10-12-2012: Heavy oil consumption problem of 4-cylinder petrol engines may be cured as follows (with thanks to Rod Ker): Oil is usually leaking away, not being burnt. What seems to happen is that the O-rings in this engine start to harden and fail after about six years. Oil then gradually begins to seep out from the Valvetronic solenoids at the front of the engine. Most of this ends up in the engine undertray, but eventually it will drop onto the ground and start blowing back, coating the whole area. Autos have an additional problem with a leak at the vacuum pump at the rear of the engine. This is very difficult to see because it's buried up by the bulkhead, but the telltale sign is a burning smell soon after starting from cold, as the drips tend to go onto the exhaust. By about 90,000 miles oil was gushing out of our engine. The good news is that the leaks can be cured for the price of some new O-rings (although a BMW dealer will tell you a new vacuum pump is needed, for about £400!). The seals on the Valvetronic solenoids can be changed in about 15m flat, but the ones on the pump at the rear are very fiddly to do and might take a few hours, even if you're a double-jointed contortionist.
14-12-2012: 4-cylinder petrol engines can be susceptible to the sump bolts loosening themselves. May have dropped out altogether. Worth checking.
9-5-2013: Significant numbers seem to be failing the new, more comprehensive MoT for airbag warning lights on. One reader had to pay £1,500 to have this rectified, though there may have been a cheaper solution using Airbagman 
15-6-2013: Report of two timing chain failures in E46 320d, despite regular oil and filter changes at 6,000 miles. First failure occurred at 124k miles; 2nd failure at 194k miles, which wrote off the engine. But car was purchased at 63k miles, so its previous history may have had something to do with the premature timing chain failures. Same reader subsequently clocked up 93k miles in a 320dED with no problems so far.
29-3-2014: Misfire on 65k mile 2005/53 BMW 318i turned out to be failed Valvetronic due to wear in the rockers. Disconnecting Valvetronic cured the misfire but left engine down on power and using more fuel.
27-9-2014: Further report of separate rear spring breakages reported over the years on a 149,000 mile 2002 BMW E46 330D Touring.
7-2-2015: On N46 1,995cc petrol engine, split upper timing chain guides are becoming common. Also rear brake pipes are prone to corrosion.
31-3-2015: Timing chain of 80k mile year 2000 BMW 323Ci convertible jumped. Quoted £2,000 to fix.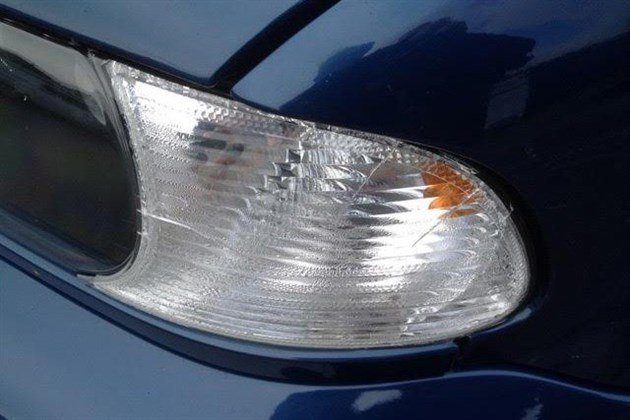 31-10-2015: Three replacement OEM BMW E46 front indicator light units ( at £90 a time) all cracked after installation within 8 weeks. Aftermarket parts have so far lasted 4 months plus.
18-4-2016: Another report of water in the trunk of a 3 Series convertible. Reader wrote that BMW forums describe leaks around rear light clusters due to faulty seals and leaks from the compartment into which the hood folds down due to blocked drain tubes as possible explanations. Leaking rear lights wewre not his problem and he cleared the hood compartment drains with an airline. They now drain well. He could not trace alternative route by which water could enter.
20-6-2016: Report of windows dropping and roof opening overnight on 65k 2004 BMW 330i convertible, probably due to moisture ingress to the locks, windows and roof ECU inside the driver's door.
Recalls
1999 (E46 from April 1998): safety recall over failure of brake pedal clip which can allow the pedal to become disconnected, and over-sensitive side airbag trigger switches.
15-12-1999: (E46 built Sept/Oct 1999): brake light switch may fail leading to brake lights flickering or failing and switch overheating. New switches to be fitted. 1/8/2001: 1659 E46s built 1/2/2001 - 18/5/2001 recalled because fault with radiator fan motor could lead electrics to overload and fan motor to fail.
3-11-2000: 887 E46 models with alloy wheels built 4/9/2000 - 7/10/2000 recalled because inside rims of wheel could have been damaged when tyres were fitted.
9-11-2001: Cars built 28/9/2001 to 24/10/2001 with Continental tyres may have cuts in the tyres which can lead to blowouts.
w/e 23-2-2002: recall in Germany for all models fitted with Conti Eco Contact and Sport Contact 205/55 R16 and 225/55 R16 tyres due to a pressure problem.
2003: Curious cases of complete power failure after an overnight stop. Seems that if any alteration was made to the temperature setting of the climate control, the electrical systems would not shut down. A TSB in 2003 corrected this, so it is highly unlikely that there are any E46s still out there on which this was not fixed.
April 2004: Letter sent to owners of 320 diesels stating, "increased wear may occur on the fuel pump and the fuel filter may become blocked over a prolonged period of time." Fuel pre-delivery pump and fuel filter to be changed. August 2004 (service number E46 S54) on M3s involved the replacement of the big end bearing shells and replacement of the oil pump with an uprated one. Apparently prompted by owners of pre 2004 M3s removing the 250kmh limiter and maxing the car.
1-6-2017: At 51,582 miles a 3003 BMW F45 320ci automatic convertible started having trouble with the transmission. Engine began to cut out at very low speeds, ie junctions, traffic jams, etc. Loca garage changed spark plugs and ignition coil - no improvement (£176.18). Local BMW dealer investigates and suggested a new transmission at £5,800. Car only worth about £2,000 so owner checked with BMW Fermany who suggested a new torque converter. This cost £1,840.0. No improvement. BMW does not recommend a fluid change to this transmission, so conseqnently many of the m fail as they get older. Suggested http://www.fedauto.co.uk/
10-1-2017: Report of sudden increase in oil consumption of 2003 BMW E46 1.8 coupe. `most lilely to be due to failed valve stem oil seals. Might be a head off job to replace them (+/- £1,200). Might be possible to do them in situ (+/- £400).
4-2-2019: Report of intermittent starting fault with 2003 BMW 330Ci MSport Auto (bought new) now at  42,000 miles only. On numerous occasions, has refused to start, every few weeks or so. Sometimes tried again later, either that day or the next, it will start as normal. BMW Indie specialist garage fitted a new Auto gearbox position switch and told that it is a fairly common fault, as BMW is selling 15 such switches a month. The position switch prevents the car being started when it in gear, but can develop a fault and think it is gear when it is actually in Park or Neutral. The contacts were tested and were sound, so the only option was to replace the switch which is deemed non-repairable. Cost over £200. Owner had previously sussed this by finding that moving the gear selector out of Park and back again, would allow the car to start. 
RECALLS
08-02-2005 R/2005/022 BMW E46, E53, E60, E61, E65, SERIES 3, 5, 7 AND X5 the bearings of the fuel injection pump may fail build dates 30-11-2004 to 31-01-2005
14-02-2008 R/2008/026 BMW 3 Series Convertible door pressure sensors may delay side airbag deployment following an impact build dates 20-11-2006 to 11-01-2008
(GAP)
26-7-2013: R/2013/071 On BMW 3 Series built 1-5-1999 to 31-8-2006, passenger side airbags may fail to deploy properly. (Part of a worldwide recall of cars fitted with Takata airbags.)
10-04-2017: R/2017/106: Driver's airbag may deploy inncorectly: On some of the vehicles affected by this recall the driver's air bag inflator may rupture during deployment. Metal shards may pass through the air bag material and cause injury to occupants. Fix: On affected vehicles, the air bag inflator will be checked and if necessary replaced. VIN: WBAAL12000AK25430 to WBABN32040JW33505, WBADT32020BF59030 to WBADT42010GX95495, WBAFA72010LN30003 to WBAFB92060LN76046; Build dates: 02-06-2000 to 29-12-2001
Back: Model Timeline
Buy a BMW 3 Series from £4,995
Compare classic car insurance quotes and buy online. A friendly service offering access to a range of policies and benefits.

Get a quote