BMW 3-Series (1982 - 1990)
Last updated 4 February 2015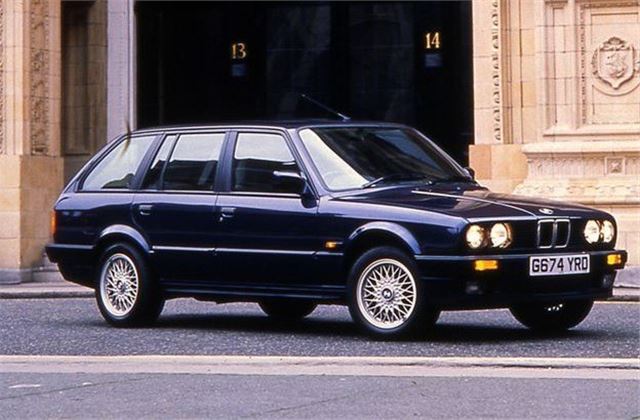 Buying Guide
Good
Nice looking. Replaced shark nose E21 3 Series. 14' 2" long by 5' 5" wide and weighing 990kg to 1,235kg.
316i had 90bhp 1.8, 318i had 105bhp to 115bhp 1.8, 318iS had 136bhp twin-cam 16 valve 1.8; 320i had 125bhp to 129bhp six, 325i had 170bhp six, M3 had 200bhp 2.3 lite twin cam 16 valve four.
No compulsory cats in the UK.
318iS, 320i, 325i and M3 still good to drive.
Some galvanised panels from 1988.
From September 1988 316i had 102bhp 1,596cc cambelt four-cylinder that stayed with the model until the last 316i Tourings in early 1994.
136 bhp chain-cam 16v M42 powered 318iS is already achieving minor classic status. But M3 is the true classic.
4-cylinder cars handled better than sixes. Convertibles carried on for a few more years alongside new E36.
Bad
Old cars now. 316 and 318 relatively slow and over-rated. Many drivers not ready for oversteer, especially in the wet.
No room in the back of two-door versions with big front seats.
All models apart from 318iS and M3 had timing belts which need to be replaced every 3 years or 36,000 miles without fail. Timing belt failure bends valves on M40 and M20 engines and can break the heads of M20s. Official replacement parts for BMWs over 10 years old phased out from April 2002.
Watch
Clocking.
Rust in early cars. Make sure cambelts and tensioners were recently changed.
Cylinder head studs of 6-cylinder engines can shear. Heads of 6-cylinder cars can also crack.
M20s can suffer cooling loss and overheating due to the head becoming porous or developing cracks. Failure of central locking can be due to moisture corrosion in A pillar connectors, faulty lock actuators or faulty locking ECU.
Engine noise on M40 may indicate worn valve gear due to neglected oil changes. Prime candidate for fully synthetic oil, but if the engine is old don't suddenly switch from whatever is in there to synthetic.
Knock from rear indicates rear subframe bushes or rear damper top mountgs worn out. Check for rust around front jacking points which is an MOT failure and rusty rear arches.
Check for repaired accident damage. Most convertibles have been 'customised' in questionable taste. Some nice, obviously well cared for M3s are coming over from Germany - and M3s are all LHD anyway. (It's very hard to find a genuine old 3-Series these days.)
Autoboxes do not take well to being drained and having their ATF replaced.
Worn interiors can be hard to replace.
Recalls
1998: 170,000 E30s recalled because radiator cap pressure valve may seize up and over-pressurise cooling system, leading to coolant leak and steaming up inside car
Back: Introduction
Next: Specifications
Buy a BMW 3 Series from £5,995
Compare classic car insurance quotes and buy online. A friendly service offering access to a range of policies and benefits.

Get a quote