Austin A40 Farina (1958 - 1967)
Last updated 24 February 2015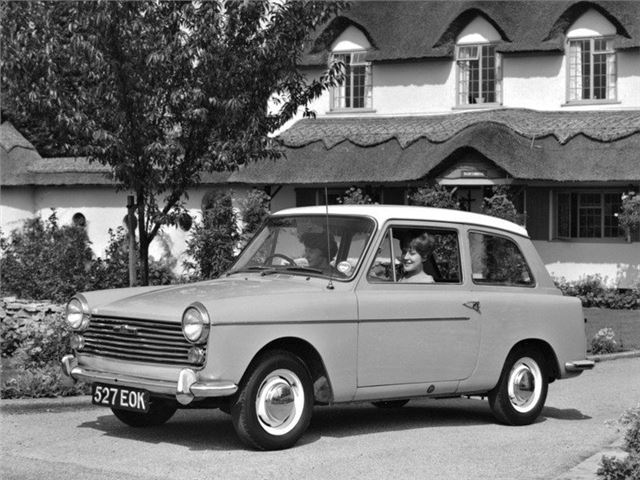 Buying Guide
Brief overview
Today, the A40 makes a true practical classic. Certainly that it has not attracted the following of the Morris Minor or the Sprite and Midget means that spares availability can be a little trying, but with perseverance and some knowledge of the mechanical parts it shares with other BMC cars of the period, most parts can be found relatively easily.
---
What are they like to own?
Mark 1
The Mark 1 A40 feels its age to drive now; its 948cc engine is a sweet unit but the gearbox can feel weak with synchromesh easily beaten, part mechanical brakes and steering that may wander. While that may sound terrible, the earlier A40 exudes a real period charm and seems to rust less than the mark 2. The mark 1 shows some obvious signs of cost cutting such as the push up/push down windows but ironically feels over engineered.
Mark2
The Mark 2 A40 in 948cc guise is a little more sprightly than the Mark 1, but for every day usage, the 1098cc is the one to have as it is higher geared and more powerful. Some say that the bigger engine is less revvy but the additional performance and better gear-change are a good trade-off for that. Acceleration times of 0-60 in 24 seconds for the 1098cc model mean that no standard A40 is a fireball! The Mark 2 does feel a lot more modern than the earlier A40; from the self cancelling indicators to the better seats and full width radiator grille. For some, the apparent modernity may be a problem but there is no disguising the fact that any A40 is now over 40 years old and no less good for that.
Saloon v Countryman
The Countryman is the rarer option, particularly as a Mark 1. The larger bottom bootlid and hinged upper tailgate make it a near hatchback while the saloon's smaller bootlid does deter from carrying some items. Both have fold down rear seats and front seats that tip forward for easy access. To some extent, the smaller rear window of the Countryman does detract from the sense of airiness of the saloon.
What parts are common between a Mark 1 and a Mark 2 A40?
Very little is the short answer! The cars look remarkably alike and many parts are common, but a late 1098cc mark 2 and a 948cc mark 1 share far fewer parts than you may imagine including most body and trim items and many mechanical parts too. Getting hold of the correct parts is vital and microfiches and factory parts lists intended for dealers are a must by from ebay or autojumbles, as is A40 club membership.
Rust
The newest A40 on the road is now past its fortieth birthday and so rust should be your main concern. Whilst it can be a real issue, it is probably no more so than any other car of its period. If you start your search in the belief that anywhere is a potential rust spot, you will be pleasantly surprised.
Where you should concentrate: Anywhere forward of the radiator will rust, the bottom of the boot lid and the bottoms of front and rear wings, rear arches, bottoms of doors, at the bottoms of windows, near brightwork, sills, jacking points (if still fitted), floors. Lift up the false boot floor and have a peer around here; anything other than surface rust is a real worry. Check the fuel tank for signs of leaks and seepage.
---
Spares Availability
Interior Trim
The vinyl and /rexine trim is normally only available used, although some good quality carpet sets are available. Re-trimming in vinyl is an option but post '64 cars have heat moulded patterns in the side trims meaning that totally accurate reproduction is difficult unless you have the specialist kit.
Bodywork and Brightwork
Available body panels are limited to a few new grp GRP replacements, some pattern sills and rare as hen's teeth new old stock items. A40 Farina Club members can also access some hand made panels. No brightwork is available new, but new old stock chrome does turn up but expect much of this to show some signs of ageing.
Suspension
Front suspension is identical to the Frogeye Sprite on the mark 1 and the 1098 A35 van on the mark 2 and very similar to all other Midgets. Rear suspension is generally problem free but age and use can cause broken leaf springs and most sag a little. The A40 club has had batches of rear springs remanufactured whilst the alternative is to have them re-tempered. Spring bushes are shared with the Midget.
Brakes
The Mark 1 employed a Heath Robisnon-esque hydro-mechanical braking system; front hydraulic brakes coupled to mechanical actuation of the rear brakes which require regular maintenance. The mark 2 thankfully employs a fully hydraulic setup. Front drums and shoes are the same as late Minors, rear cylinders (mark 2 only) and rear shoes are the same as a Midget. Mark 1 rear frame cylinders are in short supply as are front cylinders but both can be found in autojumbles and on eBay.
Modifications and Motorsport
The A40 makes a great car to modify for road or competition use. Midget stub axles and king pins can be used to convert to front disk brakes. With a 4"PCD, used 4.5" wide Midget wheels and new alloys up to 5.5" wide (such as Minilite replicas)s make a real change to the standard 3.5" items. Having an A series lump under the bonnet, your choices are wide for engine and transmission upgrades and many A40s effectively become re-shelled Midgets! Track racers are really for the hard core and the well heeled (note the £14k A40 racer advertised on the web) but road rallying can be achieved on a much smaller budget at a high rate of smiles per hour
---
What should you pay?
That seems to be a difficult one. Most A40s now seem to be sold on ebay and this can obviously be a rather harsh place to sell. Occasionally, exceptional cars do turn up for sale at dealers in classified adverts anywhere between £3-£6000 and many of these do find buyers. However, in a private sale expect to pay £1500 to £2000 for a cherished car in excellent condition and about half that for a solid but slightly scruffy example. Cars desperately clinging on to an MoT go for up to £500 and spares cars tend to be worth £75 to £300. The ebay effect is to take these figures and multiply by a random number, sometimes more but often less!
There is little apparent difference in value between mark 1 and 2 A40s or between saloons and Countryman variants.
Modified cars make good money as many recognise the time and expense of undertaking the conversion and closed track racing specials, particularly with a pedigree, will often sell for £10-£20,000. Transferable registrations on 1964 and earlier cars make them easier to sell and add to the feel of originality but do not have the immediate effect on prices you may think; many buyers are unbothered, whilst some feel an oldie like the A40 is worthless without the plate.
---
Useful contact:
A40 Farina Club, Membership Secretary, John Dickin, 168 Rundells, Harlow, Essex CM18 7HF or email membership@a40farinaclub.co.uk
---
Back: Model Timeline
Next: Specifications
Compare classic car insurance quotes and buy online. A friendly service offering access to a range of policies and benefits.

Get a quote