Alfa Romeo GTV and Spider (1995 - 2004)
Last updated 6 November 2018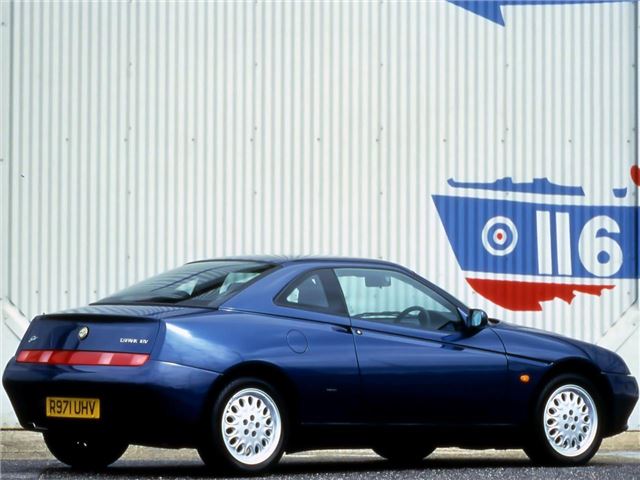 Buying Guide
Good
The good bits are fabulous looks, brilliant engines, 'Quick-Rack' steering, better rear suspension than the saloons. 4,285mm (14') long x 1,780mm (5' 10") wide.
Three-year warranty when new
1999 MY on 218bhp 3.0 24v V6 six-speed was as close as many people got to a new Ferrari for under £30k. Same engine and gearbox in Spider from Spring 2001, making it an unruly hooligan of a car and capable of over 150mph with the top down. Surprisingly little buffeting at this speed, even without a cockpit air-dam. Gets 236bhp 3.2 V6 from September 2003. 5 year or 60,000 mile warranty from January 2004.
Replaced by GT Coupe in 2004
Bad
Virtually no boot room at all in the coupe. 'Saw their legs off' back seats. No auto options.
Cylinder head gasket failed before one owner got his new car home.
S and T platers 3rd from bottom in 2001 Top Gear / J.D. Power Customer Satisfaction Survey. In June 2001 Alfa Romeo was rated by Motor Warranty Direct as Britain's worst out of 22 marques for warranty claims. FIAT/Alfa joint worst for breakdowns attended by German ADAC during 2001. Alfa Romeo had joint highest average cost in warranty claims for cars up to 10 years old in 2002 Warranty Direct index. Alfa Romeo 2nd least reliable of 31 makes of car in 2002 'Which?' reliability survey cars 2000 - 2002; 3rd least reliable cars 1997 - 1999. Alfa Romeo had fourth highest warranty repair costs in 2003 Warranty Direct Reliability index (index 155.10 v/s lowest 31.93). Alfa Romeo 5th bottom of Reliability Index for 2004 combining average cost of repair of £392.88 with high 39.55 failures per 100 Warranty Direct policies. Link:- www.reliabilityindex.co.uk 1996-2003 GTV least reliable car in 2007 Warranty Direct Reliability Survey with 97 faults per 100 cars.
Watch
Kerbed alloys. Electrics. Porous wheel rims (symptom: soft tyres). Undeclared personal imports lacking three-year warranty (while still current).
Disguised envy damage.
Hood mechanism and tears in hood (don't forget to check hood if hood is down).
Make sure it has 'Red Key' if supposed to.
Clonks from rear suspension mean that bolts through he aluminium suspension components have not been tightened periodically causing wear both to bushes and mounting points (as per 156).
Several reports of 2.0 litre engine failures due to oil starvation when engines were full of oil points a finger at oil pump failure.
Timing belts and tensioners prone to failure and need changing long before scheduled 72k miles. See TSB to change them at 36k or 4 years whichever comes first.
Bosch 'hot film' Mass Airflow Sensors seem to be failing regularly.
6-11-2018: A new problem has arisen with the FIAT/Alfa 'Red Key' immobiliser system. Reader has a 2002 Alfa Romeo GTV 2.0TS, bought new, with just 30,000 miles, and is suffering an intermittent problem with the immobilizer. Alfa dealer says he can't repair it because the technology has moved on and he (and Alfa Romeo) don't support the 2002 version. (Owner still had original master 'Red key' and code.) Dealer suggestion (acknowledges as not cost effective) is to take out the old immobilizer and replace it with an up-to-date equivalent. Owner asked if the immobilizer could simply be disabled, but dealer says wouldn't know how to do this. Referred him to http://www.ecutesting.com 
Back: Introduction
Next: Running
Compare classic car insurance quotes and buy online. A friendly service offering access to a range of policies and benefits.

Get a quote