Alfa Romeo ARNA (1983 - 1987)
Last updated 18 May 2018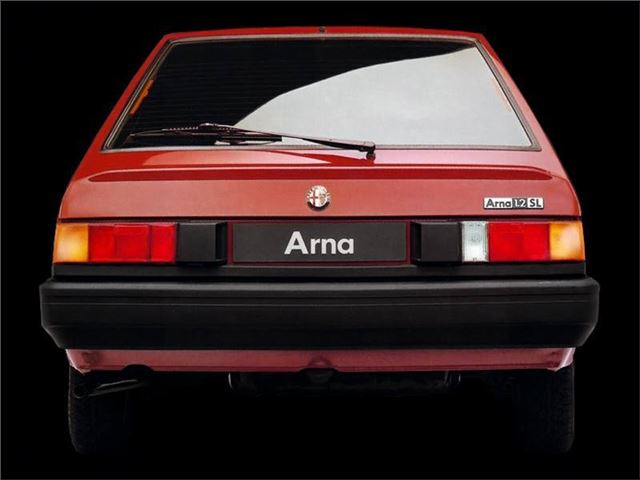 Alfasud engines, better to drive than most people give it credit for
Near extinct in the UK
Introduction
Motor industry commentators often cite the Alfa Romeo Arna as a perfect example of how not to combine the talents of two manufacturers. The world sat up and took notice when Alfa Romeo announced its forthcoming partnership with Nissan in October 1980 – the combination of the two had the potential to build something special.
The Italian company had – during its post-war history – produced some of the world's finest accessibly priced drivers' cars, but many of them had been prone to succumb to rust and unreliability. The Japanese, on the other hand, understood marketing like no other and could build family hold-alls with Swiss watch-like mechanical precision in their millions. What rival manufacturers feared was that the Italian Government-sponsored partnership between Nissan and Alfa Romeo was about to start making Italian-designed cars built to Japanese production tolerances.
Imagine, then, the sighs of relief from Longbridge, Wolfsburg and Viry-Chatillon, when the Arna (for Alfa Romeo Nissan Autoveicoli) started rolling off the line at Pratola Serra, Italy for a world debut at the 1983 Frankfurt Motor Show. What Alfa Romeo needed was an exciting 'Sud replacement (in lieu of the fact the 33 had taken a step upmarket, leaving a vacuum below) but, instead, we were presented with a lightly restyled Nissan N12 Cherry/Pulsar.
Under the bonnet, it wasn't all bad news, because there was a range of 1.2-, 1.3- and 1.5-litre ex-Alfasud flat-fours, guaranteeing eager performance. Unfortunately, the suspension set-up – the 'Sud's strongest point – was diluted. Disastrously… The front was a 'Sud carry-over and the rear came straight from the Cherry/Pulsar. The body and dashboard were also Japanese, being shipped over from Japan – and alongside the tidy ItalDesign 33, it was a huge disappointment visually.
Thankfully, it retained Italian electrics. Well, when we say thankfully, we mean disastrously…
The Arna arrived in the UK at the end of 1983 but was actually sold as the Nissan Cherry Europe and that had Nissan buyers asking the obvious question – why buy an Italian-built Japanese car, when I can have a Japanese one instead? It bombed. In 1985, Alfa Romeo started importing them, selling the Arna through its own Dealer Network.
Alfa buyers saw it as a Japanese car and Nissan buyers saw it the other way. In short, it was a car that no one wanted in the UK. In Europe, it fared slightly better and, in its four-year existence, the Arna sold just over 53,000. Fiat Group bought out Alfa Romeo in 1986, saving it in the process. The Nissan deal was brought to a swift end and the Arna was quickly forgotten. However, it was a warning for the future – globalisation was here to stay, but to do it properly, play on the strengths of the partners, not their weaknesses.
Next: Specifications