Alfa Romeo 155 (1992 - 1998)
Last updated 18 May 2018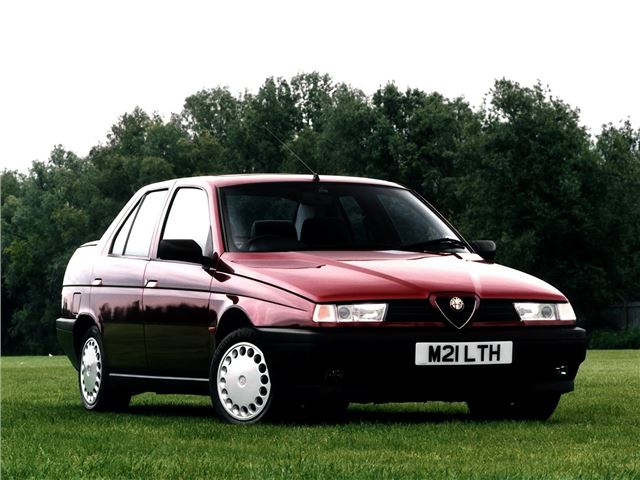 Buying Guide
Good
Front drive four-door saloon replaced rear drive 75. 4,445mm (14' 7") long x 1,702 (5' 7") wide.
1773cc 1.8TS had 129bhp; 1995cc 2.0TS had 145bhp; 2492cc 2.5 V6 had 166bhp; 1995cc Cloverleaf 4 (92-94 only) had 190bhp turbocharged 2.0 engine and 4WD.
Brilliant later engines - both Twin-Spark and 2.5 V6.
Late 'Sport' models had 'Quick-Rack' power steering.
Three-year warranty on later cars.
Bad
Front wheel drive rather than rear wheel drive.
Terrible fall-apart dashboards. 'Italian Ape' driving position.
Looked like yesterday's car as soon as it was superceded by 156.
FIAT/Alfa joint worst for breakdowns attended by German ADAC during 2001. Alfa Romeo had joint highest average cost in warranty claims for cars up to 10 years old in 2002. Alfa Romeo had fourth highest warranty repair costs in 2003 Warranty Direct Reliability index (index 155.10 v/s lowest 31.93). Link:- www.reliabilityindex.co.uk
Watch
Tattiness. Kerbed alloys. Accident damage. Duff cats. Front tyre wear. Check all electrics.
Avoid early pre-Twin-Spark models. if looking for a good one.
Sport spec well worth having.
Make sure the car does have 'Quick-Rack' (2.1 turns lock to lock) steering.
If a later model, make sure it has 'Red Key'.
Timing belt failures of four-cylinder Twin Sparks extremely common. Need new belts and tensoners every 35k - 40k miles or every 4 years whichever comes first.
May 2012: 1995 Registered Alfa Romeo 155s MoT tested during 2011 had the 7th worst overall pass rate at 36%, though excusable because the cars were 15 years old at the time.
Back: Introduction
Compare classic car insurance quotes and buy online. A friendly service offering access to a range of policies and benefits.

Get a quote