MG TF (2002 - 2005)
reviewed by Anonymous on 16 April 2018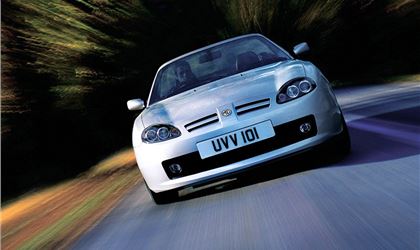 135
reviewed by themagnificentmrbear on 16 February 2013
3
Cost of maintenance and repairs
4
Experience at the garage or specialist
3
How you rate the manufacturer
Superb, if you expect the problems.
I love my little mg tf. It was my daily drive for 3 years before a wife and children changed my requirements and it never let me down with the exception of the head gasket. This was replaced with a multi layer steel gasket kit and the radiator was replaced with a more efficient version, since then it's run like a dream. It's not as comfortable to drive as a family car and gets a bit uncomfortable on long runs but get it on a B road in the summer with the top down and it makes perfect sense. The handling is amazing and the engine loves to be revved up with the twin cam kicking in at 4000 rpm.

It's awful in snow and ice as you'd expect with a mid engine rear wheel drive car and will catch you out no matter how good a driver you think you are it's also caught me out a couple of times when there's been diesel on roundabouts especially in the wet. I've found slowing down and being extra cautious is quite a wise move.

Parts are still available and fairly reasonable, after a nice motorist pranged my front wing a new panel and spray came to £550 which I didn't find unreasonable. Tyres can get expensive and the rears usually last 10000 miles while the fronts give about 20000 miles.

Still for all its faults for the few weeks in the summer on a nice twisty b road when the suns out and the tops down with a BMW or Audi driving far to close to the rear, nothing makes me smile more than when I floor it and no matter how hard they try they're just going to disappear thanks to a car that can be picked up for £3000.

If you do get one its important to make sure the gasket kits been fitted and don't drive above 3000 rpm until the engine temperature gauges are up, this usually takes about ten minutes.
Write your review
Just reviewed...