Citroen BX (1982 - 1994)
reviewed by PortJac on 13 June 2016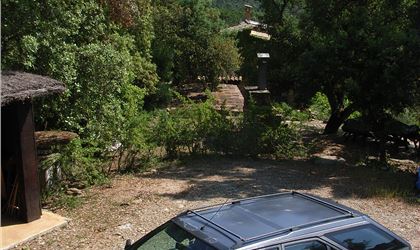 TGD Estate
reviewed by Wilfgx8 on 29 July 2012
4
Cost of maintenance and repairs
4
Experience at the garage or specialist
4
How you rate the manufacturer
I love it
My uncle had bequeathed me the contents of his workshop including two lathes, which I needed to get to Barcelona from Kent:. Shipping it all - about 750kg - was going to cost in the region of £500 so I started scouting for a cheap used car to take it all down through France, a car cheap enough to dump if necessary when (and if!) I got home. After looking around the dealers for a few days without finding anything worthwhile for less than 400 quid I was coming home from a trip to the coast when I saw this BX estate parked outside a house with apparently the owner rummaging around inside it. On the offchance I stopped and asked him if he would be interested in selling it. He ummed and arred and said he'd have to ask the missus but that he'd call me later that day, which he did, saying did I want it for £300? I jumped of course. I'd fallen in love with my father-in-law's Series 1 a few years previously and had always fancied having one again. I put two new tyres on the back and cleaned out the remains of the rubble the builder owner had left from his last trip to the dump. Oil change it got too.
Oh, by the way, mind your back if you're foolish enough to put a lathe into the back of a car, I got a slipped disc out of it and driving down through France with sciatica in your clutch foot is not particularly entertaining especially if you get lost in Versailles with its tourist-laden traffic jams and red lights. That ravaging pain lasted 6 months so just don't do it, keep your back straight at all times! Funnily enough, the slipped disc cured itself one day when I was out on a job: I install solar power on remote farmhouses and that day it just clicked back into place when I was lifting, (with my back properly tensed) a 60kg battery. Not sure I'd recommend the remedy, but it worked for me.
7 or 800kg is a bit too much, too. I found I couldn't do more than 60mph on the motorway without the front going, ahem, very vague indeed but in fact the trip turned out to be one of the fastest I've ever done. The secret with long trips in the BX is quite simple. It's very comfortable and not the slightest bit nervy, very relaxing and natural to munch miles in, even if you have to go slowly. Driving alone helps too, the kids always need to stop more often.
To cut a long story short, the car was running fine so I re-registered it when we arrived and have used it more or less daily since. It had 98k miles on it when bought and is now up to 142k. In eight years I have changed the cambelt, clutch and front disks and a few weeks ago I ripped out the troublesome octopus which had left me with no suspension once before and was beginning to leak badly again. It is such a crap piece of designwork, Citroen must have lost far more money in lost sales than it would have cost them to get it right in the first place. My father-in-law got rid of his TRD when the suspension failed the second time and word gets round. Anyway, all return and breather pipes were replaced with 3 and 4mm silicone tubing, the original octopus junctions are now 3 and 4-way brass connectors normally found in compressed air installations. Total cost 35€. Apart from not being able to easily find a genuine octopus I was wary of using parts last manufactured nearly two decades ago, and any future fault will now be far easier to repair. Oh, I nearly forgot, the fuel filter unit failed, letting air into the uptake, (the primer pump diaphragm is rubber) but there are lots of C15s in the breakers and it's a straight swap though you need the banjo union bolts from the C15 because those from the original BX part are too long. All spheres have been changed too. Front brake hoses, but otherwise just the normal things you would expect to have to do at some stage with any car.
So it still gets used almost daily, sometimes loaded to the ears with hot water cylinders and solar panels on the rack I knocked up with two lengths of 1/2" water pipe spanning the original runners. The load capacity is simply amazing, fuel economy superb and I intend to keep it running for as long as I can get spares! For Christmas it'll get two shiny new driveshafts.
reviewed by 194bhp on 11 March 2012
Write your review
Just reviewed...