Citroen BX 16 Valve (1987 - 1993)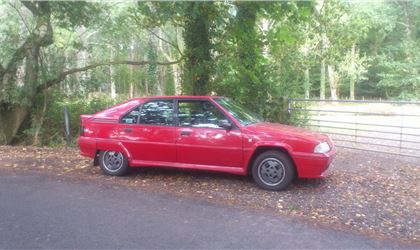 ph2
reviewed by Richardk29 on 30 April 2015
4
Cost of maintenance and repairs
3
Experience at the garage or specialist
3
How you rate the manufacturer
As close to perfect as a car can get (in my own twisted little mind)
Actually owned since June 2004, but yes, I think it's close to perfect. Of course that hinges wildly on your interpretation of what's 'perfect' in a car. My logic is a car that doesn't really do anything badly, or if it does, they might be things that can be overlooked on a car that might excel at other things. I've owned 55 or so cars since January 2000, and the BX 16v is the 8th car I bought. I've owned all sorts of different cars since, yet the BX remains, simply because it's rooted so deeply under my skin. It's not just affection, it is a damn good car. What's good about a BX 16v? Well, here goes; It's cheap to buy (an A1 minter is around £2500). It's cheap to run (30-35mpg easily achievable). The parts are pretty cheap. It's ridiculously comfortable. It goes well in a straight line, thanks to producing around 150bhp/ton from one of the best DOHC screamers of the 1980's. It goes well around corners, thanks to the suspension which has been tweaked to corner more sharply than a regular BX. The same suspension also means it self-levels, and is pretty much impossible to overload without resorting to loading with a forklift (there are those who have actually done this). The steering is sharp, and well geared. The brakes are fantastic. It's fun to drive slowly. It's fun to drive fast. It's compact externally (especially by today's standards), yet agreeably roomy inside. It's well equipped, for its time. The sunroof is massive. It's different. I personally like the looks, though I'd never call one 'handsome'. The visibility is good.
What does it do badly? I'm not talking opinions like "Eerrrggh, it's made of spit and kleenex" and "Eerrrggh it's ugly". Oh, and "The suspension on those goes wrong all the time. My mate John's Dad's best man at his wedding who he doesn't talk to anymore said his ex-wife's new partner had one, and the suspension went wrong and it sank and it went hard and then it rolled over and burst into flames!" All of which are the kind you normally hear. Things it ACTUALLY does badly? It's quite noisy on the motorway due to the short gearing, buzzy engine and general BX-standard of sound insulation. The rear wiper can't be switched on, only pressed to do a single sweep (because Citroen said the rear screen wouldn't stay wet due to the aerodynamics, therefore it didn't need the latching switch.....they're wrong! The estate models do have a latching switch, however). Some of the parts are now hard to find. The cars are now hard to find. The engines suffer oil surge if you corner to the left in an aggressive manner (a baffled sump cures this, but why oh why didn't they fit them from new?!)
Obviously they're not safe by modern standards and they're starting to rust like any old car, but that's just it - like any old car. These points can't be counted against the BX, because you'd have to tar the Sierra, the Montego, the Cavalier et al with the same brush. In fact, when you compare a BX with one of its peers today, it really was one of the best of its time. A motoring mag might not have agreed in 1991, as the BX was dated by then. But today, they're all dated, and when they're on an even playing field, the BX is a great car.
Should you buy one? Yes, they're great. Should you buy one as a daily runner? No, cars have moved on a lot since the 1980's and you'll panic everytime someone parks near it, as to them it's an old banger, and to you it's a rare car with nigh-on impossible to find body trim! Keep it in the garage, drive a Focus everyday.
Write your review
Just reviewed...