Audi Cabriolet (1991 - 2000)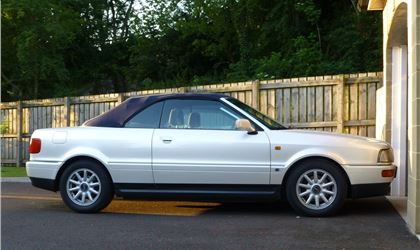 Audi 80 Cabriolet
reviewed by Anonymous on 29 October 2018
4
Cost of maintenance and repairs
3
Experience at the garage or specialist
5
How you rate the manufacturer
Classic in the making
Since 2005 I have owned four Audi 80 Cabriolets as follows:

1.8 20V
A heavy car, thanks to all the extra strengthening needed in the chassis to make up for removing the roof, it weighed as much as a contemporary Ford Granada, so 1.8 litres and 125bhp might sound adequate but in practise the car was underpowered. The engine was flat and lifeless under 2000rpm, which means changing down gears and revs were required for any sort of performance, though the engine was always willing to rev thanks to the 20 valves. The weight and the need for revs hits economy, the worst I ever got was 24mpg combined, on a long journey (I drive at 60-65mph on motorways) it averaged 34mpg and best ever seen was 36mpg. The airbag warning light stayed on the day I test drove it (an MOT fail) and the dealer fixed this before sale (a new airbag module had to be fitted for £300+). It is worth noting that the airbags on these cars have an expected life of 14 years, so look out for the warning light when buying. I found the best thing for cleaning the hood was a large shoe polish brush (90p from Wilko). They have dense and soft bristles that are ideal for lifting out dirt, bird mess and green algae. The plastic rear window was very scratched, pitted, opaque and milky at just 7 years old, a new one cost £300 incl. fitting. The plastic rear windows should never be wiped or they scratch no matter how careful you are, best to wash it with a hose & brush, then blot dry. I found the best and cheapest product for keeping the plastic window clear and making scratches and cloudiness less visible is Meguiar's Plastx plastic polish. The best and cheapest product for waterproofing the roof was Grainger's Fabil which was £17 for 2.5 litres, goes on easily with a brush, a tin does at least 4 treatments so lasts about 4 years, and protects against UV too. Fabsil is a lot cheaper that aerosol products and is easy to apply with a paintbrush (doesn't drift on to bodywork). When I got the car at 28K miles the engine was prone to stalling and did not tick over or rev smoothly suggesting the fuel injectors had clogged with dirt and fuel deposits, a bottle of Slick 50 Petrol Treatment (fuel injector cleaner) added to the fuel did a brilliant job making it run smoothly again. It is best not to jet wash the car, and to be careful with a hose, because water gets under where the hood meets the rear wing and goes down in to the hood mechanism, the last place you want it to go, when it evaporates from there you can get condensation in the cabin and rust where water runs in to the bottom of the boot. Overall, it was only really the engine that lets the car down. After less than 3 years, I wasn't sad to see it go.

2.6 V6
My manual car drives with a very pleasing feeling of solidity in the operation of the gearbox and clutch, and generally you can feel the design, quality and engineering that has gone in to the car. Tank-like and bullet-proof are words that would be apt. The engine is creamy smooth and quiet running. It was always a well regarded engine and is a credit to the people who designed and made it. The bodywork and chassis are galvanised, and internal spaces are all flooded with hot wax during the production process to minimise rot from the inside, so they were made really to last. The exhausts on my 3 cars are original after 21-25 years use, so they certainly lived up to Audi's marketing in their brochures when they stated "long life exhaust system." It still is a stylish car, with a pleasing profile, and the rear of the car still looks beautifully shaped. The cars look better with the wider front bumper and more pronounced front splitter (Audi called it the "sports front bumper," often called the "S2 bumper" since the design was copied from the S2 coupe, these bumpers are sought after now and cost about £300 for a reclaimed one) that was standard on 2.6 & 2.8 from 1994 to early 1998 and standard from 1996 to early 1998 on late 2.0 and the early 1.8 models (in 1998 they dropped the splitter on all models which I think spoiled the looks). In fact, the style of the car appealed to the late Diana, Princess of Wales, who had two cars (initially a dark green 2.3 reg. L449TRP- see below - and later a dark blue 2.6 reg. L541GJD). It is said that she borrowed or travelled in her cousin Serena Linley's car (wife of Viscount Linley), then wanted one herself. The engine is always willing, and pulls away in any gear, it pulls away from 20mph in 4th and will do 30-130mph in 5th gear, so is hugely flexible, and impresses with low down power, and much more pleasing than the 1.8 I had before. As already mentioned, the engine is very quiet and smooth, but this is a strength and a weakness; in manual form, if you give it some revs, the problem is that the engine is too quiet and you can't hear very much in the cabin, even with windows open and roof down, so the car lacks drama compared either with the lovely noise you get in a 5-cylinder version (see below), or with say the gorgeous noise of a BMW 325i Cabriolet from the 80s. I would say the quiet, smooth V6 engine would be a good match with an auto box, then you would have a wonderfully refined grand tourer. Another slight fault I find is the low gearing on the manual car, often when overtaking third feels too low but fourth feels too high (whereas in the 2.3 the higher gearing makes third feels just right most of the time). Ride is good, and in terms of handling I remember twice having less minutes than miles to get to the Islay ferry, and on the winding Kintyre roads it handled respectably, the suspension seemed firm at higher speeds. Surprisingly, many will doubt this, the 2.6 was more economical than the 1.8! In the 2.6, I got 32mpg on average and a consistent 37mpg on long journeys (at 60-65mph - on long journeys I drive steadily). Probably I think the reason lies in higher gearing, e.g. at 60mph the 2.6 sits at 2600rpm, versus the 1.8 at 2750rpm. My car cost £30,096.97 in Feb 1997, which is £56K in today's money (adjusted by RPI), so these cars were very expensive to buy new, and consequently never that common on the roads (only 71,354 of all models were ever built). You can buy a good one now for under £2K, which makes them great value. In terms of problems, all prices quotes are at independent garages as follows. The heater core / matrix leaked badly when the car was 13 years old but was fixed by pouring a bottle of K-Seal in to the antifreeze (rather than £400 to fit a new heater core). The stale smell that had developed in the ventilation system after start up also disappeared when I added the K-Seal, so I think there must have been some dampness and mould growth in the system for a couple of years before it worsened and a tell tale pool of antifreeze appeared in the passenger foot well. Worth noting that a timing belt/water pump change is recommended every 8 years or 80K miles and takes 5 hours so costs £400-500 on a V6 with Audi parts (in my view this is the most crucial part of the car including the tensioner that gets replaced, so it may be unwise to use non-Audi parts). With a heavy V6 engine fitted, you can expect front suspension problems, mine needed front bushes (£62), front CV joints & gaiters (£240) and front ball joints (£204) all at about 80K. Top mount, Macpherson strut & wishbone problems can develop at high mileages. The wiring loom or oil pump can fail in the electric hood, both are in the region of £400 to fix. It is notably heavy on front tyres with mid-range Barum tyres giving 8500 miles and Pirellis giving 12500 miles. On some cars the centre door trims can deteriorate badly due to water ingress in to the glass fibre, meaning that frost blows off lumps of the paint (my 1997 car was bad but my 1993 & 2008 cars were unaffected). If you see signs of this it gets worse quite quickly. The door trims are still available new but are very expensive before you even consider paint and fitting. If you can manage to get them off to fill and repaint them, then I would recommended painting both the front and backs of the trims to keep out water. The roof on my car is in excellent condition after 20 years, but a new rear window had been fitted a couple of years before I bought it (cost £300). A new roof usually is quoted at £850+VAT+fitting but on my 2.3 car (see below) a new manual roof was fitted in May 2015 for £740 inclusive (by a fitter who was under the VAT threshold). I still have the car in storage and in perfect order (done 100K miles), and I am reluctant to see it go.

2.3 5-cylinder
In 2016, after 5+ years of looking, I managed finally to find a time-warp 2.3 manual car with 19 stamps, old receipts and MOTs, and only 67K miles, the lowest mileage I saw, that had been garaged for at least the last 16 years. Partly it took a long time because I specifically wanted a silver or white car with a blue roof. After 11 years of owning the 1.8 & 2.6, I only wish I had had a 2.3 right from the start! It feels as solidly built as the 2.6, and the engine is as silky smooth and quiet as the six cylinder under 2000rpm, but produces a marvellous noise when revved through the gears, especially on quiet country roads with windows open, giving the car that bit more soul and charisma than the overly quiet V6. The engine sounds good between the 2000-3000rpm range, so you don't have to thrash it to make it sound good, even better between 3000-4000rpm. Even driving along in 4th the car has a slightly throbby, sonorous sort of burble to it and feels purposeful. It has the same engine as the old 1980s Audi Coupe Quattro & the legendary World Rally Car, albeit with no turbo and only 10 valves, but it shares the same unique sort of engine noise. Worth noting here that Audi recently developed a new 2.5 5-cylinder engine (only in RS3 & TT RS) and they gave it the same 1,2,4,5,3 cylinder firing order because they wanted it to sound like their old engine. The 2.3 certainly feels as quick as the 2.6 (the handbook quotes 0-80km/h at 7.2 secs for 2.3 versus 7.0 secs for the 2.6 and 6.8 secs for the 2.8). It feels fairly high geared, perhaps explaining why it is the most economical of the three cars; on a 270mph motorway trip back from buying it (at 60-65mph) it returned an amazing 42.6mpg! Though high geared, the ratios feel right for the engine (whereas the V6 is too low geared in 2nd and 3rd for sure). It is worth noting that the 5-cylinder car was available only between May 1992 and Dec 1993 (so for just 19 months, though some dealer stock still was registered early in 1994). In Jan 1994, new emissions regulations forced its replacement by the 2.6 V6. The late Diana, Princess of Wales, had an early 1994 2.3 litre car in dark green, it sold for £36.5K at auction in 2013 and was bid £54K at auction in Nov 2016 and had covered just 21K miles. The 2.3 engine can suffer with valve lifter problems (£400 to replace), but before you replace them it is worth having the sump off and cleaning any muck/sludge off the strainer where the oil pump picks up oil (since the lifter problems are more likely to be a symptom of low oil pressure), otherwise it may be worth trying an oil additive called "Forte Top End Treatment" (£15-18) which is for valve lifter problems and gets good reviews/is used by mechanics. Back in the day Audi used to flush the engine at every oil change (so did VW when I had a Golf Mk2), one reason was because it was needed to keep the oil lines clear to the hydraulic valve lifters, so any lifter problems may be due to owners neglecting to flush for many years. At the time of writing (in 2018) there are 1,586 Audi 80 Cabriolets left on the roads in the UK. Judging by numbers for sale, just under 10% are 2.3 cars, so only about 150 5-cylinder 2.3 cars are left on the roads. Many of these will have been to Mars and back by now, so it might take some time and leg work to find a good 2.3 car, but seek and you will find the best version of this very good, stylish, characterful, well made and engineered classic car in the making.

Post script:
In fact, I liked the car so much I since have bought a 93K mile 2.3 5-cylinder silver car to use more often rather than my white 67K car above (which stays mostly in the garage). You might expect the distributor cap to need a rebuild after about 90K miles (£23 parts & up to 2 hours labour). When the distributor cap goes the car becomes difficult to start when cold, and it sound just like the starter motor is dying when in fact it is due to loss of spark in the distributor, also you may begin to get misfires after damp nights. The engine became more lively and smoother once done. After the cap rebuild, the car still started poorly in summertime from cold with shakes and vibrations for the first 20-25 secs before settling down (seemed to be running very rich). Initially, I suspected the cold start valve, but when I changed the ECU temperature sensor (just to left of dipstick, swap over quickly with 19mm socket and you lose only a little coolant) the car ran smoothly and perfectly when cold. The oil pressure (on 5W/30 synthetic) is 4.6 bar (or 4.25 bar in v. hot weather) at 2500rpm when the engine is hot (they were 4.9 bar on 10W/40 when new in colder weather) and 2-2.25 bar on tickover when hot. I got the engine compression tested for peace of mind and it showed 150-160psi in all cylinders. It is worth noting that the oxygen sensor is recommended to be replaced every 60K miles (it cost £46 for a Bosch part with minimal labour and is worth doing if you have high emissions; after the change my exhaust no longer smelt rich when I pulled up after a hard drive). This car did not initially make the same lovely noise as my 67K car because only one of the bolts connecting the manifold to the catalyst was not rusted away completely, when I had it drilled out and the 3 bolts renewed (as previous owner had done on my 67K car) then the engine vibration travelled in to the exhaust to give the car its characteristic noise, though still not as good as my 67K car, so clearly they do vary. Another point to note is that the emissions were very high before the exhaust was drilled out and remounted because oxygen was getting in to the joint and causing the oxygen sensor to enrich the mixture, so it is worth making sure there are no leaks at the manifold to catalyst joint if you have high emissions from a healthy engine (it is a characteristic of the 2.3 litre car that you should be able to hear the exhaust suck back when you lift off the throttle at low revs, if you don't hear the suck back then likely you might have a leak at this joint or somewhere else).
reviewed by Spectre Frogman on 31 July 2018
reviewed by Busmanuk on 21 April 2017
reviewed by Muttley Macc on 24 February 2016
reviewed by Davey Jone's Locker on 7 October 2014
reviewed by Anonymous on 5 June 2012
reviewed by abhi_f1 on 13 January 2012
reviewed by nickwoodz on 8 May 2010
Write your review
Just reviewed...