Audi Cabriolet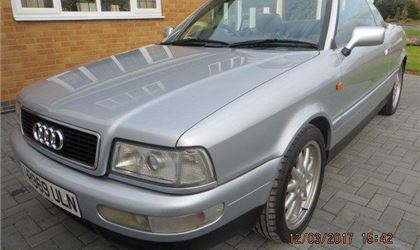 2.8 Cabriolet manual
reviewed by Busmanuk on 21 April 2017
4
Cost of maintenance and repairs
5
Experience at the garage or specialist
5
How you rate the manufacturer
Old school Audi quality
I wanted a cabrio of some sort to drive on summer weekends and as an antidote to my nannying but good Golf SV. This came up at a local prestige car dealer. The car is characterful but at the same time sufficiently modern to hold its own in modern conditions. The V6 sounds wonderful and returns a good 30 mpg on Shell VPower. All appears to be well with it at 112k miles, it came with a full history, the cam belt having been replaced at 106k. The build quality is astounding - high quality materials used everywhere, though the leather has a characterful patina of wear.
reviewed by Muttley Macc on 24 February 2016
reviewed by Davey Jone's Locker on 7 October 2014
reviewed by Anonymous on 5 June 2012
reviewed by abhi_f1 on 13 January 2012
reviewed by nickwoodz on 8 May 2010
Write your review
Just reviewed...