Peugeot 406 Coupe (1997 - 2003)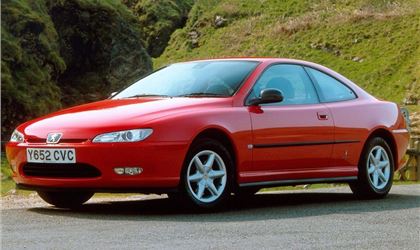 3.0 litre V6 Petrol
reviewed by pug406man on 5 April 2012
3
Cost of maintenance and repairs
4
Experience at the garage or specialist
4
How you rate the manufacturer
Beautiful, but not without its flaws.
I bought this beauty as a treat for myself in late November 2011. It stood out on the dealer's forecourt, even next to newer cars on the lot like the Mercedes and the Lexus either side of it. With only 73k on the clock it was a steal and had been serviced for its entire life by Peugeot. Below are the pros and cons. I appreciate that now that the car is 14 years old it is beginning to show its age, so the cons may be unique to my particular vehicle only.

Pros: Great handling, very fast, lovely engine growl, comfortable, beautiful to look at, the girls love it, smooth, nippy and just plain fun to drive. This machine was built for motorway driving. Also, there is an active and very friendly online Peugeot Coupe owners club which provides valuable information on all things about the 406 Coupe. As there were only about 10,000 of these built for the UK, they are a rare sight and it's a nice change from the influx of BMWs and Audis on the road.

Cons: Poor fuel economy when town driving, front discs have had to be replaced three times in 5 months due to warping and squealing, you need very small hands to change the headlight bulbs, exhaust likes to knock against the heat shield requiring regular adjusting, heavy doors, engine management system can give false readings, easy to stall, does not like very cold weather (then again, is there any car that does?) some replacement parts are very expensive to buy, particularly perishables like discs and pads. Other parts like panels and interior fixings are relatively cheap as you can salvage them from models with smaller engines.
reviewed by Nick P on 5 March 2012
Write your review
Just reviewed...