Peugeot 405 (1987 - 1996)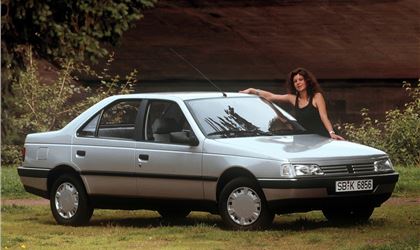 1.9 TD GLX 4dr
reviewed by Andy 94 on 6 July 2013
4
Cost of maintenance and repairs
3
Experience at the garage or specialist
3
How you rate the manufacturer
Best car in class before Mondeo came along. Great all rounder, apart from rather hard seats.
Not actually a car I have owned, but a company car my granda had between 1995 to 1999 (M259 SCF). One of my favourite cars he had, with clean, stylish Pininfarina looks complete with a subtle spoiler and red paintwork. Nice to drive as well. With PAS specified (standard as of 1994) light and grippy, with that typical ride/handling dynamic feel that used to be a guarantee with Peugeots of the old days, sadly missing on the majority of their models now. The diesel engine may have mad Massey Ferguson levels of noise at idle but reasonably refined and gutsy when up to speed, as well as very economical and extremely reliable.There are still a few about with 400,000 on the clock! Nice gearbox as well. While the interior was reasonably well finished for its day as well as roomy, my granda found the seats quite hard and under padded (although the upholstery itself looked stylish.) In the 4 years he had it, he never had any problems or complaints, which couldn't be said for the 306 estate he had after which had numerous interior trim rattle after just a few months upon delivery. Sadly, the particular example he had was scrapped in September 2008. A 13 year lifespan ain't bad i suppose. You never know, with the rock bottom prices that current examples are at, I could possibly well buy myself one in the future (when they even become a classic perhaps.) :)
reviewed by benty77 on 27 March 2013
reviewed by vmturbo on 24 February 2013
reviewed by Norb on 2 March 2011
Write your review
Just reviewed...