Peugeot 309 (1985 - 1993)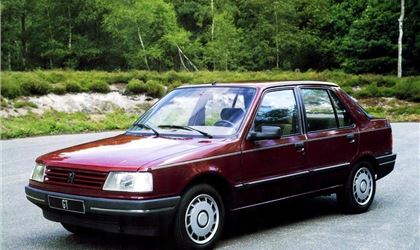 1.3 GL
reviewed by chairman56 on 22 November 2012
4
Cost of maintenance and repairs
4
How you rate the manufacturer
Primitive, practical and great fun.
I had never given Peugeot much thought but needed a car for a monthly 250 mile round trip and the 309 ticked all the right boxes. Acquired a low mileage example, 2 owners and complete FSH.

Once behind the wheel it's hard to believe that this is a 1980s product - it drives more like something out of the 60s or 70s. This car was retro before it left the factory.

The engine is willing enough and the gearbox is the best 5-speeder I've ever encountered on a FWD car. Simple dashboard, comfy seat, lots of leg and luggage room.

The 1.3 engine is hardly a world beater performance wise, but certainly adequate enough. Noisy though, not helped by the car being a little undergeared, even with the 5 speed box.

Let us, however, talk about what the 309 is best at : corners. The steering is totally spot on, better than any car I've driven. Bends are taken with a little body roll but the car just hangs on. I've owned over 15 different cars and driven over 100 but this one is in division 1 as regards handling and roadholding.

I carefully measured the MPG for 2,000 miles and got an amazing 44 mpg!

Reliability - few problems. Speedo cable come loose from speedo and after replacement did so again after a couple of thousand miles. Clock never worked. Also had a freak problem with the oil drain plug which suddenly started to crumble.

I only sold it because it had mint bodywork which I was afraid would get damaged in an urban environment. Also I felt it was better for it to go to somebody who would have time to look after it properly.

Not a spot of rust! If 309s avoid the leaky rear lights then body seems to last for ever.

Would I recommend? Not a car to everybody's taste with its heavy steering and retro feel. Also hard(ish) work around town and bit noisy on motorway. But for somebody after something a bit different for A and B roads it has much to commend it.
Write your review
Just reviewed...