Peugeot 205 (1983 - 1994)
reviewed by pugoid on 6 November 2010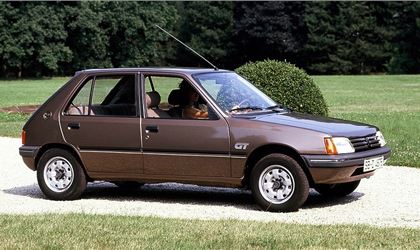 GTI 1.9 Phase 1.5
reviewed by 205gticoxn on 16 October 2010
4
Cost of maintenance and repairs
3
How you rate the manufacturer
Modern Classic with grip of a rock climber and the handling of a chain saw juggler, sticks to road like a lion in the chase, moving at the pace of a cheta.
Really good fun for people who don't have the money to spend on these new flashy ST's/R Types/TT's.

Good old fashion simple engineering from the 80's, that is reliable take this for an example:

I brought mine off ebay for £600 she had been sat in barn for 3 years, I then left her in my garage for 7 months while I was deployed with the Navy. When I returned I gave to my local Garage to sort out, £1200...Then I drove her from Glasgow to Plymouth cost £70.00 petrol, took 7 hours and the temperature gauge diddnt rise above halfway.

Not bad for a car thats 22 years old with 154000 miles on the clock, however I was slighty deaf for several hours after...

Think retro Think 205 GTI
reviewed by strobe on 9 August 2010
Write your review
Just reviewed...