Peugeot 106 (1991 - 2002)
reviewed by pio on 19 December 2016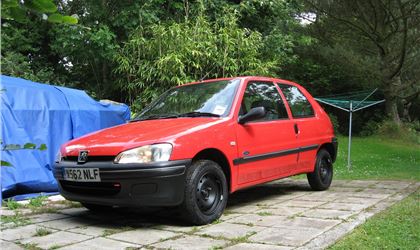 xn zest 1.1
reviewed by Carobsessed on 2 April 2014
4
Cost of maintenance and repairs
2
Experience at the garage or specialist
3
How you rate the manufacturer
Small 3dr hatch
Very compromised driving position with pedals too close together. Noisy at over 60 mph with a Unfinished ride.
Think twice about buying one, there are better alternatives for the same or less money. Worst bits are;

#offset pedals to left hand side (caused by wheel arch) which causes back and leg ache has to be the worst bit of the car.
#notices loads in boot greatly and takes the edge off acceleration.
#bodywork dings are easy to pick up due to thin metal.
#no rear headrests for rear passengers but rivals are no better.
Good bits;
#Plenty around so good part availability
#fuel consumption.
#interior room.
#insurance group.
#easy to drive due to size.
#fairly good acceleration.
#surprisingly comfortable seats.
#good traction.

overall its good basic transport nothing more nothing less.
reviewed by martin111957 on 28 August 2011
Write your review
Just reviewed...