Peugeot 106 (1991 - 2002)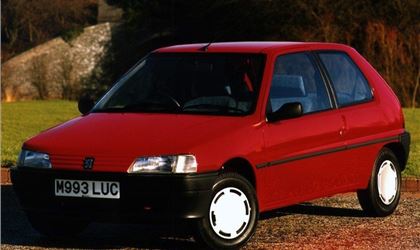 106 1.1
reviewed by pio on 19 December 2016
4
Cost of maintenance and repairs
3
Experience at the garage or specialist
1
How you rate the manufacturer
Too bad
I am French and I hate this car. I have recently discovered that the chassis is starting to rot in a big way, often in a sneaky way as well: dare touching the paint in some spots and it ends up with you lifting it together with pieces of rot; by the time you're finished half the time you've just made a hole in the chassis with your fingers! That chassis is made of tin can anyways. When installing a tow ball, I couldn't believe how little force it took me to bend (it came back into position, fortunately) the chassis WITH MY FINGERS!?! Apart from that, I'd heard from the bad driving position in a review by Clarkson and just thought: the bast:::d's just dissing a French car, as he would. Plus he's too tall for it. Turn's out he's exactly right: having to drive this car everyday is a complete pain, that's p.a.i.n. (in the back mainly). It is also rather dangerous as far as I'm concerned (see crash tests results, proximity of head with window / roof, complete unreliability of seat rail system, aibag issues, etc.). It drives alright (only 'cause it's small, see chassis flex), if the suspensions haven't gone, which they tend to easily do. Oh, and to make sure you're completely disguted of it, the poor design of the camcover means you'll most likely be breathing plenty dioxins due to oil leaking and burning atop the exhaust manifold. Problem not solved by changing gasket. Also, just to let you know people, this wasn't a 'fluke' as when buying mine (a late 2003 model, relatively low mileage), I was given to see and test-drive four other POS all affected (to a higher degree) with what's described above. Just turns out Peugeot 106's is the least rip-off with my insurer (be ready to cash out 150 pounds/year road tax though). I'll try japanese next.
reviewed by Carobsessed on 2 April 2014
reviewed by martin111957 on 28 August 2011
Write your review
Just reviewed...