Lancia Delta (1979 - 1990)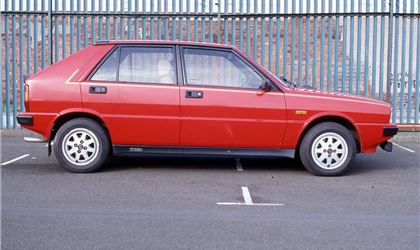 Lancia Delta HF Turbo
reviewed by PortJac on 10 April 2014
3
Cost of maintenance and repairs
4
Experience at the garage or specialist
3
How you rate the manufacturer
Refined and quick with a funky interior
My car was a 1984 Lancia Delta HF Turbo in red. It was good looking, fast and refined, and didn't rust too much. The turbocharged 1600 cc engine was swift with a good surge of acceleration and a slight high pitched whine off the turbo. Handling was secure but the steering was very heavy and unassisted. At least the chunky Momo steering wheel was lovely to hold.

Inside the dashboard was boxy and quirky. Speedo and rev counter were large analogue dials, but the four ancillary gauges such as fuel and oil were vertical LED bar charts that were mostly hidden by the steering wheel. There was a multitude of square buttons, thumbwheels and sliders all in their own nacelles over the dash. Indeed one of the joys of old Lancias was their stylised and overstocked dashboards. My car was right hand drive unlike the later Integrale models; in fact even the indicator stalk was on the right as was correct for most British cars up until that time. The seats were excellent figure hugging Recaros, and the upholstery was a very tasteful cream chequered wool.

The car was solid and well built with very little rust, apart from one area. The bottom of the rear nearside door had rusted through. Upon investigation I discovered that the worker in the Italian factory responsible for sealing the door panels had totally forgotten to apply a strip of sealant to the bottom seam of this door, hence allowing corrosion to set in.

The styling by Giugiaro was crisp and understated but looks quite dated nowadays with all the sharp creases. The Integrale models look more purposeful with their flared arches and bulges. My own car had subtle Turbo badging on the black lower sills and HF (for Hi Fidelity) on the front grille. Lancia also released a more ostentatious white model at the same time with colourful Martini sponsor stripes.

To sum up, my car had 1980's charm and was a forerunner of the mighty rally-winning Integrales. It was quick and fun to hustle along a twisty road, and quite affordable to run. The interior was a special place to be with a multitude of lights and dials on the dash, and the rust nightmares of earlier Lancias were mostly gone.
Write your review
Just reviewed...