Jaguar S-type (1999 - 2007)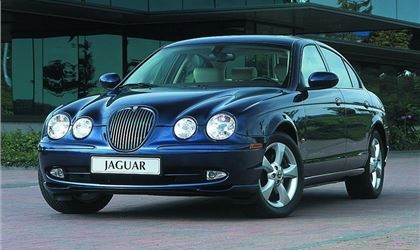 2.5
reviewed by Anonymous on 17 June 2020
5
How you rate the manufacturer
Very impressed
Not a fan of the looks originally, but couldn't pass the clean example I came across for £600 with full MOT. The looks grow on you with time and driving...and you won't care once you try one.

Mines a 2.5 automatic, basic spec apparently, but still full leather and electric pack - electric seats, parking sensors, windows/mirrors and even an electric steering column! Amazingly it all works perfectly, and the stereo is excellent. No stupid touch screens and all the better for it. Only disappointment is a lack of cruise control.

Interior is the later "XJ" type, and I'd say quality is good, it's in excellent condition even after 100000 miles plus. Cabin surprisingly small for a large car, but there's enough room, and it's extremely comfortable.

This engine is the smallest one fitted, a 2.5 V6, for the snobs it's apparently a Ford unit. But ignore any fears of a lack of ability or class, unless you are looking to lay down black stripes on the road (get the R version then!) this unit will not disappoint and in no way feels the "economy" model - you won't feel short changed. It's well up to the job in every day driving, proving superbly refined and smooth, even from first cold start of the day, and feels alert and effortless at any speed. The 6 speed automatic transmission is incredibly smooth and changes imperceptibly. An excellent impressive power train, and every bit the Jaguar experience.

Then there's the driving. The car is very hushed and refined, and the chassis is very surprising - extremely refined and smooth, but mixed with a dynamic and nimble edge that's very well judged. The car is extremely smooth and refined, yet is no wallowy barge. This is what a proper luxury car should be like - the luxury doesn't come from technology toys, but from what the car does, how it operates and drives.

A special final mention must go to the fuel economy, which is very acceptable for the experience on offer - I've had about 34mpg from mixed driving, little different to a Vectra I drove.

Ignore the fuss about styling, or links to American Lincolns - this is a very fine car, and has completely changed my opinion of the S-Type. Drive one and see how a car should be.
reviewed by Anonymous on 15 February 2019
reviewed by ITISME on 14 October 2017
reviewed by Phil Norton on 8 September 2017
reviewed by Mark Hutsby on 7 September 2017
reviewed by davidlxv on 7 September 2017
reviewed by Scottie Boy on 16 March 2014
reviewed by JagRich on 15 March 2014
reviewed by R A Buckingham on 28 October 2013
reviewed by Stinkywinky on 22 May 2012
reviewed by linqlaw001 on 10 August 2011
reviewed by Rumfitt on 20 May 2010
reviewed by duncanm on 6 May 2010
Write your review
Just reviewed...